You can now connect to your Frame.io account within Capture One Pro, import images from there, and publish images back to Capture One (only on macOS)
This article contains the following sections:
Eligibility and how to purchase
A free version of the Frame.io integration is available to all users on Mac, on versions 16.2 and newer. This free version allows users to download files from Frame.io projects that contain less than 20 images and enables the possibility to publish up to 5 images at a time from Capture One Pro to a Frame.io project.
To remove these limits, a subscription to either Capture One Live or All in One is required – you can purchase either of these by logging into your account on captureone.com, going to the "Manage licenses" section, and activating the "Capture One Live" option or switching to All in One, if you are a subscriber.

After doing so, we recommend waiting a few minutes and restarting Capture One Pro before using the integration with Frame.io (or Capture One Live).
How to connect your Frame.io account:
You will be asked to log into your Frame.io account the first time you try to use the feature.
You will have an opportunity to login from the "import" workflow that is described below
You will also have an opportunity to login from the publish workflow that is described below
Your login will be preserved over a period of 30 days and this period will be refreshed each time you log in.
How to import images from your Frame.io account: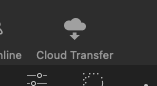 You can import images stored in Frame.io by using the "Cloud Transfer" tool, located in the main toolbar. If you don't have the "Cloud Transfer" icon in your main toolbar, right click on it, choose "Customize" and drag the "Cloud Transfer" button to your preferred position in the main toolbar.
Clicking on the "Cloud Transfer" icon will open a dialog box, asking you where to import from and where to import to. Choose "Import from Frame.io" as a source.
This will take you through a few steps to navigate within Frame.io account and select the right account, team, and project.
Once you have selected your desired project, choose the destination folder in the "Import to" section.
Press the "Import" button, and the images will be transferred. Other file types will not be transferred.
How to publish images to Frame.io: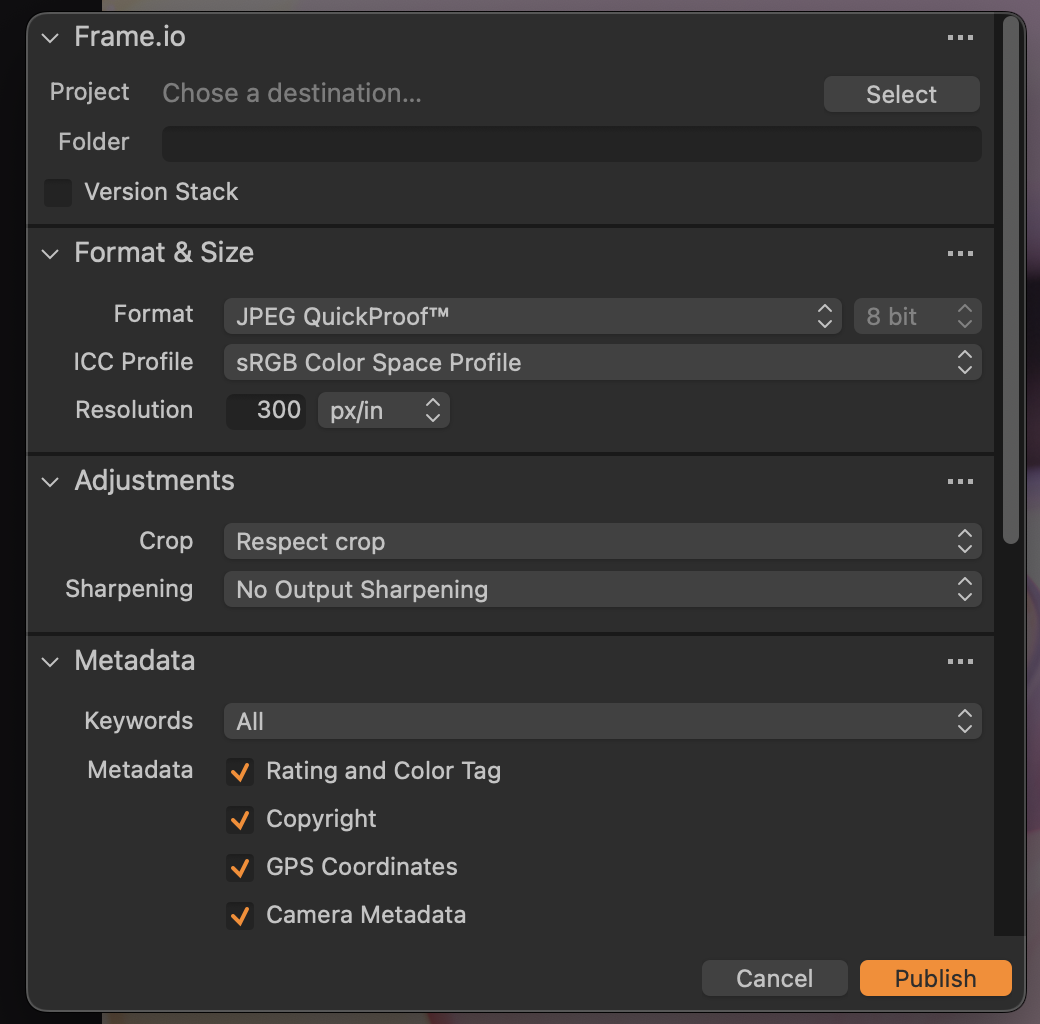 Once you are done with your images and would like to push them back to your Frame.io account, select all of them, right click, and choose publish > Frame.io
This will open a new window that resembles the export panel, where you can choose export settings.
You will need to specify a name for a project and folder for these images. If a folder with a similar name already exists in the specified project, it will re-use the name and publish the images there.
This is still the case even if you decide to use Version Stacking in Frame.io: the images will be stacked in their original folder if you have ticked this option and will disregard the destination folder specified. The images that are not part of a version stack will be saved in the specified folder.