---
About Capture One for iPhone
Capture One for iPhone is the perfect tool for photographers who want to accelerate their delivery time while preserving high-quality work.
With the fastest transfer from camera to mobile and Next Capture Adjustments, adjustments are auto-applied to new photos as they are being shot, all with stunning Capture One colors.
Capture One Live on iPhone enables photographers to send their work in real-time for feedback or approval, ensuring the fastest delivery after the shoot is finished.
Ideal for fashion, product, and portrait photographers working in non-studio environments, providing shared confidence at the shoot. And for digital content creators, it's the ultimate tool for quickly getting photos from your camera to your phone for mobile editing and social media sharing.
Whether you're a solo photographer competing with others to cover a story or part of a team capturing an event, Capture One for iPhone offers a rapid and efficient way to deliver your work.
---
Features
Connect your camera to the app, adjust its settings from your smartphone and capture stunning photos directly into it, wirelessly or wired.
Capture images using your iPhone's camera from the app.
Import images from a connected camera, iOS Photos, and iOS Files, which allows you to import from attached memory cards and external storage recognized by iOS.
Use Albums, Sort and Filter to manage your library.
Cull your images with Star Ratings and Color Tagging.
Adjust your images with familiar Capture One tools:
Crop, Rotation, Keystone.
Black & White (Red, Yellow, Green, Cyan, Blue, Magenta), White Balance (Presets, Kelvin, Tint), Exposure (Exposure, Contrast, Brightness, Saturation), HDR (Highlight, Shadow, White, Black), Clarity (Clarity, Structure), Dehaze (Presets, Amount), Color Editor (Color, Hue, Saturation, Lightness), Vignetting (Presets, Vignetting).
Sharpening (Amount, Radius, Threshold, Halo), Noise Reduction (Luminance, Details, Color, Single Pixel), Film Grain (Fine Grain, Silver Rich, Soft Grain, Cubic Grain, Tabular Grain and Harsh Grain with Impact and Granularity controls), Moire (Amount, Pattern).
Efficiency
Compare images with Before/After views.
Undo, Redo and Reset your adjustments.
Create virtual copies of your images with New Variant and Clone Variant.
Quickly Copy and Apply Adjustments between images.
View the Histogram and Exposure Warning (Highlights, Shadows).
Use Next Capture Adjustments

to auto-apply adjustments to new photos as they are being shot.

View Metadata

for detailed information about your images

.
Auto-select next image when applying star ratings or color tags.
Use the included default Styles or import custom Styles created in Capture One Pro.
With the full Capture One Pro rendering engine under the hood, Styles allow you to get the most out of editing on mobile, even without direct access to some desktop tools in the mobile interface.
Export your images in a variety of formats, including

 

JPEG, TIFF, Originals, and EIP.
Control the scale, quality, bit depth, and compression

 

of your exported photos.
Add text watermarks

 

to protect your work.
Upload an album of adjusted images with star ratings and color tags to the cloud from your iPhone. Then, download the album in Capture One Pro to continue editing on your desktop. Free cloud storage for up to 1000 images.
Capture One Live is a feature that enables you to share your photos with others for easy reviewing. By sharing a link from the app, your team or clients can view, rate, tag, and comment on your photos from any device without needing to create an account or own Capture One. This feature works on any device for reviewers. The iPhone app also includes all the benefits of Capture One Live from Capture One Pro, plus the convenience of a portable solution.
---
Subscription Management
Download
Download Capture One mobile on the App Store.
Capture One Account
When launching Capture One mobile, you will be asked to sign in to your Capture One account or create one.
This is important for Capture One Pro users and All in One subscribers, as using the same account provides access to the Cloud Transfer feature and covers your mobile subscription without needing to subscribe through Apple. 
Follow this link to create an account or change your email before starting.
To change your account in the application, you can sign out in Settings.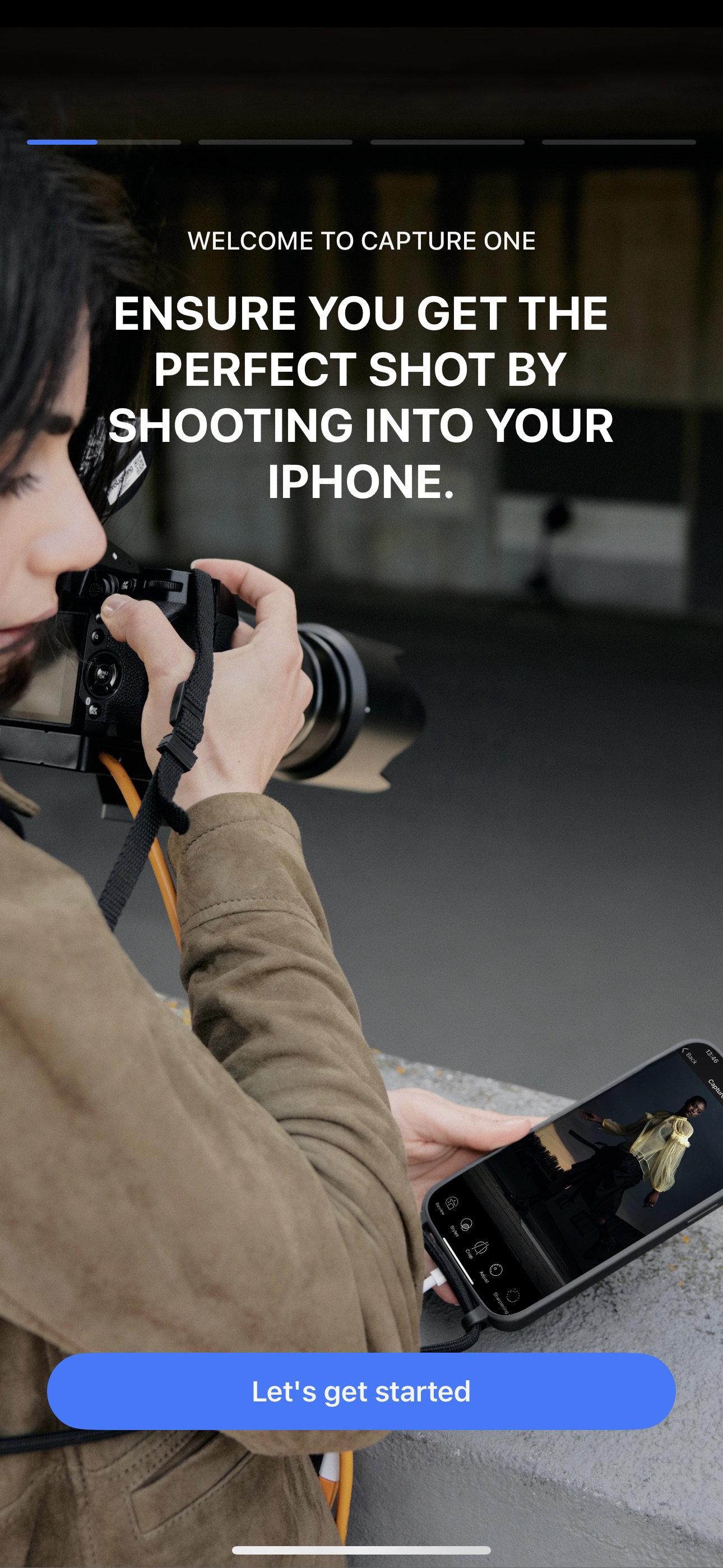 Trial and Subscription
Capture One mobile is free to install with a 7-day free trial. Monthly subscription costs 4.99 USD/month (or equivalent in local currency) and can be canceled anytime.
Capture One mobile is part of our All in One bundle, which includes Capture One Pro on desktop, Capture One Live Unlimited and priority support.
A single subscription includes Capture One for both iPad and iPhone.
Subscription Cancelation and Refunds
You can cancel your subscription at any time and still access the app until the end of the billing period.
If subscribed through Apple, open the Settings app > your name > Subscriptions > Capture One > Cancel Free Trial/Subscription. For more info on canceling subscriptions, see Apple Support. For refunds, contact Apple.
If subscribed through Capture One (All in One Bundle), see How do I cancel my Capture One subscription? and Refund policy.
---
System Requirements
Capture One for iPhone requires iOS 15 and above.
iPhone X and above are recommended.
---
User Interface, Gestures and Settings
User Interface
After you sign in and start a trial/subscription, you'll see the main screen with three tabs:
Albums – manage your image library: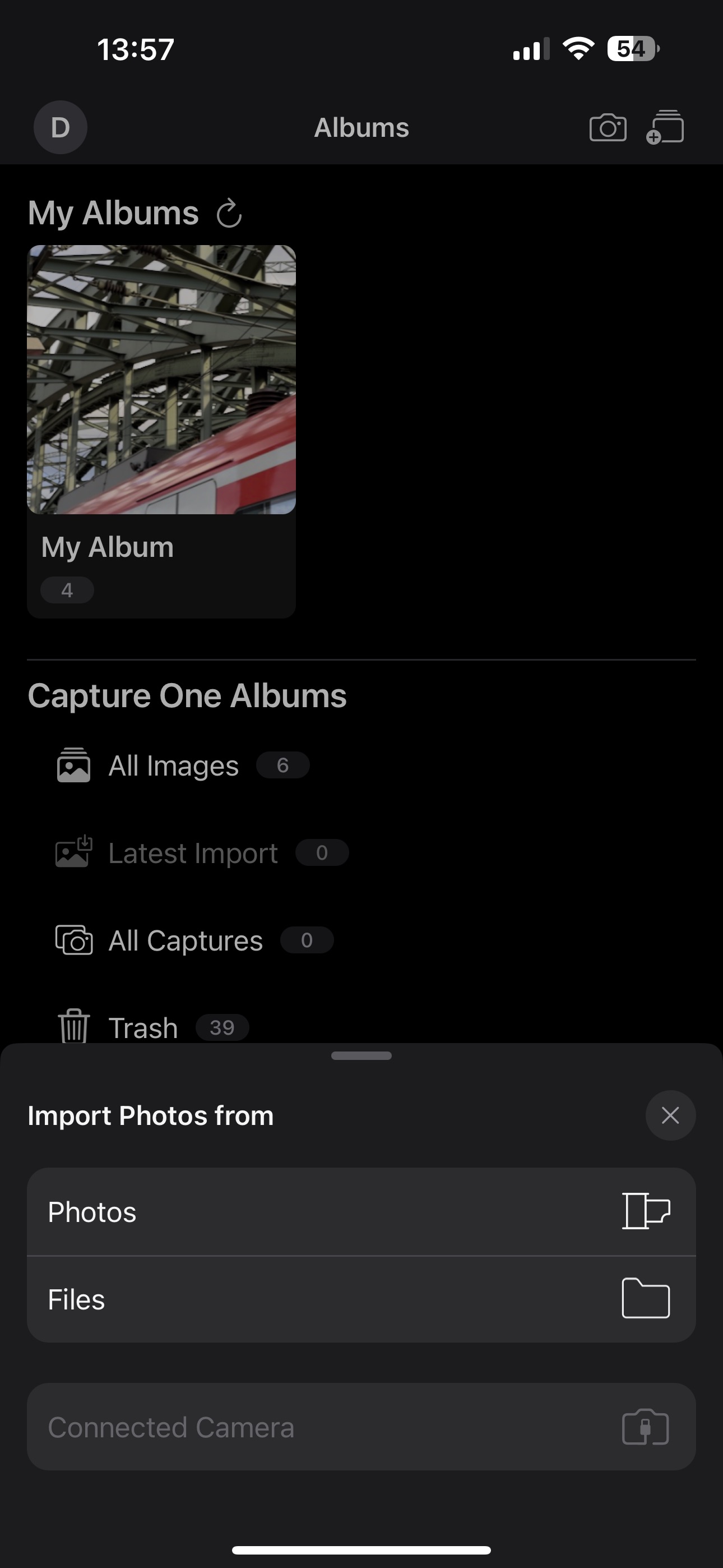 Connect – see and connect available cameras: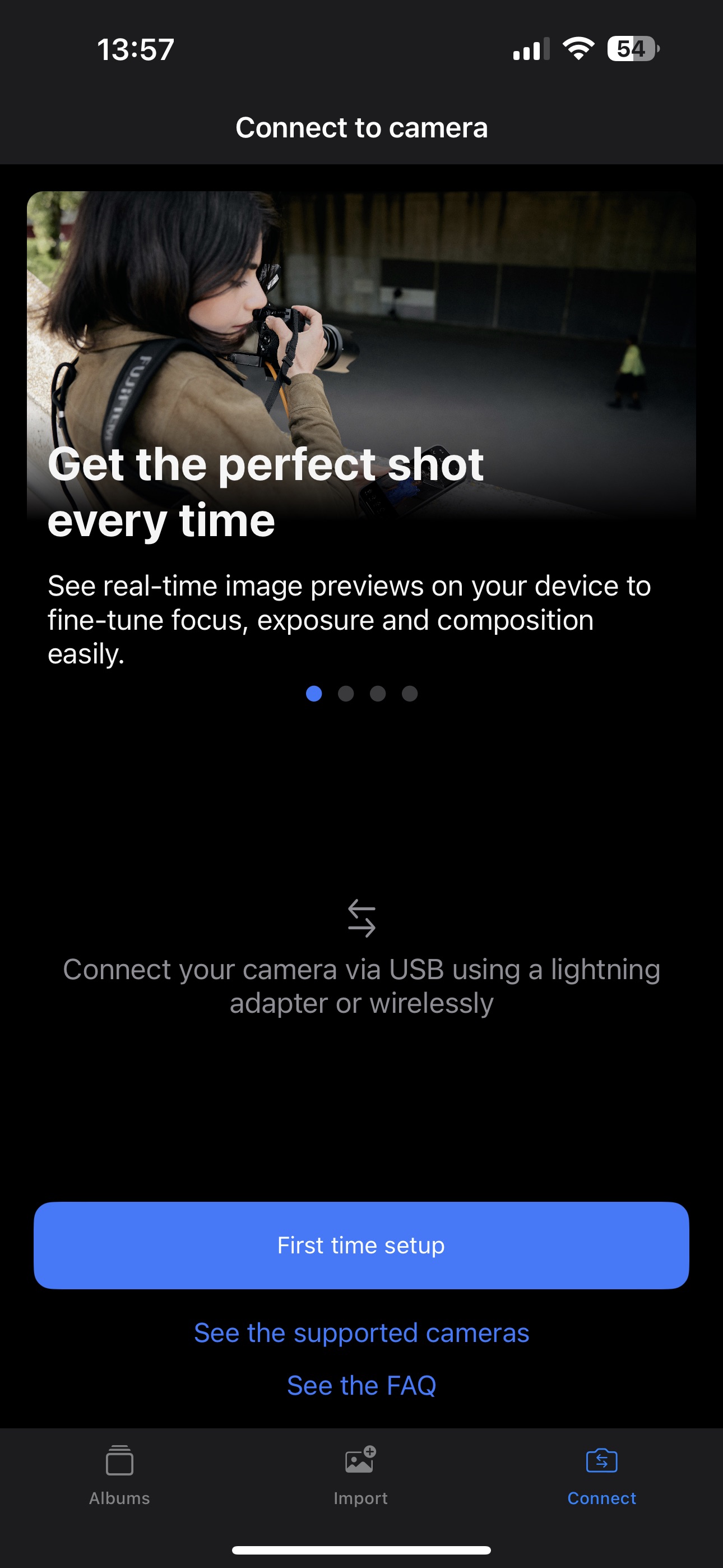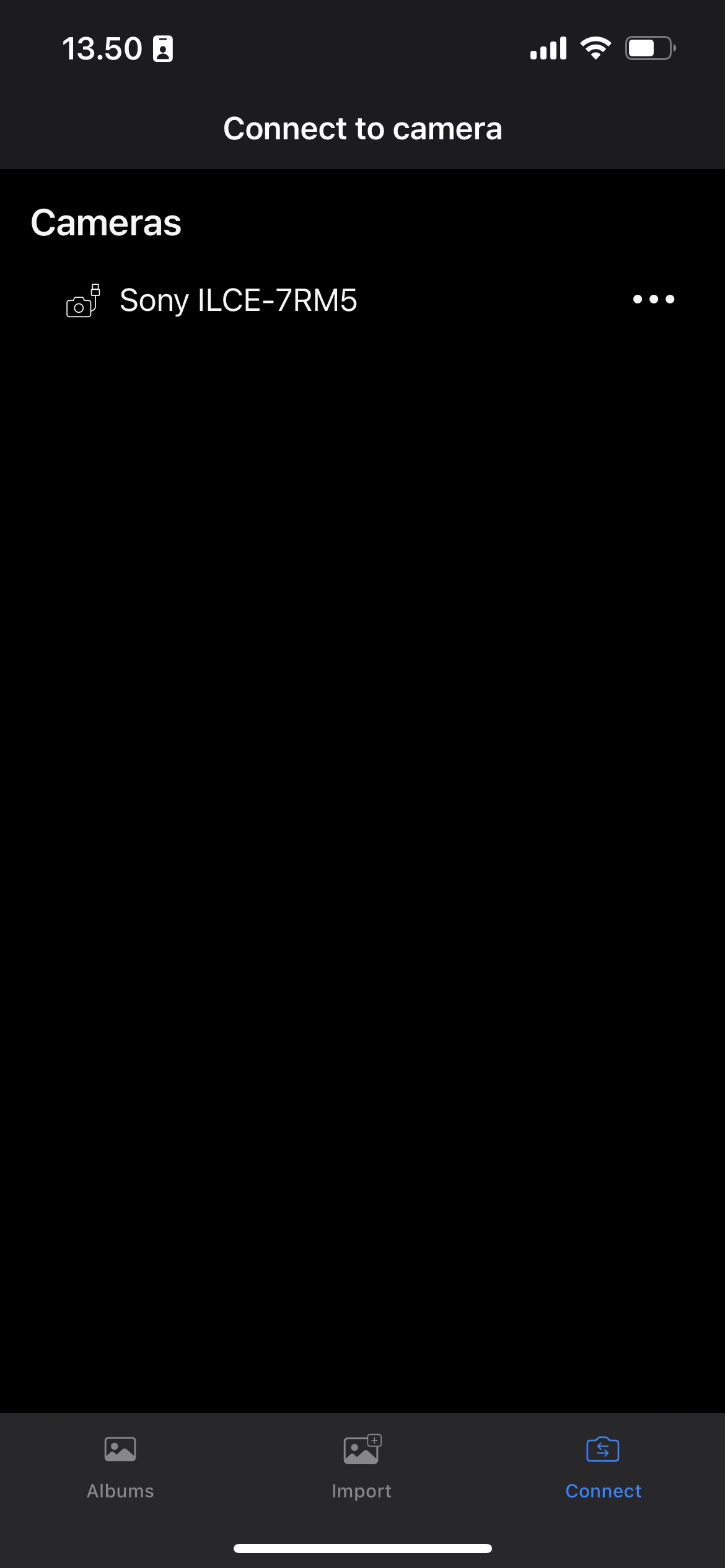 Gestures
You can see a list of Gestures in Settings, however there is one more gesture that is native to iOS but is still worth mentioning: you can pinch to change the size of image thumbnails within Albums.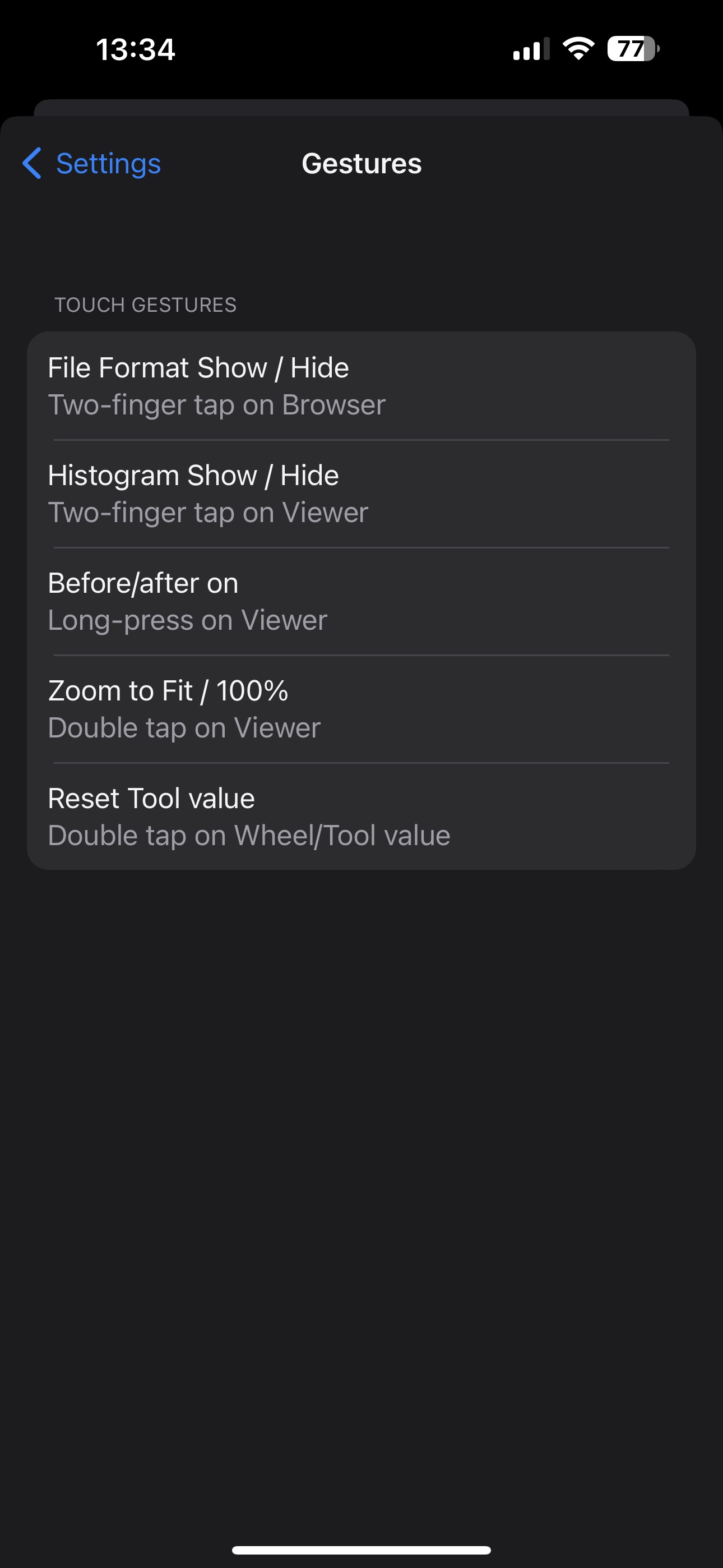 Settings
You can access Settings from the Albums tab.
Sign Out
General

Prevent device from sleeping
Cloud storage status bar (quota used)
System Settings (Capture One preferences in iOS Settings)
About Capture One (Terms of use and Privacy Policy)
Delete Your Account

Appearence

Histogram toggle
Viewer Frame Color
Exposure Warning (Highlights and Shadows)

Preferences

Auto-select next when... (Star Rating and Color Tagging)

Gestures
Support & Feedback

Capture One Support (link to our Help Center)
Share Feedback