A license code for Capture One is a key you receive after making the purchase of the perpetual license or starting a subscription plan. The license key contains 16 alpha-numeric characters to activate your copy of Capture One software.
Example: AAAA-1234-BBBB-5678
If you do not have a license key yet, obtain it in Capture One webshop.
Your active license key/s are normally available in your account under 'manage licenses' – check the articles below if this is not the case, or if you need help finding your key.
Purchased via Capture One online store, not yet activated
You should have received an e-mail with your order from mailer@fastspring.com – please, make sure to check the inbox of the e-mail, used during the purchase. All the product information will be in that email. Please proceed with the indicated steps.

Alternatively, you can log in to your Capture One account here (make sure to use the e-mail address your subscription has been purchased through). Then click on Order History --> View.
If your order is located under this e-mail, you will be redirected to the https://captureone.onfastspring.com/ page.
Please note, if the e-mail you have entered has no registered order history, you will be redirected to https://phaseone.onfastspring.com/account/ and asked to enter a different e-mail, that has order history under it. This is an indication that you are searching for your order under the wrong e-mail address.

Retrieving a previously activated license code
Log in to your Capture One profile at captureone.com. Click on the Account icon. Then navigate to Plans & services management and click on Manage.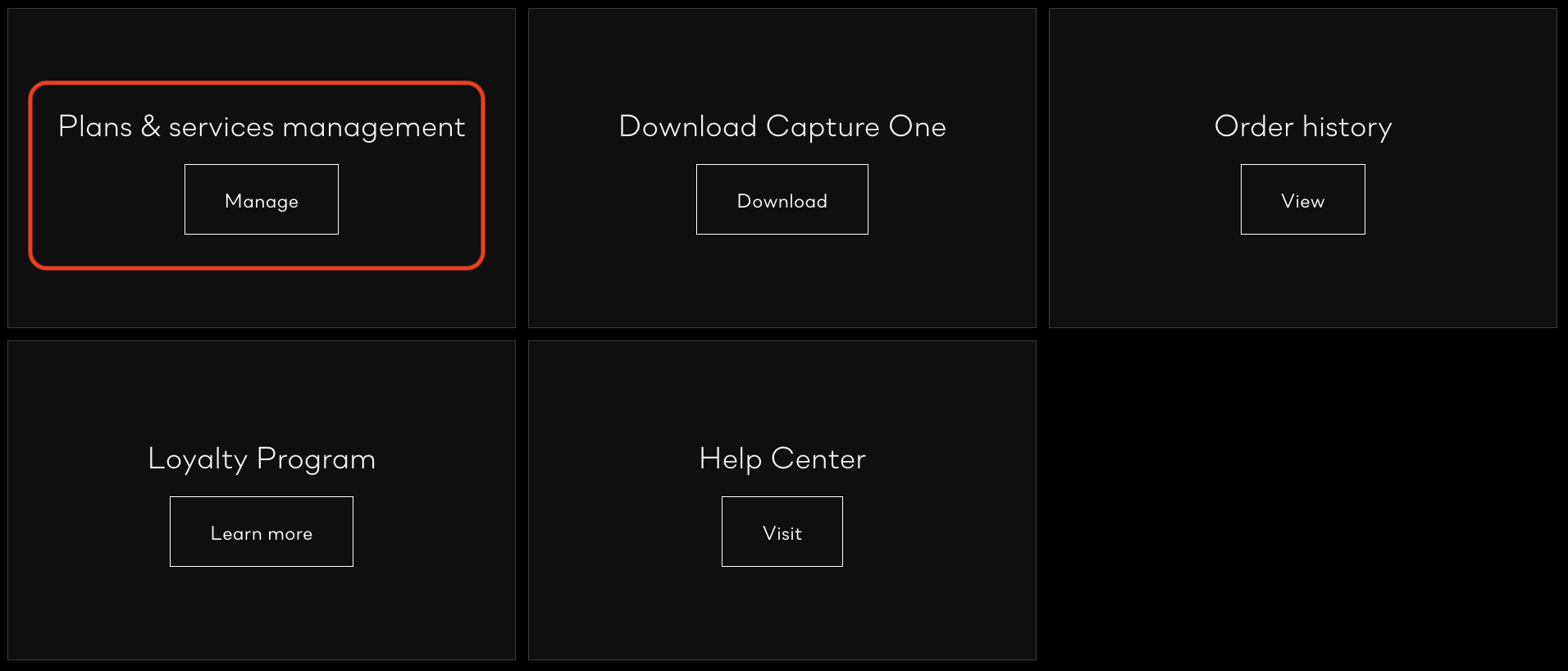 You will see the products on the Plans & services management page. Click on the product to see the license key and other details. You will also find crucial information about your key, the number of free upgrades and activations available.
You can also view your activation history and deactivate seats or reset all activations when you need to activate the software on other computers.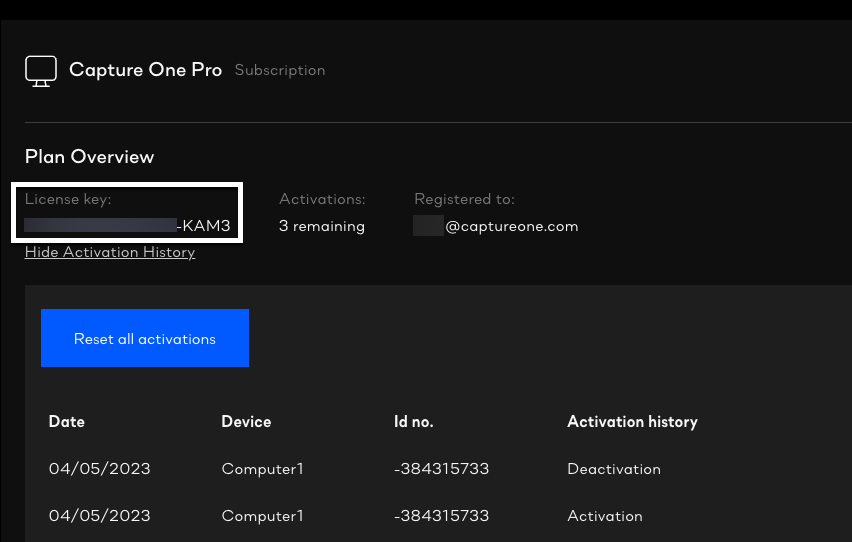 Retrieving Capture One Express license key
Starting from Capture One 20, the Express product variants of the software are activated with the license key. Once you download Capture One Express from our website, the license key will appear on the screen. Also, you will receive an e-mail with your license code to activate Capture One Express. However, the e-mail may sometimes be located other than the Inbox folder, so check your Spam, Social, and other categories in your e-mail box.
Purchased via External Vendor, not yet activated
If you have purchased your license from a Capture One dealer or an external website and have not activated the software yet, contact them and ask for the license key.