NOTE: The Output tool tab instruction is applicable up to Capture One 21 (14.3.0).

NOTE: With the release of Capture One 21 (14.3.0) Output tool tab has been removed and all export tools have been moved into the new Exporter window.
NOTE: In Capture One 21 (14.4.0) and onward, you can access the export functionalities in the main user interface by adding them as a separate tool tab, similar to the previous Output Tool Tab.
In the following description we will include both the previous and new naming of the panels and tools and define them with a slash in between, such as:
The Output tool tab/Export tool tab

Process/Export recipes.




The Output/Export tool tab (naming depending on your version of Capture One as mentioned above) features a number of parameters to help define how images are processed.
The Process/Export Recipes tool panel defines parameters such as size, file formats, quality, color space, and resolution.
All these parameters can be configured.
Users can also decide what specific metadata will be included in the processed/exported image file and systematically rename files in the output/export naming panel.
Watermarks* can be added and new process/export recipes can be created.
It is possible to process/export to multiple formats at the same time by ticking on multiple recipes.
The Batch/Export queue panel displays the queue that will automatically start when the Process/Export button is pressed.
You can control the queue for processing/Exporting and check which images have been processed/exported previously in the History tab of this panel. Press backspace to delete images from the queue or drag-and-drop the listed image files into a preferred arrangement to change the process/export order. It is also possible to reprocess/re-export files from the history tab.
The Batch tool was previously located in the Batch tool tab but then was moved to the Output tool tab starting from version 20 (13.1.0).
The Batch tool tab was removed in Capture One 20 (13.1.0).
Below you see the Output Tool Tab to the left and the Export Tool tab to the right.
How to access Export Tool Tab
In Capture One 21 (14.4.0) and onward, you can access the Export dialog by adding it as a separate Tool Tab.
Right-click the Tool Tab bar and select Add Tool Tab > Export. The Export Tool Tab is not present by default and must be added manually.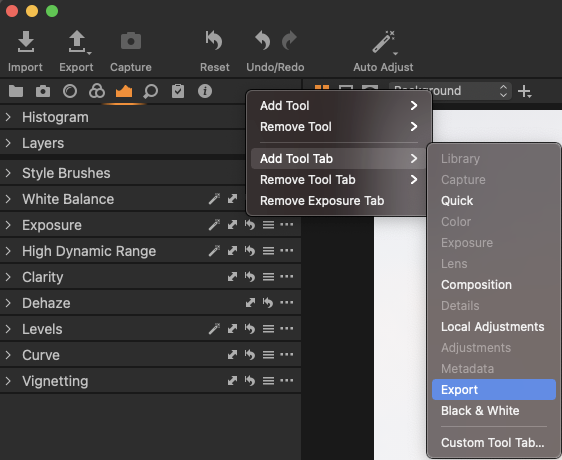 When you add the Export Tool Tab you will see all the tools, including the reintroduced Export Queue tool with History tab.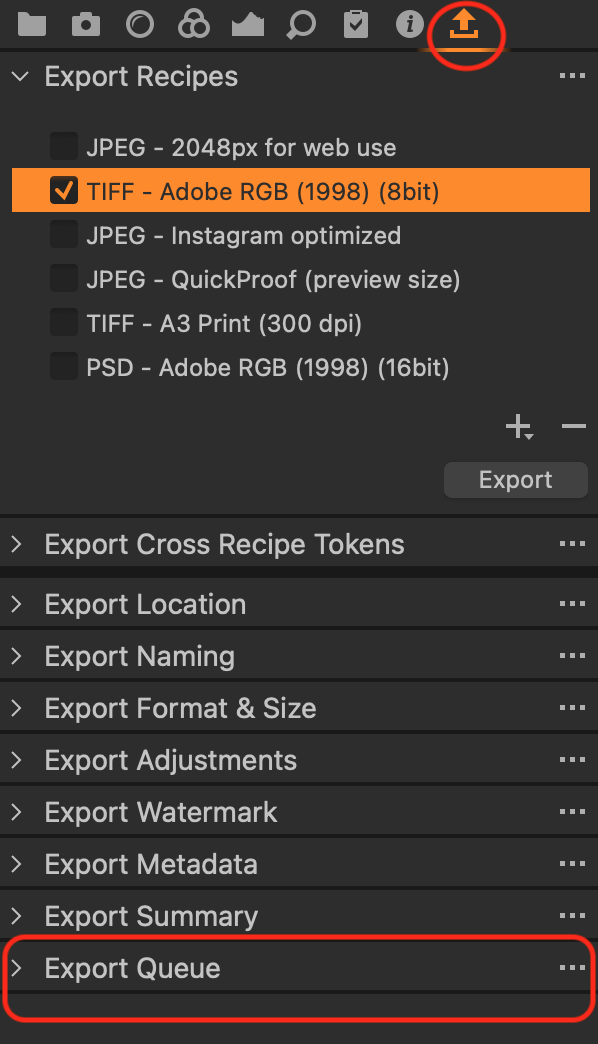 * Please note that if you add the Export Tool Tab manually, the watermark in the Export Watermark tool will only be visible when the Proofing viewer is enabled.
Read more about the Exporter in this article.