Cache (Preview Size)
The image preview size (px) value determines the resolution of the previews being displayed in the Viewer of Capture One. You should always set this according to the resolution of your display, e.g. a 4K display (3840 x 2160) will perform optimally with a preview size set to 3840px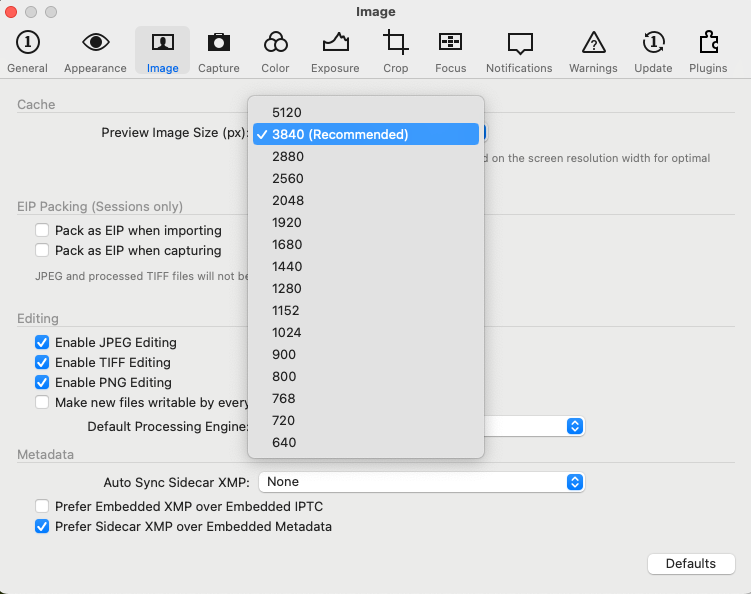 If you set your preview size higher or lower than the resolution of your monitor, then Capture One will be slower in generating previews and displaying image adjustments. Therefore, we suggest keeping this preference to the recommended setting as shown in the drop down menu above.
EIP Packing (Sessions only)
Checkmark one of the options if the .EIP workflow is preferred. EIP packing can be made automatically on import or capture (Phase One digital backs only).
Editing
Many users shoot both RAW and JPEG simultaneously. To avoid working on JPEGs and TIFFs accidentally, remove the editing option to ensure these files are viewable but not editable. The effect of selection is immediate, Capture One does not need to be relaunched. When editing is disabled, JPEG, TIFF, and PNG files can still be imported with their corresponding variants rendered and displayed in the browser and viewer. When the variants are selected, the editing tools are grayed out.
Make new files writable by everyone. When selected, new files (created during import, capture or EIP conversion) will have write permissions for everyone, not just the file owner.
Default Processing Engine. Select the default processing engine for Capture One from the fly-out menu. The processing version selected will only be used by new files (created during import, capture or EIP conversion), existing files rendered with previous versions will remain unaffected. You can check the processing version used to render selected variants in the Base Characteristics tool located under the Color Tool Tab.
Metadata
When working in different, third-party applications, metadata will be stored in different ways. Choose your preferred option. If left to the default settings, the metadata entered in Capture One will be preferred to third-party metadata.