Managing the Keyword Library – or indeed multiple Keyword Libraries – is the key to mastering quick keywording.
If a list is required to be used on another workstation or if you wish to export a document Keyword Library as a foundation for a custom Keyword Library, you can export the list from the contextual menu option (…) in the specific Keyword Library to a text file (.txt).
This .txt format can then be imported to another workstation, shared, or reimported for customization. Upon import of the .txt file, it is converted to a .cokeywordsdb file and stored in the applications support folder.
To import a Keyword Library from another source, click on the (…) icon in the Keyword Library toolbar, press Create Keyword Library…, and then select an option from the fly-out menu. Capture One supports import from a variety of sources.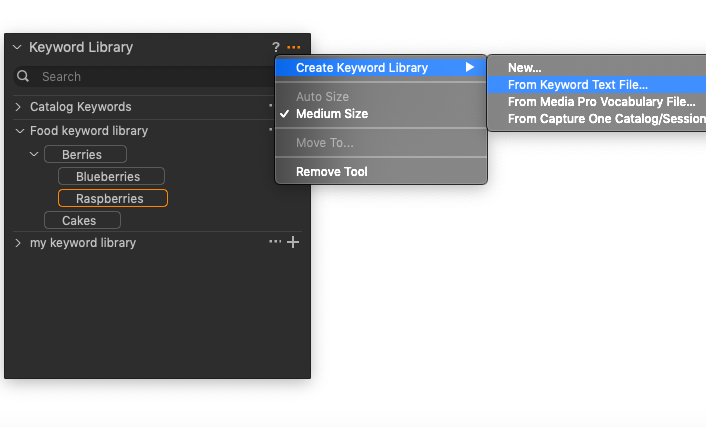 Supported sources:
Keyword .txt file (file generated by exporting an existing Keyword Library).
Media Pro vocabulary file.
Catalog/session (document Keyword Library from selected Catalog/Session)
NOTE: When importing text files with keywords (keyword lists (e.g., from Lightroom) and Media Pro vocabulary files), the following characters are not allowed in the text file:
| ; , < >
By default Shared Keyword Libraries are stored in the application support folder:
macOS

Users/[Username]/Library/Application Support/Capture One/Keywords

To access the user's Library folder, go to the Go menu in Finder (or press CMD + Shift + G on your keyboard) to open the Go to Folder dialog, enter "~/Library" and press Return on your keyboard. macOS will open up your user's Library folder.


Win

Users\[Username]\AppData\Local\CaptureOne\Keywordlibraries

To access the AppData folder, search for "Run" in the Start menu (or press Windows + R on your keyboard) to open the Run App, enter "%AppData%" and click OK. Windows will open up the Roaming folder, which is inside the AppData folder.
Any Keyword Library saved in these directories will be automatically loaded into created or opened documents.
<< Editing keywords in the keywords library | Additive metadata lists >>