The choice of color space (determined by the ICC Profile) depends on the final purpose of an image file. The sRGB color space should be adopted for all images intended for the web. The wider color gamut Adobe RGB color space is a common choice for printing. When selecting images for a printing service or client, however, a custom profile may be preferred. While Capture One is supplied with several common profiles, it can access any of the system profiles, including CMYK color space profiles.
Highlight the recipe (or create a new recipe) to edit from the list in the Process Recipes dialog located under the Output tool tab.


Go to the ICC Profile under the Basic tab in the Process Recipe tool.


Click on the ICC Profile fly-out menu and select the relevant profile from the list. Select Show All to view all the profiles available on the system.


The selection is saved automatically to the highlighted recipe.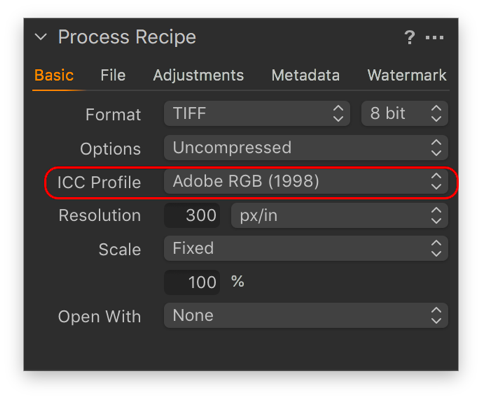 << Specifying file format | Image dimensions and resolution >>