Select the desired thumbnail files in the Browser.


Select File -> Export Web Contact Sheet… The Web Contact Sheet module opens in a window on top of the Capture One window.


Select a Theme. A Classic (Dark/Light) theme is similar to a contact sheet featuring thumbnails. In this example, the Full screen (Dark) option has been selected.


Fill in any TEXT fields (Title, Description, Copyright, and Web-link).


Set the desired thumbnail, preview, and quality size.


Select a Path folder in the Web Sheet Output tool.


Checkmark the Show after Export if you want to see the gallery in your web browser.


Press the Export button in the bottom right corner.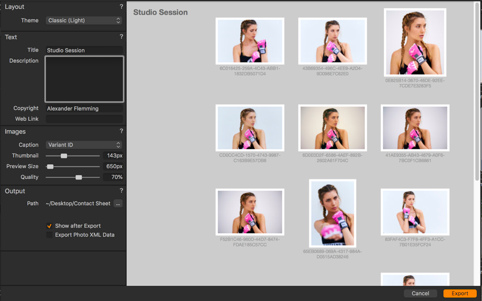 NOTE: Please keep in mind that your Web Contact Sheet will be opened from your local file system. If you want to share a Web Contact Sheet you can do it in a convenient way, for example, make an archive and send an email or upload it to web hosting.