Connection
PROBLEM: The link still works, but the ratings are not synced back to Capture One or changes that take place in Capture One do not appear on the sharing page.
SOLUTION:
1. Check that your internet connection is working.

When you have an active Sharing Session, you will get the following alert when your internet connection is unavailable for more than a minute: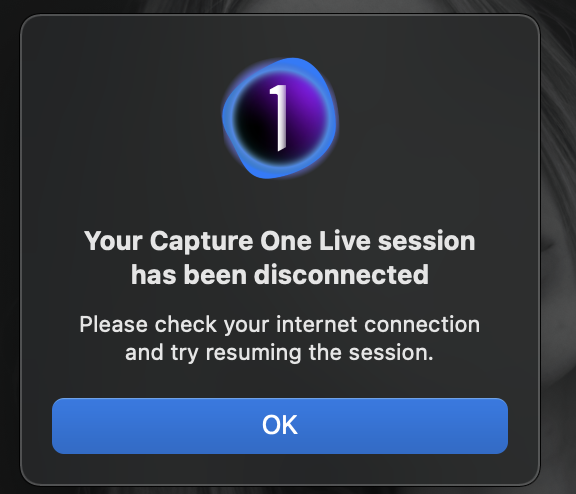 A notification will be also displayed to the people you are sharing the Session within the bottom left corner of the web page: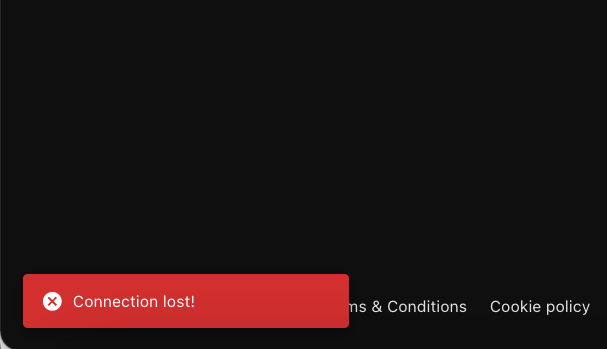 If both internet connections are in order, check if the Sharing Session is still active in Capture One. It should be like this: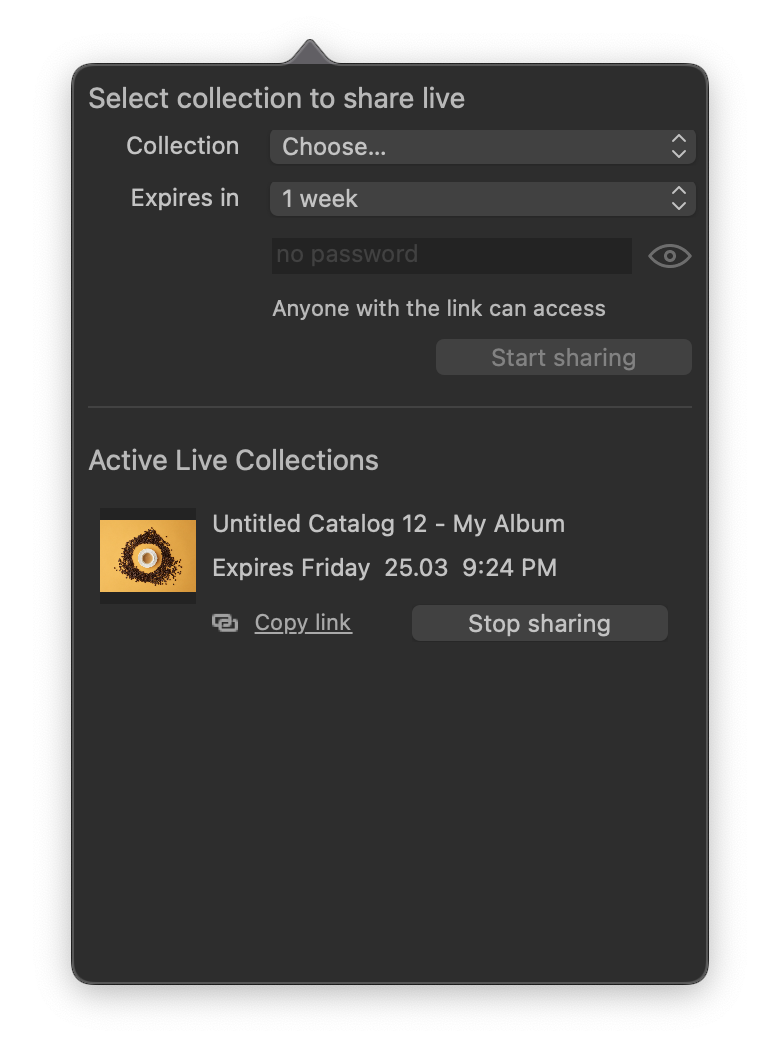 Start and Expiry Time should have values and the Stop Sharing button should be visible.
2. If the Capture One Live tool is not showing properly, check if instead of the Stop sharing, the Resume sharing is available. If that's the case, you can resume your Sharing Session, by clicking the Resume sharing. When you do, Start and Expiry Time have values and the Stop sharing button is visible.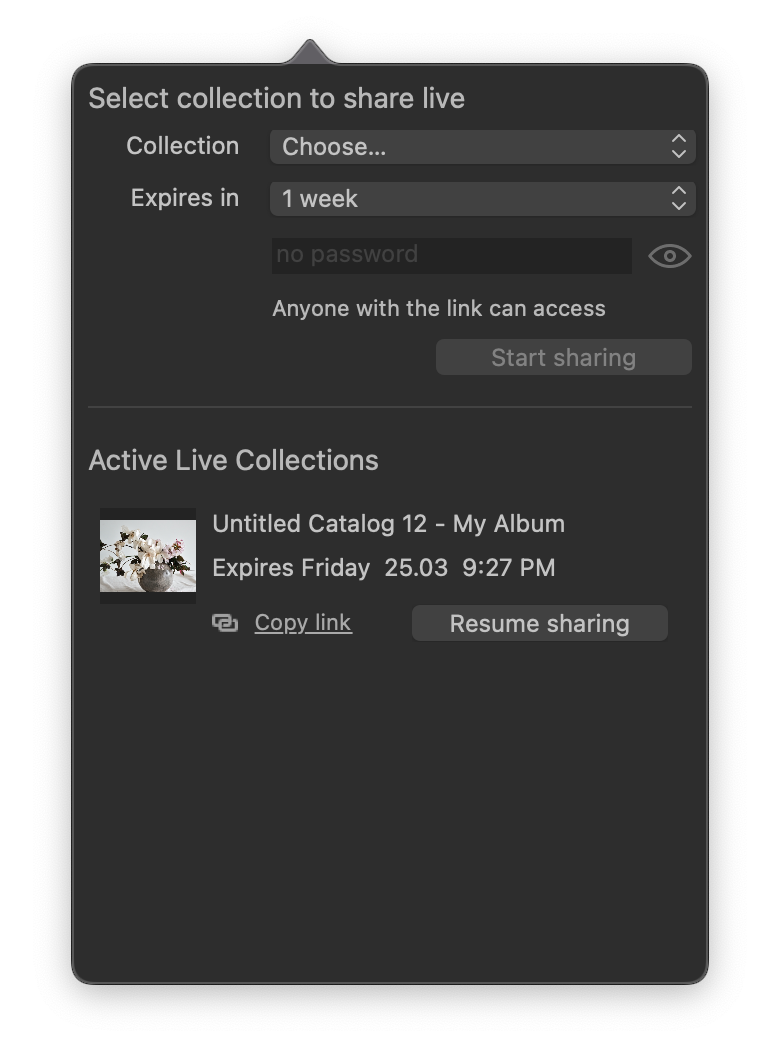 When you click Resume sharing all your changes will be sent to the sharing site and you will receive any ratings or color tagging that have been performed on sharing site by the people you are sharing with.
Capture One is closed during a Sharing Session
If you close Capture One during a Sharing Session or if your PC is turned off for some reason, the website that displays the shared album will still be available and the people that are viewing the website continue to see, rate and color tag your photos. You can upload new photos or edits to the Session if you resume it:
Open Capture One

Go to Capture One Live tool

Click Resume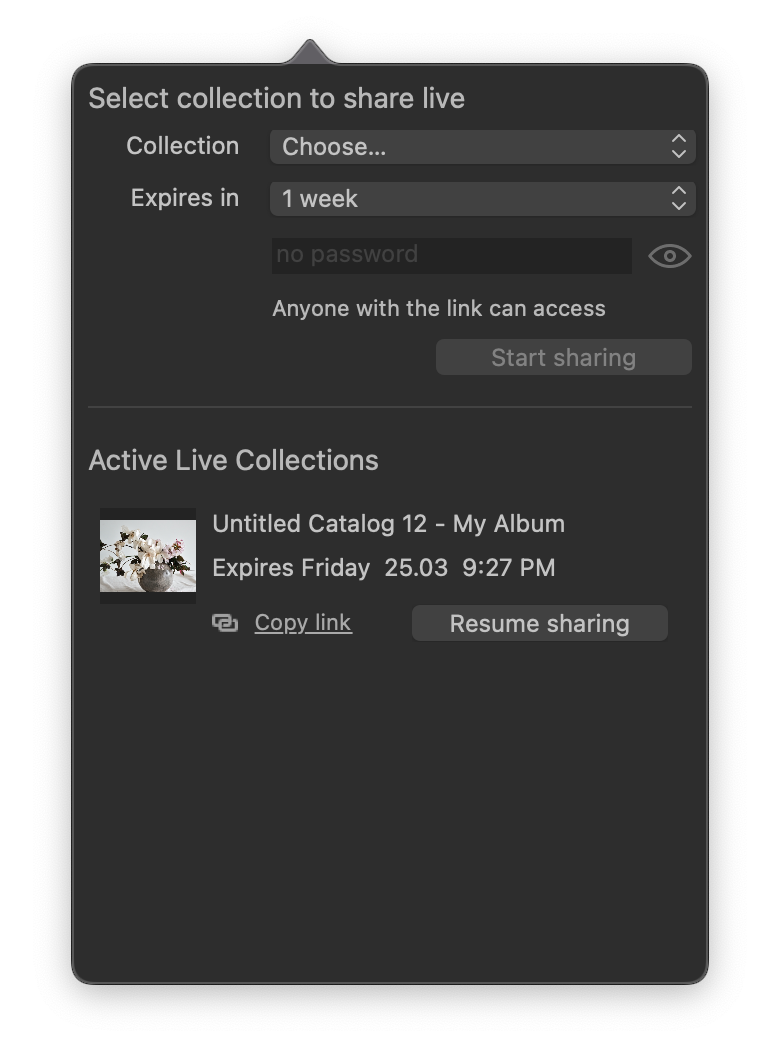 You can continue adding and editing photos to your Sharing Session and receive ratings and color tags from your reviewers until the Expiry date is reached or until you stop the Session by clicking the Stop Sharing button.
Cannot stop the Session
PROBLEM: You cannot stop the Session: You click on Stop sharing and a message is displayed saying: "We are not able to stop your Capture One Live Session. Please check your internet connection and try again."
SOLUTION: There is a problem with your internet connection. Make sure you are connected to the internet and try again.