The HDR merging feature has been introduced in Capture One 22 (15.0.0). With this feature, you can increase the dynamic range of your images by merging your bracketed RAW files directly within Capture One. The result is a linear DNG that behaves like a RAW file for further editing.
Shooting optimally for HDR
When shooting for HDR merge, consider following these principles for optimal results:
1. Shoot 3 images bracketed with 2.0 EV between each image.
2. Use a tripod to avoid significant differences between the images.
3. Make sure that the brightest image has details in the shadows and that the darkest image does not have any burned out highlights.

How to merge
1. Select the images you want to merge, right-click, and select Merge to HDR.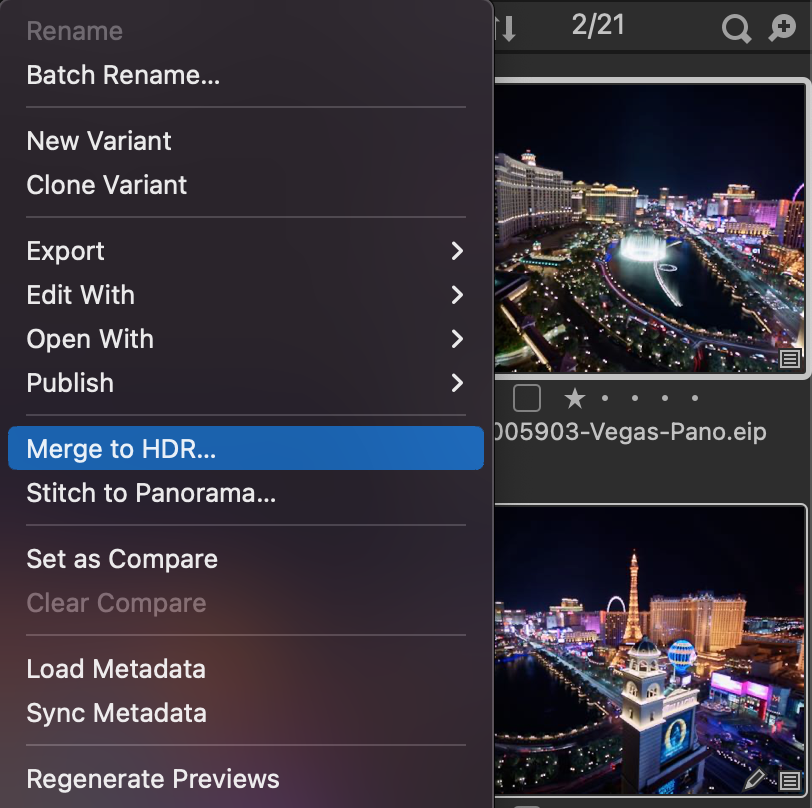 2. A dialog box appears with two options. Enable these two options, if needed, and click Merge.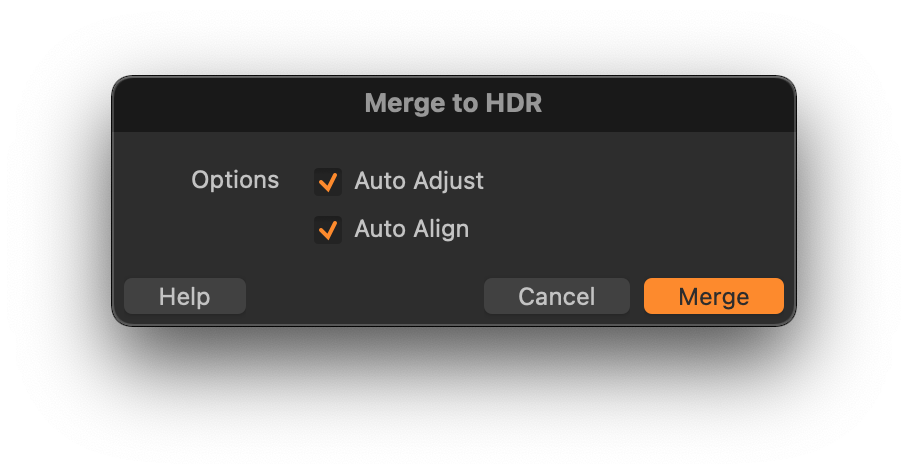 Auto Adjust will apply auto adjustments to the merged HDR file. This will provide an immediate pleasing result with details and natural contrast. The tools included in the auto adjustments are Exposure, Contrast, Brightness, High Dynamic Range, and Levels. These adjustments can be further tweaked or removed after the merge.

Auto Align will align images that are not perfectly aligned. This makes it possible to shoot without a tripod. However, even images shot using a tripod will typically benefit from this auto alignment as misalignments on a pixel level could lead to quality loss. Auto-Align will increase the merging time.
Alternatively, go to Image in the Menu and select Merge to HDR with default.
This function will directly merge images with Auto Adjust and Auto Align always enabled without the dialog box.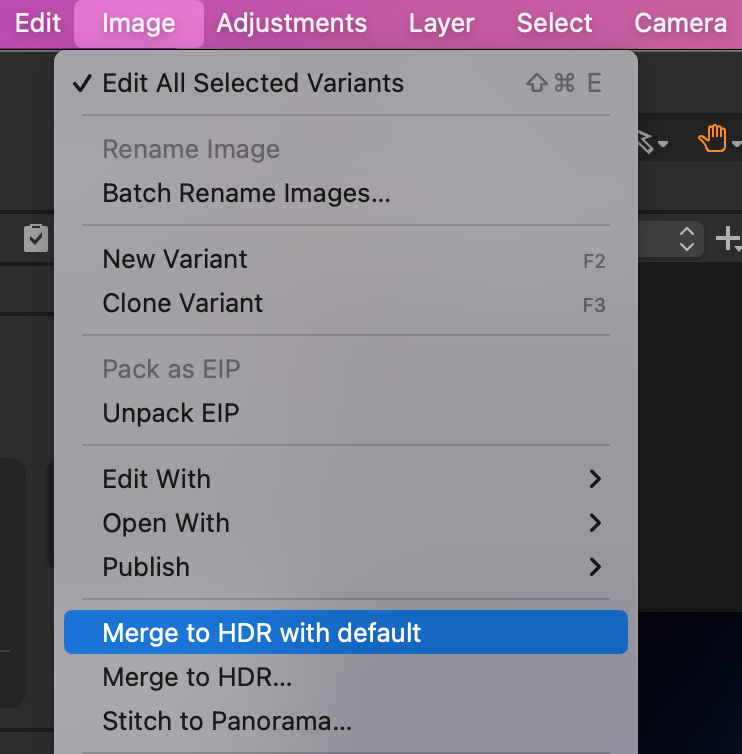 Or, if you choose Merge to HDR, you will go through the same process as right-clicking on the selected images.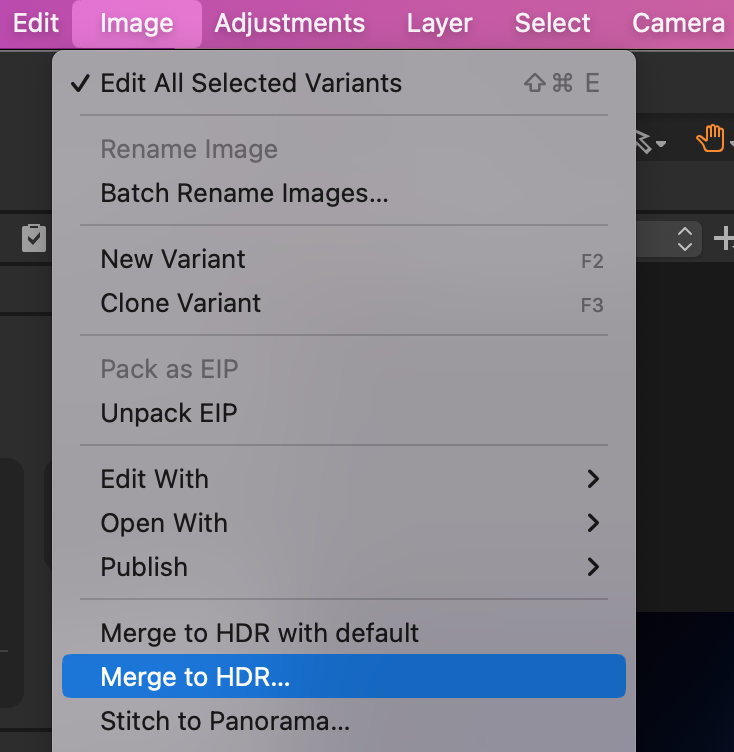 NOTE: HDR merging can also be activated using shortcuts. There are no default shortcuts, so they must be customized.
Merged file
Depending on your hardware, the number of images, and the resolution, the merging process can take anywhere between 10 seconds and 5 minutes. When the merging is done, the HDR DNG will appear next to the input images.

In order to receive the notification when HDR Merge is Completed, you need to enable notifications in advance in both Capture One Preferences and System Preferences.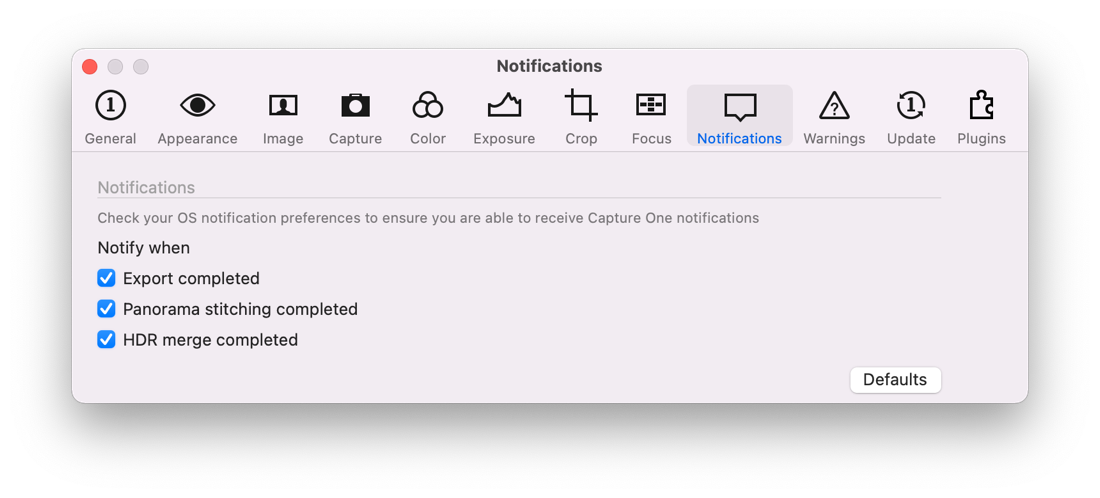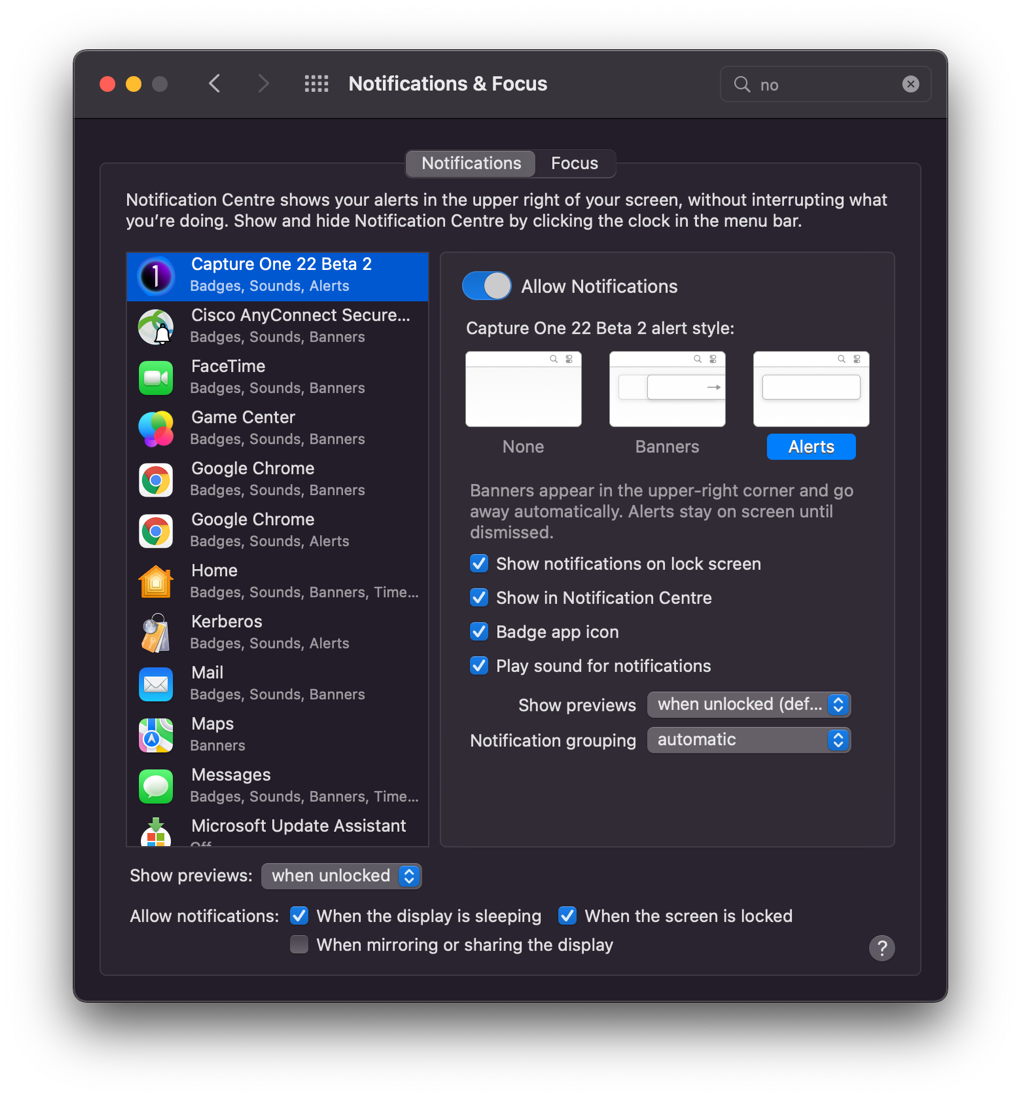 The HDR merge notification message will appear in the top right corner, and if you click Show, you will be taken to the merged image in Capture One.

NOTE: If you wish to convert your DNG file to PSD for further editing in Adobe Photoshop, please be aware of the following file limitations of the PSD format: it has a maximum height and width of 30,000 pixels, and a size limit of two gigabytes.
Lens Correction
In order to include lens correction in the merged HDR, the selected images need to have identical lens correction settings.
Please note the lens correction settings will be applied during the HDR merge. The resulting .dng file will therefore have the "Generic" lens profile when generated.
Metadata
The following table lists the Metadata copied from the selected images to the merged HDR.dng file:
Metadata copied to merged

HDR.dng

file

Stars

Color rating

Keywords

Shooting date

Album

Session folder

Copyright field

All EXIF and IPTC metadata
NOTE:
Only RAW files from supported cameras can be merged with the HDR merging.

RAW files from achromatic cameras are not supported.

Lens correction is currently not automatically applied.

Fujifilm simulations are not supported on HDR merged images and will be replaced with default Capture One camera profiles.

It is not possible to create an HDR Merge from the Offline file.

Images need to have the same dimensions in order to create an HDR merge.

It is not possible to merge multiple variants of the same file.

If pixelated artifacts appear on your HDR merge, consider using fewer images in the merge.

When performing a HDR merge on Windows, resulting files will not appear in the Recent Imports collection but you will still be notified that the merge was successful.

NOTE: HDR merge is not available in Capture One Express.