This article contains the following sections:
How do I install Capture One?
Log in to your account on the Capture One website using your credentials and go to Download Capture One section.




If you are looking for a step-by-step guide, please see How do I install Capture One?
Where can I find my Capture One license key?
If you made a purchase in our official e-store, you can find your key in the confirmation email or by logging in to your account and going to Order history.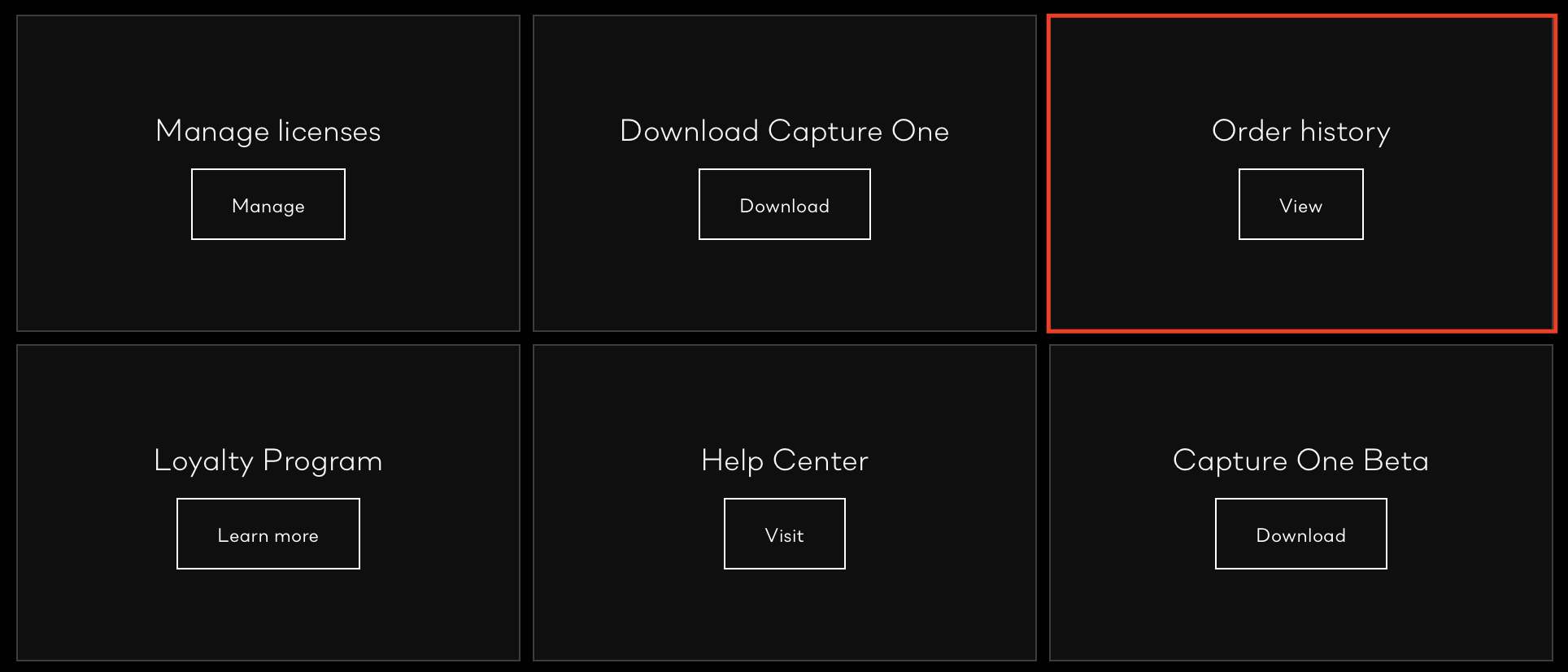 For more detailed instructions, please check this article: How can I find Capture One license key?
Note: If you purchased the software from a reseller or third party, reach out to them to help you recover the key.
How do I activate the new version of Capture One?
Make sure you deactivate your current or old version. You can do this by going to Capture One > License (Mac) or Help > License (Win) – if you are on a trial, then you will need to do this before activating a paid version of Capture One, as all run modes are contained in the same installer.
More in-depth information can be found here: Deactivating Capture One
Launch the latest version of Capture One, or the version you wish to activate, and activate it with your current key: How to activate Capture One
Activation Issues
If you get the error message "Could not activate because the activation profile is incorrect", it means that the license is already registered with a different email address. Use the email address linked to the license key and try again.

For additional details, check Could not activate because the activation profile is incorrect
Activation limit exceeded? Free up one of your activation seats following the same deactivation guide.
Did you face a server error? Check your internet connection, disable firewall, VPN and follow these instructions: License activation errors
Get started!
After updating, Capture One can use the default workspace, so please go to Window -> Workspace and choose your personal one. If you haven't saved it properly, it will have the name of the previous version.
We also encourage you to browse the Learning Hub section of our Help Center for quick tutorials and in-depth webinars.