Smart Adjustments are an easy, efficient, and intelligent way to achieve consistency across your images. Exposure and White Balance are adjusted (smartly) based on the content of a single reference image.
When working with images of people, with improved image accuracy with unimportant faces near the edge of the frame and more intelligent face prioritization, Capture One provides a more predictable result with other people around the subject(s).
This can vastly speed up your workflow as there's little-to-no-need to adjust individual sliders for Exposure or White Balance.
Smart Adjustments can also be embedded in Smart Styles, for an even quicker editing experience.
It's worth ensuring that you are running the latest version of Capture One to always get the most out of Smart Adjustments, as we're constantly improving the intelligent functionality of the tool.
N.B. Smart Adjustments will always apply to the Background layer.
This feature is available in Capture One Pro 23 16.0 and later.
How to use Smart Adjustments
The Smart Adjustments tool can be found in the scrollable area of the Adjust tool tab.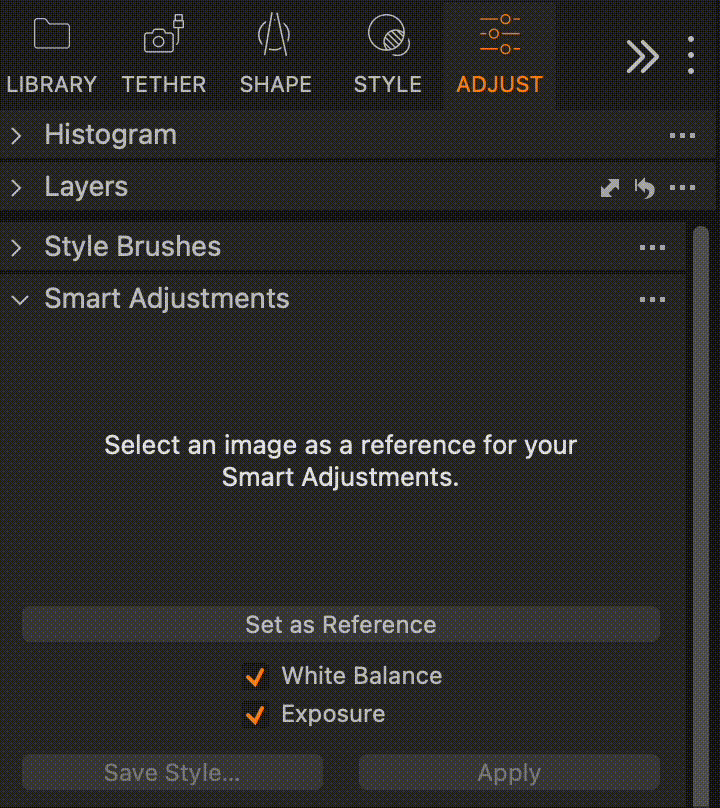 There's no need to copy and apply adjustments – simply edit a single image as a reference, and use this to accurately and consistently set Exposure and White Balance.
Select an image from the Browser
Navigate to the Adjust tool tab, and find the Smart Adjustments tool in the scrollable area, as shown above
With your image selected and edited to your liking, click on Set as Reference and you will see your primary variant appear as a thumbnail in the tool
Select if you want to adjust both White Balance and Exposure, or only one of these options
Notes
- The reference image can be cleared by going to ... and selecting Reset Tool
- Multiple instances of the Smart Adjustments tool will only ever display one reference image at a time, e.g. If you are using a floating tool, it's not possible to have more than one reference image
- An alternative method of applying Smart Adjustments is to select Save Style… – this will take your reference image, along with your selected adjustments and allow you to save a Custom Style, which can be applied in the same way as any other Style
- Consider using Auto Adjust to quickly prepare your reference image, before applying to a batch of images
Smart Styles
The Smart Adjustments tool also contains a Save Style... button. This allows you to save your reference as a Smart Style for future use by including Smart Exposure and/or Smart White Balance.
Read more about Smart Styles here.