Capture One allows you to directly edit the capture time of a single image, or a batch of them, ensuring that your images are at the best starting point for organizing and culling. This affects the EXIF data of your images, directly modifying and changing the time of which the image was captured.
How do you change the capture time of an image?
In the Library tool tab, scroll down to Metadata
Under 'Basic' you will see the date/time your image was captured or created on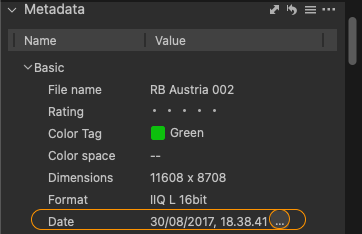 3. Click ... to begin modifying the capture time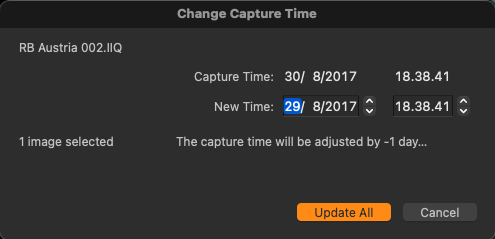 Image name - the name of the image you are editing, shown here as "RB Austria 002.IIQ"
Capture Time - displays the current capture time
New Time - this is where you enter the desired capture time (explain that if it is one image, then it is the exact time, but if it's multiple images then there will be a time offset based upon the primary variant)

The tool will let you know what the adjusted capture time will be. Select Update All to change the capture time of the selected image, or all images that you have selected.
You can also access the Change Capture Time dialog by right/option-clicking on an image in the Browser or Viewer and selecting Change Capture Time.