Capture One is a powerful RAW converter offering you ultimate image quality with beautiful colors and incredible detail.
It offers state-of-the-art tethered capture, powerful digital asset management, extensive adjustment tools, and a flexible workflow through customizable workspaces.
All run modes are included in one installer and the run mode is determined by the license key that is used. The trial is also included in the installer and is registered as the full product upon activation.
Previous release notes can be found here.
Best regards,


Team Capture One
Contents
Release highlights
Capture One 23 (16.0.0) is a feature release containing new functionality, new camera and lens support, and important bug fixes.
New features and functionality
Smart Adjustments
Cull and Import upgrades
Layers in Styles
Change Capture Time
Capture One Live: Reviewer Management
Capture One Live: New Business Model
General User Experience Improvements and tweaks
Variants in Albums
Improved performance for Sony files
Improved performance for systems with multiple GPUs
New touchpoints for Capture One Live
Feature walkthrough
Smart Adjustments
Get consistency in your portraits or event photos in a few clicks with Smart Adjustments. Automatically adjust Exposure and White Balance to match the look across images, heavily reducing the need for manual editing. The Smart Adjustments Tool is designed for editing workflows where copy/apply cannot give a consistent result because the starting points are different. Smart Adjustments can be added in a Style where additional adjustments can be included as well, getting closer to one-click editing.
The first version of Smart Adjustments is designed for photographers shooting portraits, weddings, events, and other images of people.
Smart Adjustments can be used in two ways:
Using the Smart Adjustments Tool, you can set a reference from an image with a visible face that has the desired White Balance and Exposure. This reference can then be batch applied to other images which will have White Balance and/or Exposure adjusted automatically to match the look of the reference.
The Smart Adjustments Tool is in the Adjust tab of the default workspace.
Smart Adjustment references can be saved into a Style for continuous use (Smart Style). This type of Style can include regular adjustments which allows turning any Style into a Smart Style which automatically sets the White Balance and/or Exposure to achieve consistency. Smart Styles work like regular Styles. They can be applied to batches of images, during import etc.
N.B. Smart Adjustments are not supported on Layers.
You can, for example, make a Smart version of your most used Style by including Smart Adjustments when re-saving it, or save a Smart Style which only corrects White Balance for faster portrait editing.
Important: The first version of Smart Adjustments relies on faces, both for the reference and the images being adjusted. If no faces are present on the images, the adjustments will vary greatly.
Cull and Import upgrades
Sort your images and make your selections faster with dedicated functionality developed specifically for culling. View, rate, tag, and browse with zero delay and get an easy overview of similar images for a faster selection. The new functionality is available both from the Importer and the new dedicated cull view.
The new culling functionality is designed with high-volume photographers in mind, making it faster and more enjoyable to find the best shots.
Main features, available both in the Importer and the cull view:
Zero-delay browsing (no preview generation needed)
Group view of similar images
Star rate and color tag
Zoom to 100%
Filtering
Change Capture Time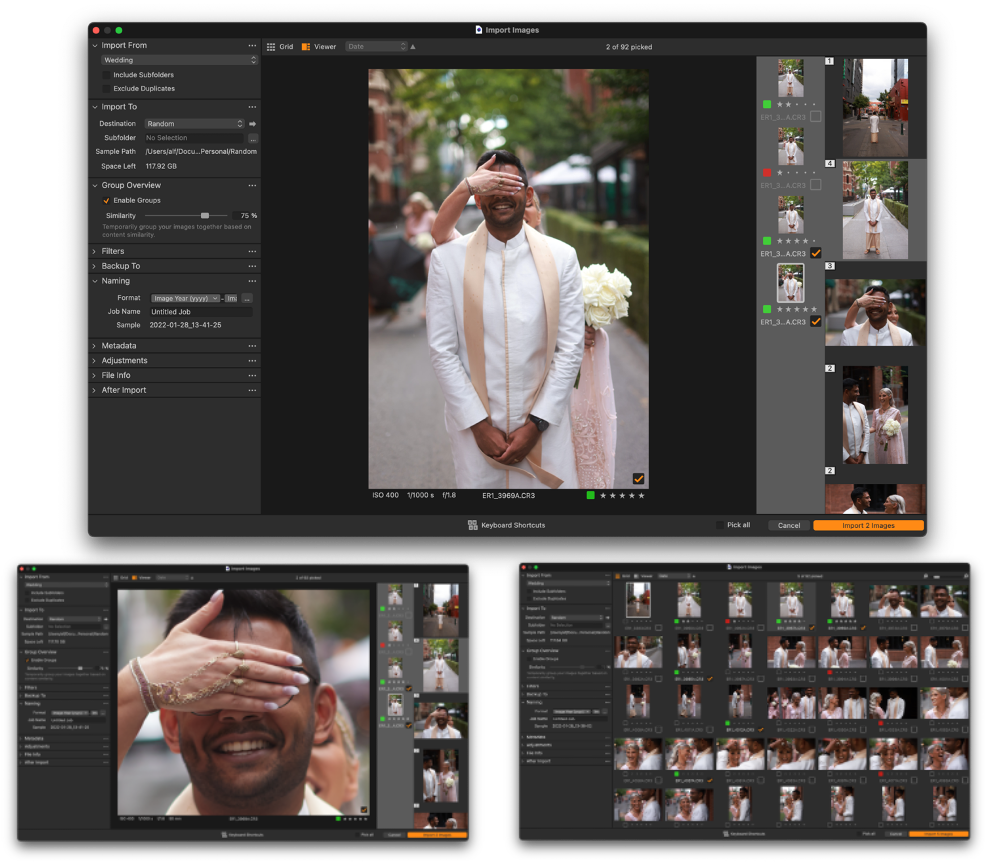 The new culling features can be accessed from two areas of Capture One:
Importer
The new features are available directly in the importer. Browse with zero delay, group images together by similarity, star rate and color tag, zoom to 100% to evaluate sharpness, filter based on different metadata, and change the timestamp of images to ensure correct chronological order – all before importing your images into Capture One.
When rating and tagging images, Capture One will store the metadata temporarily if you decide to finish the culling session later. Previous versions of Capture One would not remember the selection if the Importer was closed.
Cull view
If you already have your images inside Capture One and wish to take advantage of the culling features, you can open the Cull view, available in the toolbar next to Import and Export. This will show the currently selected collection of images and doesn't require rendered previews.
The Cull view is a great tool for quickly going through large batches of images for selecting the best ones.

Layers in Styles
Capture One 23 enables the option to include Layers when saving Styles. This offers a more efficient and flexible workflow as you can apply edits with multiple Layers, each with a predefined opacity.
By applying a Style with one or more Layers starting at reduced opacity, for example 50%, the effect of each Layer can easily be both increased and decreased, giving you full control of your Styles workflow.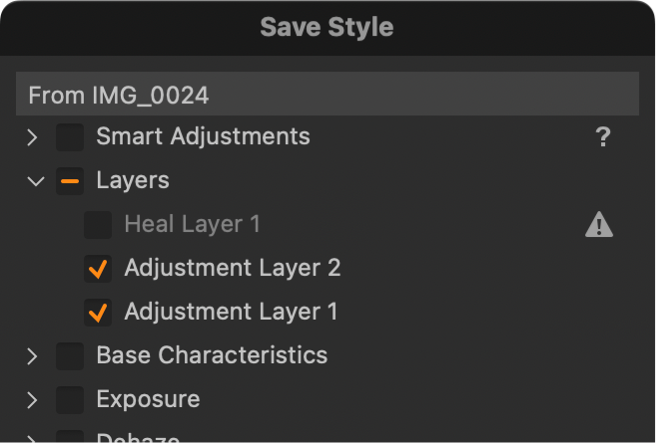 Note that only empty and filled masks are supported in Styles. If a Layer includes a manually brushed mask, the Layer will be saved but the mask will be empty. Heal, Clone, Luma Range, and Gradient Layers are currently not supported.
Change Capture Time
Change the capture time on images to synchronize multiple cameras, or simply fix an incorrect camera clock or time zone. Available from the main Image menu, from the right-click menu, and within the Metadata and File Info Tools. Timestamp on images can also be changed before importing by changing it directly from the File Info Tool in the Importer.
Useful for wedding and event photographers using multiple cameras and photographers shooting internationally in different time zones.
Capture One Live: Reviewer Management
Manage who can access your online sharing session and what they can do:
A new "manage" option is available for each session – this will open a window where you can manage your reviewers.
From this window you can:
- Invite specific reviewers by email – they will get notified on your behalf
- Change their access level, between no access," can view" and" can rate, tag, and comment"
- Directly access the session identified as the photographer
This does not remove the ability to simply share a session to un-identified users with a link, but this replaces password protection.
Users invited via their emails will need to enter their email address when accessing the session and a One-Time Password will be sent to them to complete the identification process.
They will be able to leave comments with their identity
If "anyone with the link" access is not revoked, all users have the option to "continue anonymously" if they do not wish to identify themselves. In this case they will participate in the session as an anonymous reviewer, and comment as such.
Improvements
Variants in Albums
Variants of the same image can now be put into separate Albums without the rest of the variants following along.
Improved performance for Sony files
Sony files load faster from the disk, enabling faster preview generation and rendering when zooming to 100%. The individual improvement will vary from system to system as it depends on disk speed, raw file size and other components.
This will be particularly noticeable if working from a network disk.
Improved performance for systems with multiple GPUs
Exporting on certain Windows machines with multiple GPUs will be up to 100% faster. This is particularly noticeable if there is a big difference in performance between the GPUs.
New touchpoints for Capture One Live
The Capture One Live button has been renamed "Share online" for clarity.
There is now a 1:1 relationship between your collections and the live sessions, meaning there can only be one Live session corresponding to a specific collection.
You can now start/stop/resume/manage a Capture One Live session from the right-click menu. Right- click on an album, hover over "Share Online with Live", there will be a slight delay due to server check and you will be offered the appropriate option.
You can now start a Capture One Live session when creating a new album: a checkbox to share online will be present in the dialog.
New Lens Support
Panasonic LUMIX S 24-105mm F4 MACRO O.I.S.
Canon RF-S 18-45mm F4.5-6.3 IS STM
Bug fixes Windows
Fixed a rare issue where the top row in the Browser would not be shown.
Fixed an issue where the interaction with Styles would become slow when a large number of Styles is installed
Improved performance for Live-View using Fujifilm cameras
Fixed a rare issue during activation, whereby the error message: "Something unexpected happened. Please contact support" would be shown.
System requirements
We recommend that your computer has at least the minimum specifications outlined below to run Capture One.

Microsoft Windows minimum requirements
Intel Core i3 (1st generation) or AMD Jaguar Family
8 GB of RAM
10 GB of free hard disk space
Calibrated monitor with 1280×800, 24-bit resolution at 96dpi
Windows 10 64-bit (builds from

1607 to 22H2

) or Windows 11
Internet connection to run Capture One Live
Apple Macintosh minimum requirements
Intel Core i3 (1st generation)
8 GB of RAM
10 GB of free hard disk space
Calibrated monitor with 1280×800, 24-bit resolution at 96dpi

macOS 11, macOS 12, macOS 13

(macOS 13 builds up to 13.0)
Internet connection to run Capture One Live
4k / 5k monitors
Due to the significant additional calculation overhead, systems using 4k/5k monitors will require additional resources in addition to the above-recommended spec (both in GPU and CPU power). For professional experience, we recommend at least doubling the specification above for these configurations.
Installation
The latest version of Capture One is compatible with the earlier 7.x, 8.x, 9.x, 10.x, 11.x, 12.x versions. It is recommended to migrate images from 4.x, 5.x., and 6.x to version 8.x before opening them in the latest version of the app. It is generally recommended that you only install one version of Capture One on any single computer. A single-user license allows up to 3 activations on computers that you own or of which you are the principal user. The license can be used with both Windows and Mac platforms. Multi-user licenses are also available from the Capture One web shop or from your retailer. Please read the release notes carefully before you install Capture One.

Install on Windows
To install the software please follow the procedure below.
Run the executable software install file (.exe).
Carefully read and accept the license agreement presented.
Follow the on-screen instructions to complete the installation. Capture One will initiate the installation of Microsoft® .NET Framework 4.7 if you do not already have it.
Install on macOS
To install the software please follow the procedure below.
Open the Capture One disk icon (.dmg).
Carefully read and accept the license agreement presented.
Drag the Capture One icon to the Applications folder.
Open Capture One from your Applications folder.
Manual update to the latest version
It is important to keep Capture One software updated. After the activation and registration, you will usually receive a newsletter reminder that an update is ready for download, although it can be more convenient to choose Capture One -> Check for Updates (Help -> Check for Updates on Windows). If your Capture One application is downloaded from www.captureone.com, it will always be the latest version. You can also schedule an automated update if needed by navigating to Capture One -> Preferences (Edit -> Preferences on Windows).
Recommendations and limitations
For all users
When you have disconnected a camera, do not reconnect a camera until the Camera tool status changes to "No Camera Attached".
DNG support not optimized for some cameras.
For other camera users
The following functionality is not supported for Fujifilm X-trans RAW files: processing/exporting to DNG.
Some cameras provide multishot functionality by way of (e.g.) multiple exposures or pixel shifting. In most cases, the functionality will not be available in Capture One, however, a single RAW file from the "stack" may be viewable and editable in Capture One (as if it was a shot in single Capture mode).
For digital back users
Unless otherwise specified for your Phase One camera system, do not open the shutter on the camera prior to opening the Live View window. Doing so will generate errors on the digital back after closing the Live View window. The recommended procedure for using Live View is to first open the Live View window, then open the shutter on the camera, use Live View as desired, when done, close the shutter on the camera, and close the Live View window.
Focus controls for iXR and iXA cameras are only supported by IQ and Credo backs.
Known Issues
Find a list of known issues for Capture One at the time of shipping.
All users
Browsing folders containing unsupported image files may affect application performance.
Previews from earlier versions of Capture One may be updated. In some cases, this can affect the application performance the first-time images are viewed in this version of Capture One.
Using a non-US laptop keyboard might be preferable to change some of the standard keyboard shortcuts.
Editing images in external applications other than Adobe Photoshop might result in unexpected behavior.
Operation under virtualization software (e.g. Parallels, Hackintosh, etc) may cause instability. We do not recommend you use these OS configurations.
Mac users
Live View over USB can stall without the use of a repeater.
Windows users
Windows drivers are required for some older models of Canon DSLR cameras to be able to shoot tethered. These drivers are available from Canon's website.
Importing a catalog can result in the last picture not getting imported.
Operation under RAMDisk by Dataram is known to cause issues with disk labeling. Capture One is not supported with this configuration.
If you have Bonjour 2.0.3 installed, you may experience problems with Capture Pilot. Bonjour 2.0.2 (shipping with Capture One 9) and 2.0.4 (shipped with iTunes) have been tested to work with Capture Pilot. To check the version number of Bonjour, go to 'Control
Panel' and select 'Programs and Features'.
Plays.TV/Raptr/RivaTuner installed along with some AMD devices can cause instability.
File support: Notes and limitations
The information here is subject to change. Some errors may be omitted. For issues and clarifications, contact Capture One Support via captureone.com/support
HEIC/HEIF support
Capture One supports HEIC/HEIF 8-bit files to the extent that the operating system supports the files. If you are on a Windows computer, you might need to download the two extensions "HEVC Video Extensions" and "HEIF Image Extensions" from Microsoft to enable support in Capture One.
Capture One DNG colors
DNG files from camera models with native support in Capture One will per default have their native Capture One colors applied. DNG files from camera models that are not natively supported in Capture One will have generic DNG Standard colors applied.
We do not support adjustments and settings from other applications embedded in DNG files.
Other file support
TIF/JPG/PSD/PNG files that are not in RGB color space cannot be adjusted within Capture One and will be read-only.
Layered Tiff: Capture One 9.1 onward can support Tiff files with alpha channel or layers saved in the file (from other apps like Adobe Photoshop) but for viewing purposes only. Reprocessing the image will result in a new flattened image.
PSD: Capture 10.1 onward can support PSD files in the viewer. The PSD can contain any adjustments, layers, text or smart objects but must be saved in Photoshop with "maximize compatibility" enabled. Reprocessing the image from Capture One will result in a new flattened image.
File size limitations
Smallest supported file for viewing: minimum side of 16 pixels.
Smallest supported file for editing: minimum side of 512 pixels.
Largest supported file: 715 megapixels or 65,000 pixels on the longest edge.
Camera support
RAW files support with known limitations listed in the notes section is available here. Special or auxiliary modes (like pixel shift) are only supported if noted. If the information provided is incomplete or you need specific information pertaining to support in Capture One, please create a support case - captureone.com/support