If you have metadata related to a RAW file in a standard metadata format like XMP (Extensible Metadata Platform), then Capture One will automatically reload the metadata and merge the .XMP sidecar with the metadata already created in Capture One.
Capture One can read and store metadata in the following four formats: Embedded EXIF, Embedded IPTC-IIM, Embedded XMP, and .XMP Sidecar file – these four types of metadata will be automatically updated and read.
To activate or deactivate auto-sync sidecar XMP, go to Capture One (in the top menu bar) and select Preferences. Click on the Image icon in the Preferences dialog box.
Then choose one of the three options from the Auto Sync Sidecar XMP drop-down menu (in the Metadata section).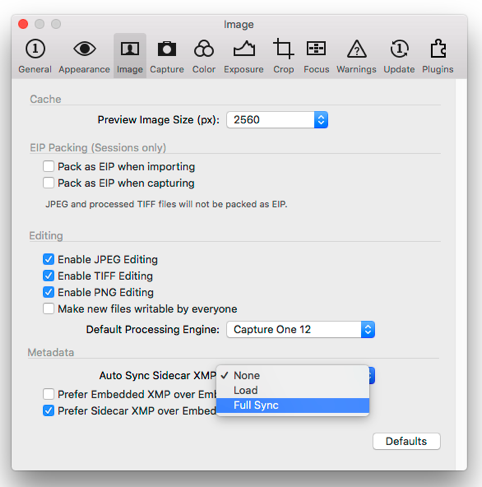 Full Sync will create and update the XMP sidecar files with any metadata changes. Any information present in the XMP that is not present in Capture One will be loaded. It is a two-way sync.

NOTE: Using Full Sync and working with a large collection of new images can hinder performance. In this situation, it's recommended to use the "manual" sync commands such as Image -> Sync Metadata and Image -> Load Metadata. This will achieve the same end result but without the background sync process slowing things down.


Load will load the information from any XMP sidecar file into the .cos (session) or cocatalogdb (catalog). It will not update the XMP with changes from Capture One. It is a one-way sync.
Prefer Embedded XMP over Embedded IPTC toggles the preference when the two sets of data are present in the XMP file; the legacy IPTC fields or XMP fields. You can find more info on the difference in this article: XMP and IPTC


Prefer Sidecar XMP over Embedded Metadata toggles the preference between metadata information in sidecar XMP files (in either IPTC or XMP schema) over the XMP information embedded in the source file.
NOTE: Above all, Capture One will never write metadata to source files; all metadata changes are done via proxy file.