It is not always possible to get the best angle on a subject and eliminate all distortion. Architecture photographers often have to correct the perspective distortion of tall buildings. Capture One Pro gives you the ability to apply keystone correction. You can quickly correct any perspective distortion by using the vertical and horizontal sliders or use the cursor markers to pinpoint lines that should be parallel.
The Keystone function can be operated manually by adjusting individual sliders or when using Phase One IQ-series digital back. The Auto Keystone Correction icons can be selected beneath the sliders or in the cursor tools. Choose between the automatic vertical, horizontal or full correction.
To apply the settings to multiple images that need the same correction, you can use the local Copy/Apply functions.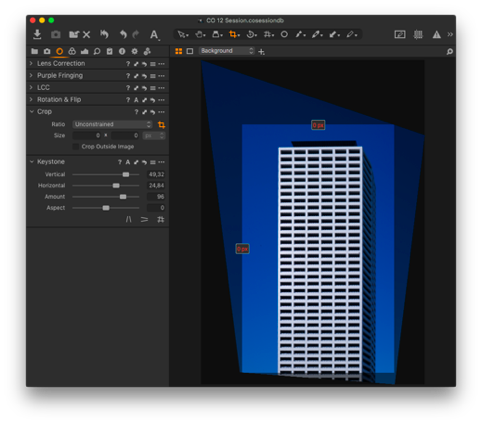 Apply keystone correction manually
Go to the Lens tool tab.


In the Keystone tool, adjust the Vertical or Horizontal sliders.


Adjust the Amount slider.


Fine-tune Aspect if necessary.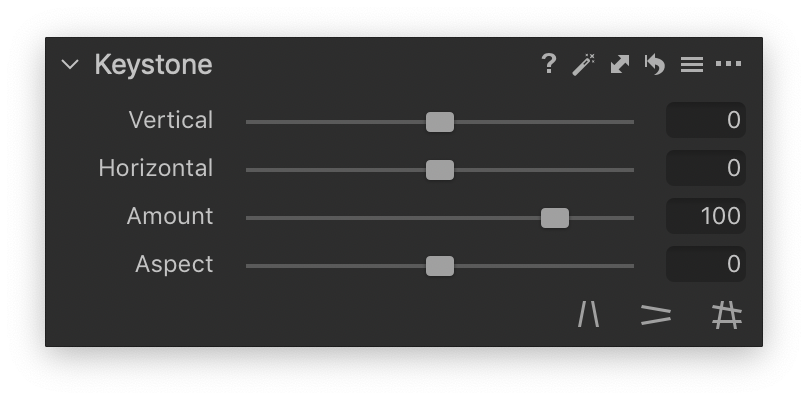 Keystone correction tool
There are three Keystone auto-correction tools denoted by the following icons from left to right: Keystone Vertical, Keystone Horizontal, and Keystone. The active icon will turn orange. The keystone correction tool can be selected using the keyboard shortcut K.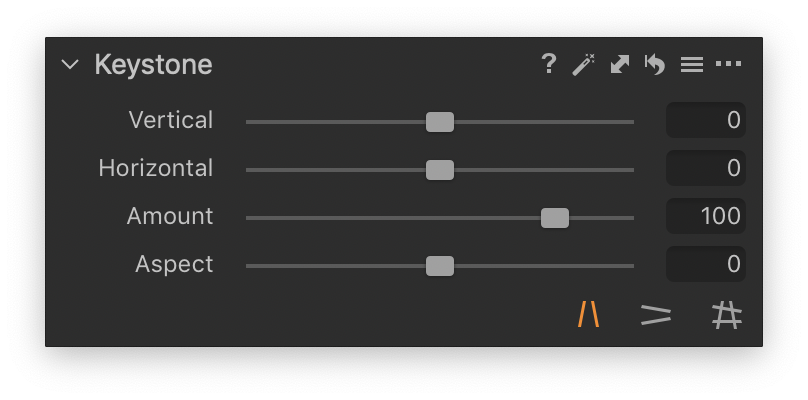 Apply horizontal or vertical correction
Go to the Lens tool tab.


In the Keystone tool, select the Keystone Horizontal or the Keystone Vertical icon.


Set the four points to mark up the vertical or horizontal lines that need to be aligned.


Press the Apply button (located in the center of the image in the Viewer).


Adjust the Amount and Aspect sliders as desired.





Hide distorted edges
There may be occasions when you need to hide the distorted edges after applying a keystone correction. In some cases, you might need to crop outside the image.
Go to the Lens tool tab.


Checkmark the Hide Distorted Areas option in the Lens Correction tool.


Distorted edges will now be automatically clipped.





Auto-rotate (for IQ-series digital back)
The IQ-series digital backs have an integrated motion sensor that automatically logs the angle of a captured image.
Press the icon in the Keystone tool to correct an image so that the horizontal angle is square to the ground. If, for example, an image has been captured looking up at a tall building with any perspective distortion, then the (Auto adjustments) function will also correct any converging verticals.
Applying a Keystone setting will also adjust the rotation of an image. If you want to undo the Keystone setting and the rotation, remember to press the undo icon for individual adjustments.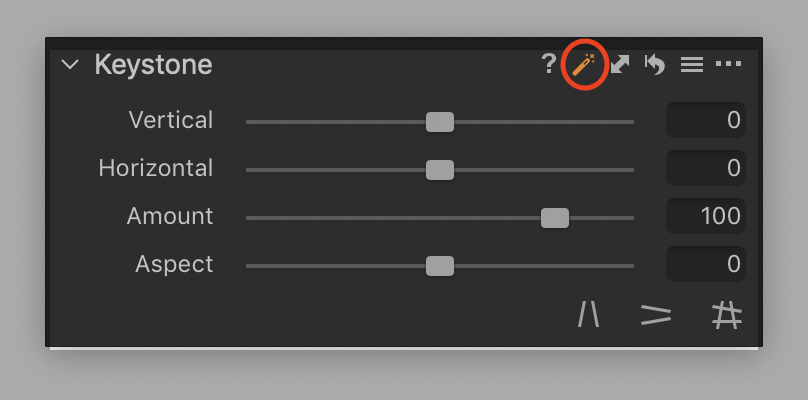 NOTE: In Capture One Express, the Keystone function is not present.