The Library tool tab has the Filters tool that is useful for global image searches or grouping images. There is a number of ways to use different filters.
Consider also using the Cull feature, located in the Toolbar, if working with a large number of images that you wish to reduce down by grouping images together based on content similarity.
Filter by Star rating and/or Color tag
Ensure that you have applied color tags and/or star ratings to an image collection.
Go to the Filters tool in the Library tool tab.


Consider that there are numeric indicators that let users see how many images have a star rating of a certain type and/or a color tag (the number next to the relevant color or star in the Filters tool tab represents how many images fall under that criterion).


Click on the number (that is adjacent to the star rating/color tag) to filter all the images with those particular criteria so that they appear in the browser. The active filter will have an orange dot next to the number.
Note: While holding ⌘ key on Mac or Ctrl on Windows, you may check few items at once.


In the current example, all images that have a 5-star rating have been filtered. Click on the orange dot to deactivate the search.
N.B. Color tags are only supported in English – if you have tags in other languages, then you may find that they are not read or ignored by Capture One
Follow this procedure to filter images by other criteria such as Keyword, Place, and Format.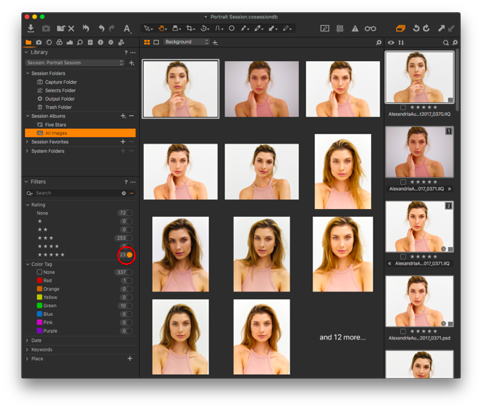 Adding more filters
Add more metadata filter groups or filters to the Filters tool tab to help you widen your image search.
Go to the Filters tool in the Library tool tab.




Click on the Action menu, the (...) icon, at the top of the Filters tool.




Select Show/Hide Filters... The Metadata Filter dialog will appear.




Checkmark the individual filters or filter groups that you want to add to the Filters tool.

Advanced Search criteria explained
Refining searches by combining criteria
Culling images
<< Edit a Smart Album | Refining searches by combining criteria >>