The real power of the Location Sub Folder option is revealed when multiple tokens are used with a forward/backslash (macOS/Windows) delimiter between them. Then Capture One automatically creates and organizes images in a series of hierarchical folders, with each one being named dynamically from the metadata.
For example, when the three separate "Image Year (yyyy)", "Image Month (MMM)", and "Image Day of Month (dd)" tokens are used together, a similar naming format will be built. However, when the delimiter is applied between them, the top-level folder is created for the year, with sub-folders for the months, each created dynamically based on the metadata in the images. Inside that folder, sub-folders will be built for each day and Capture One will also fill those folders with the relevant images.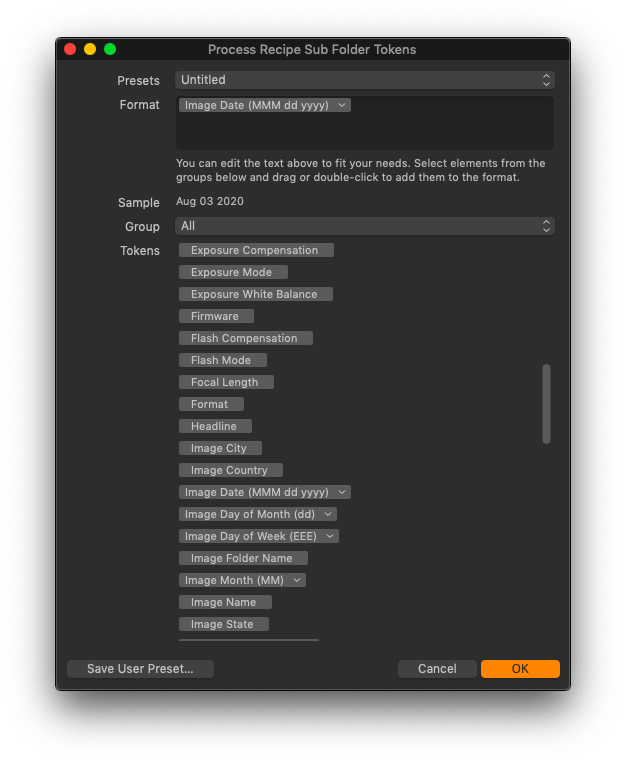 When you combine naming and location tokens (and custom text) in their respective tool dialogs, Capture One will organize and rename files and folders based on the criteria specified, enabling you to automate some of the most repetitive routines.
If you already adopt the popular date folder hierarchy in the example above or have something similar, think how you can customize the Location Sub Folder to mimic it and Capture One will integrate the creation of the new folders without overwriting the existing ones.
<< Adopting tokens in naming dialogs | Name files when capturing >>