Capture One 12 introduced the concept of Plugins which can greatly expand the possibilities to either edit or publish your images.
Plugins come in two main flavors: plugins that will enable you to publish images directly an online photo gallery solution or to social media; plugins that will let you edit or open images with specialized image adjustments, like the Helicon Focus plugin.
NOTE: It is not possible to work with plugins in Capture One Express.
In order to get new plugins, select Capture One -> Preferences… (Edit -> Preferences… on Windows) and choose the Plugins tab. Then click on Get more plugins in the lower right corner and you will be taken to a Phase One webpage where you can download any available plugin.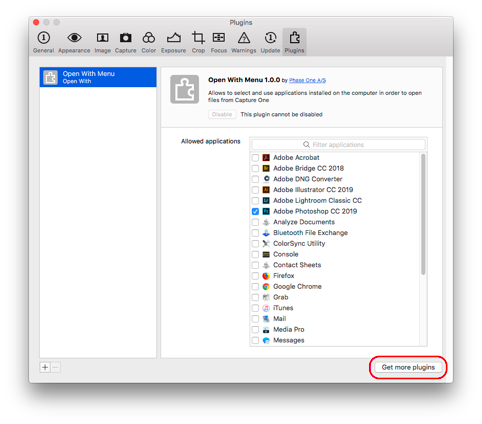 << Publishing images | Installing a plugin >>