The ICC profile is selected via the Base Characteristics tool, which is located under the Pre-Flight tool tab, Tone and Color tab or QC tab depending on the chosen Workspace. Capture One automatically identifies the Camera make and model and applies an ICC Flash profile by default.
1. Locate the Base Characteristics tool.
2. From the ICC Profile drop-down menu, select the appropriate profile for the Phase One back from the list. Note that the specialized profiles for LED light etc. are found in a sub-menu under the Cultural Heritage menu item.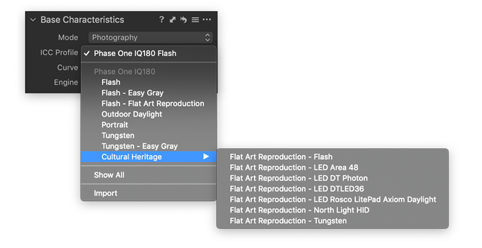 TIP: The chosen ICC Profile can be set as the default (along with the Mode and Tone Curve). Click on the Action menu, the (...) icon, in the top-right corner, and select Save as Defaults for Phase One IQXXX.
<< Barcode scanner tool in Capture One CH | Film Scanning Styles >>