When a compatible camera is connected for tethered capture, starting Capture One Pro's Live View mode opens a new window with a dedicated workspace that's separate from the main application. The workspace consists of a high-quality viewer, displaying the live view image directly off the camera's sensor, as well as a mix of tools from the main application. In addition, there are several dedicated tools to help accelerate your workflow.
A supported camera can be controlled directly, allowing you to not only adjust a number of exposure settings, but also initiate autofocus and, in some cases, manually adjust the point of focus in small steps. Images are captured directly to the computer, however, as control over focusing is separate from capture, the Live View mode allows you to concentrate on achieving accurate focus without distraction.
When space is at a premium the new workspace can be positioned in front of the main application's workspace or moved (and resized) to a second monitor if desired. Alternatively, the main application's workspace can be minimized, but not closed. In addition to the workspace's high-quality viewer, the Live View window consists of three main user interface elements; the Toolbar, Cursor Tools, and Tool Tabs.
To start Live View, whether you have connected your camera for tethering or not (and you just want to take a look), simply navigate to the Camera tool tab (in the default workspace), go to the Camera tool and click on the Live View button (movie camera icon). Alternatively, navigate to the main menu and click Window -> Live View. The Live View window opens. This window can be moved to a second monitor in a dual-display setup.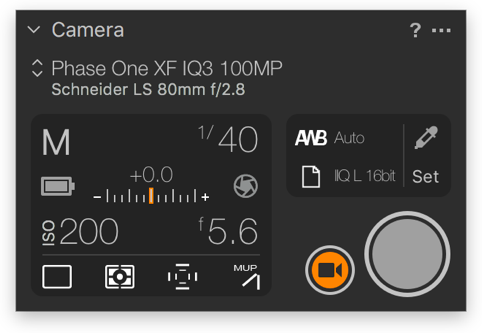 NOTE: The Live View mode is not available in Capture One Express.
<< Live View workspace | Toolbar >>