When shooting in JPEG, a chosen Nikon Picture Control will be "baked" into the file once you take a shot.
When shooting in RAW, the Picture Controls will still affect the way the photo is displayed on your camera screen, but once you bring your images to Capture One – they will have an original look with no Picture Control effect applied.
The built-in preset Picture Controls in Nikon cameras are:
Standard (applies standard processing to make well-balanced images)
Neutral (applies a natural effect to preserve the original's scene color and gradation)
Vivid (puts an emphasis on a subject's contrast and saturation)
Monochrome (creates a black and white version)
Portrait (helps skin tones look more lifelike)
Landscape (emphasizes blue and green tones)
Flat (retains a wide range of tones)
When Capture One de-mosaics the RAW-file information, it gets the metadata recorded by the camera at the time of capture. Thus, it automatically recognizes the camera model and selects the appropriate Generic/ProStandard ICC profile tailored for that camera mode, this will not select the Picture Control effect.
The profiles available in Nikon Picture Controls are now replicated within Capture One for selected camera models. They are available for certain Nikon camera models and provide the same tone curve and color corrections known from the built-in Nikon JPG files as a starting point for your RAW file. When using these profiles, they will be applied instead of the custom-tailored camera profile made by Capture One. Further editing can be performed as usual.
NOTE: ICC profiles developed by Capture One will not 100% replicate what is seen in the camera. Capture One can see the Picture Control simulations and apply the ICC profile that is very close to but not exactly the same as a corresponding Nikon Picture Control.
The table contains a list of supported Nikon camera models. The particular built-in ICC profiles will be available for RAW (.NEF) files from those cameras.
| | |
| --- | --- |
| APS-C camera models | Full-frame camera models |
| Z50 | Z6 |
| D3300 | Z7 |
| D3400 | D610 |
| D3500 | D750 |
| D5500 | D780 |
| D5600 | D800 |
| D7500 | D810/D810A |
| D500 | D850 |
| | D5 |
| | D6 |
You can also select a desired profile from the ICC profile dropdown menu in the Base Characteristics tool. If the profile does not appear, be sure the camera model is supported (see the chart above) and also that the file is not a JPEG. Only RAW (.NEF) files are supported.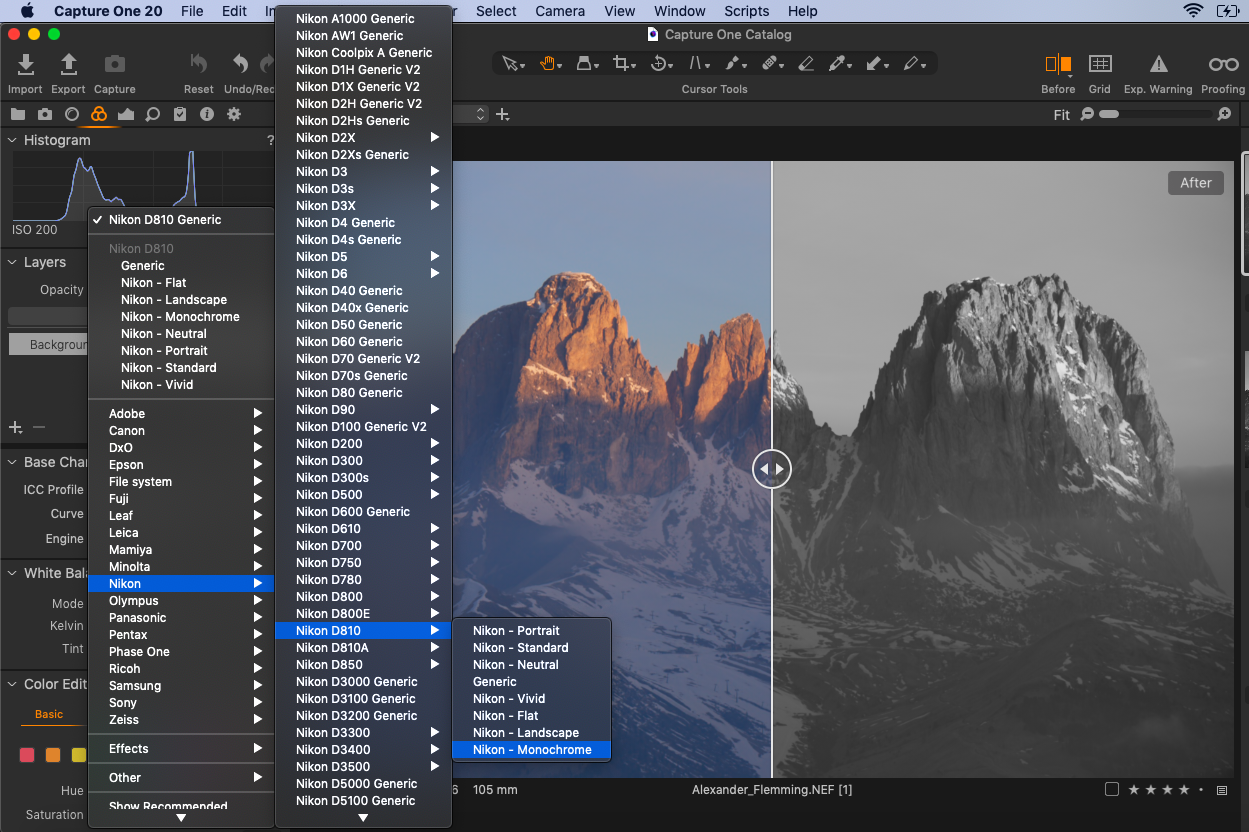 NOTE: Nikon ICC profiles are available starting from Capture One 20 (13.1.0) and later.
<< Fujifilm Film Simulations | ProStandard camera profiles >>