Panorama Stitching feature has been introduced in Capture One 22 (15.0.0) to stitch RAW files into Panorama DNG files. From now on, you can create stunning panorama perspectives, achieve super-resolution, or get creative with an extremely shallow depth of field from multi-row stitching – all in Capture One. Panorama Stitch Tool outputs a linear DNG that behaves like a RAW file for further editing.
Shooting optimally for Panorama
When shooting for Panorama stitches, consider following these principles for optimal results:
Shoot at 35mm or longer.
Use a tripod if possible.
Lock the focus and exposure between the shots.
Shoot with 20-40% overlap.
Capture One can stitch multiple rows so don't restrict yourself.
Light fall-off correction
Consider if your images need light fall-off correction within Lens correction before stitching. This will ensure an even transition across skies and other similar areas, as in the example below.

How to stitch
1. Select the images you want to stitch, right-click one of them, and select Stitch to Panorama.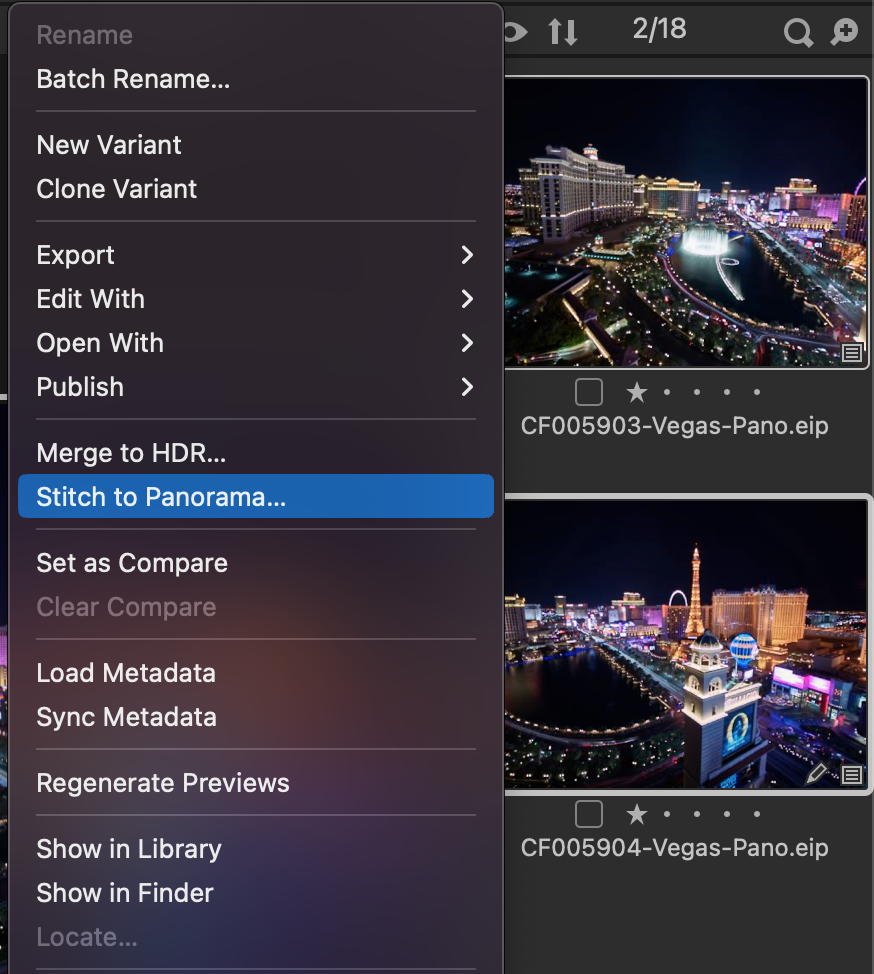 Alternatively, go to Image in the Menu and select Stitch to Panorama.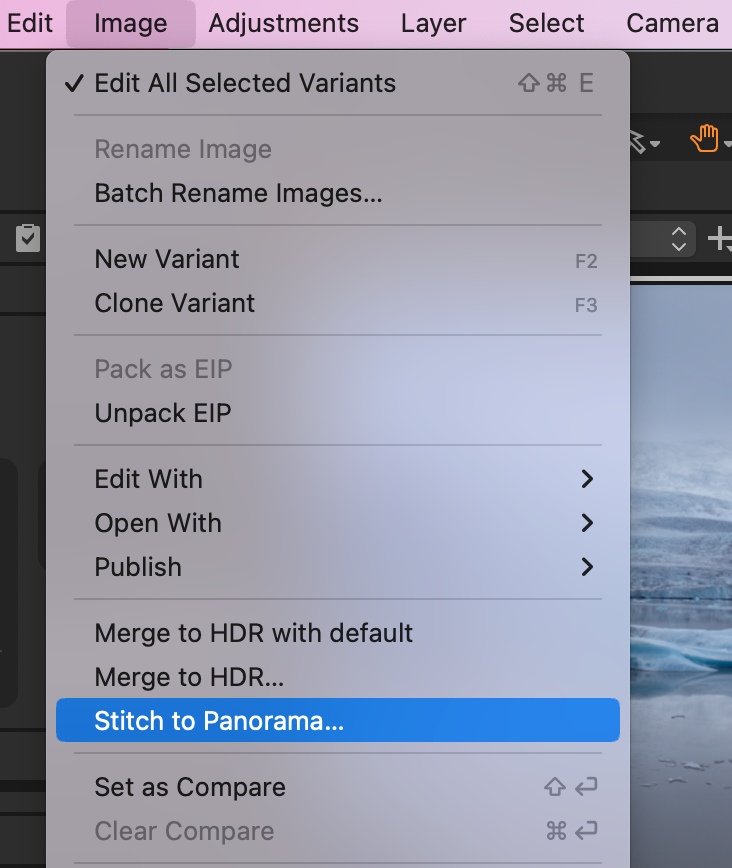 2. A dialog box will appear, preparing a preview of the Panorama with the selected projection. Please note, that it takes some time to generate the preview for the first time.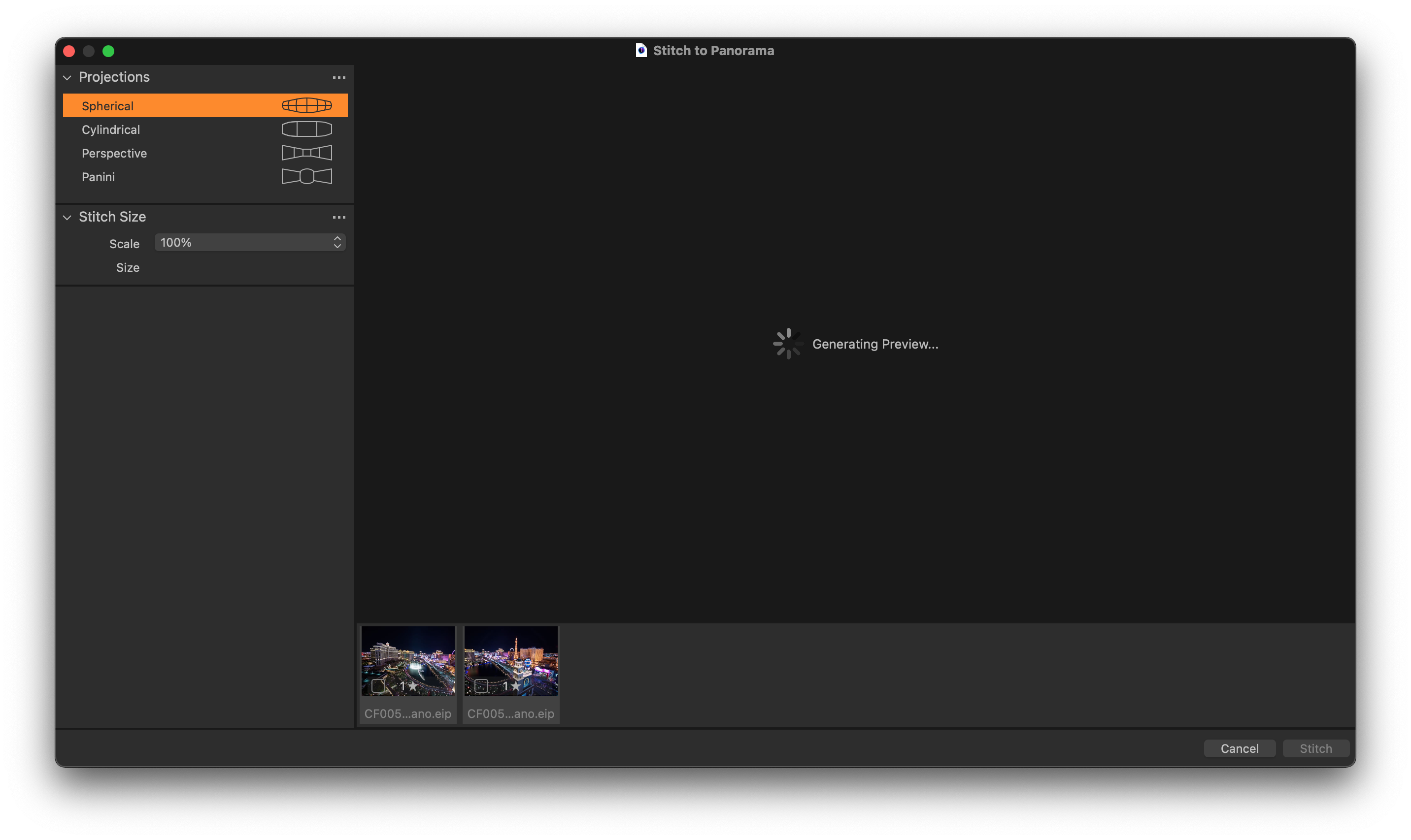 3. Depending on the number of images, scenes, and field of view your images cover, you can choose a projection of your input images that best suits the purpose.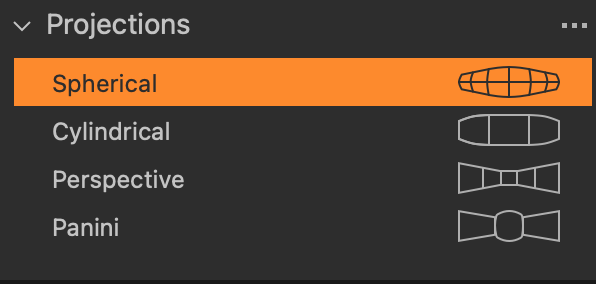 Spherical projection is useful for multi-row stitching with a large field of view both horizontally and vertically.
Cylindrical is useful for a single row of images that cover a field of view of more than ~100 degrees. Vertical lines remain vertical using this projection.
Perspective projection aims at simulating the field of view of your input images with the corresponding field of view of the wide-angle lens. This projection is useful for scenarios that cover less than ~100 degrees field of view and images captured with technical cameras using tilt/shift lenses.
Panini is useful for architecture where the vanishing point is at the center of the frame. Vertical lines remain vertical, and lines going towards the vanishing point remain intact using this projection.

Panorama projections examples
| | | |
| --- | --- | --- |
| | Architecture | Landscape |
| Spherical | | |
| Cylindrical | | |
| Perspective | | |
| Panini | | |
Stitch size
NOTE: If the resolution or number of input images is high, then it will result in quite a large Panorama DNG. Panorama DNGs that are more than 600 MP in resolution will suffer from poor editing performance in Capture One 22 as they exceed the file size Capture One can cache. Images above 600 MP can still be edited in Capture One 22, but with decreased performance. In this case, a warning will appear as shown below this performance loss, the stitch size can be determined in four steps: 25%, 50%, 75% or 100%.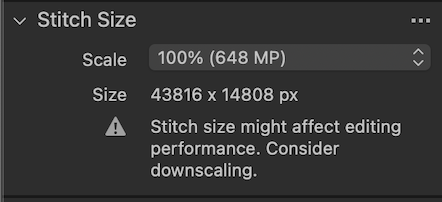 The maximum supported resolution is 715 MP and the Panorama width or height cannot exceed 65,000 pixels.
NOTE: If you wish to convert your DNG file to PSD for further editing in Adobe Photoshop, please be aware of the following file limitations of the PSD format: it has a maximum height and width of 30,000 pixels, and a size limit of two gigabytes. If the resulting panorama gets too big, downscale the resolution while creating it or export it to TIFF if the PSD file hits its limit.


To avoid this performance loss, the stitch size can be determined in four steps: 25%, 50%, 75%, or 100%. The expected size is displayed in pixels and the scale is displayed in megapixels.
Stitched file
Depending on your hardware, the number of images, resolution, and projection, the process can take anywhere between 10 seconds to 20 minutes.

Once the preview of the Panorama is ready, you can click Stitch and the actual stitching will begin. When the stitching is done, the Panorama DNG will appear next to the input images.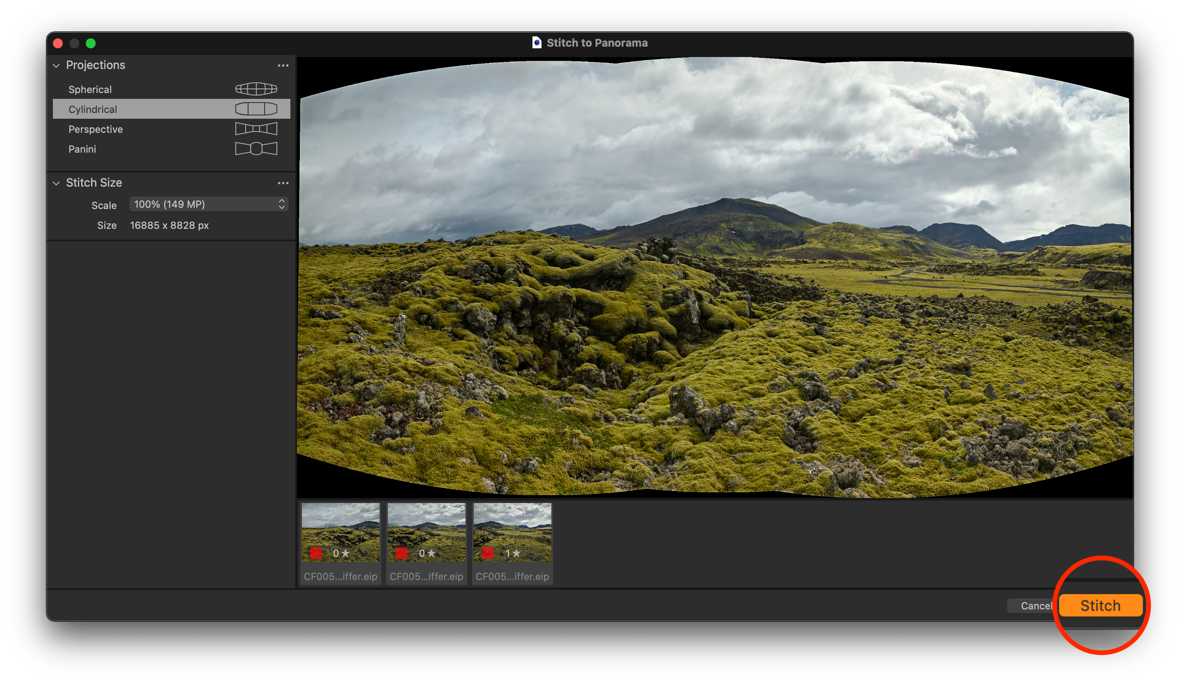 In order to receive the notification when Panorama Stitching is Completed, you need to enable notifications in advance in both Capture One Preferences and System Preferences.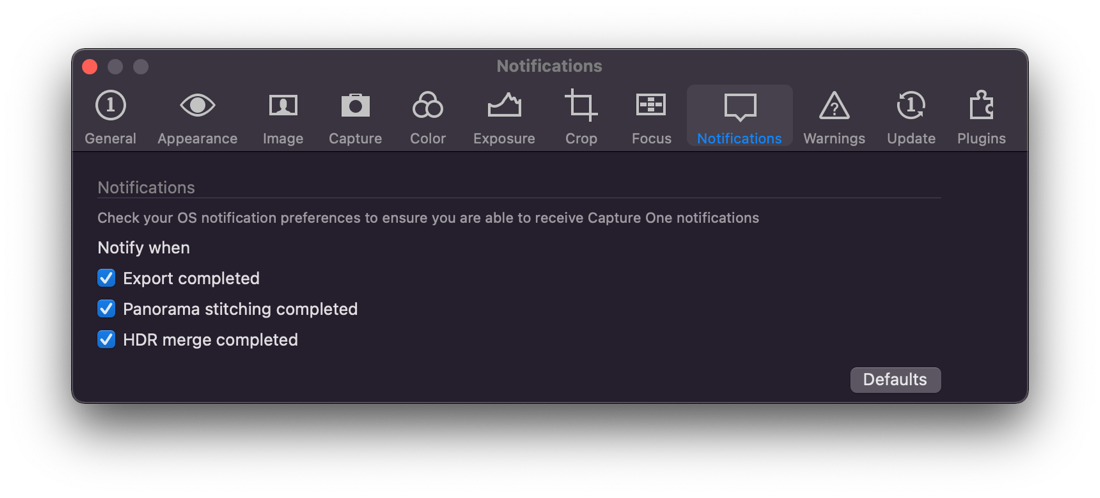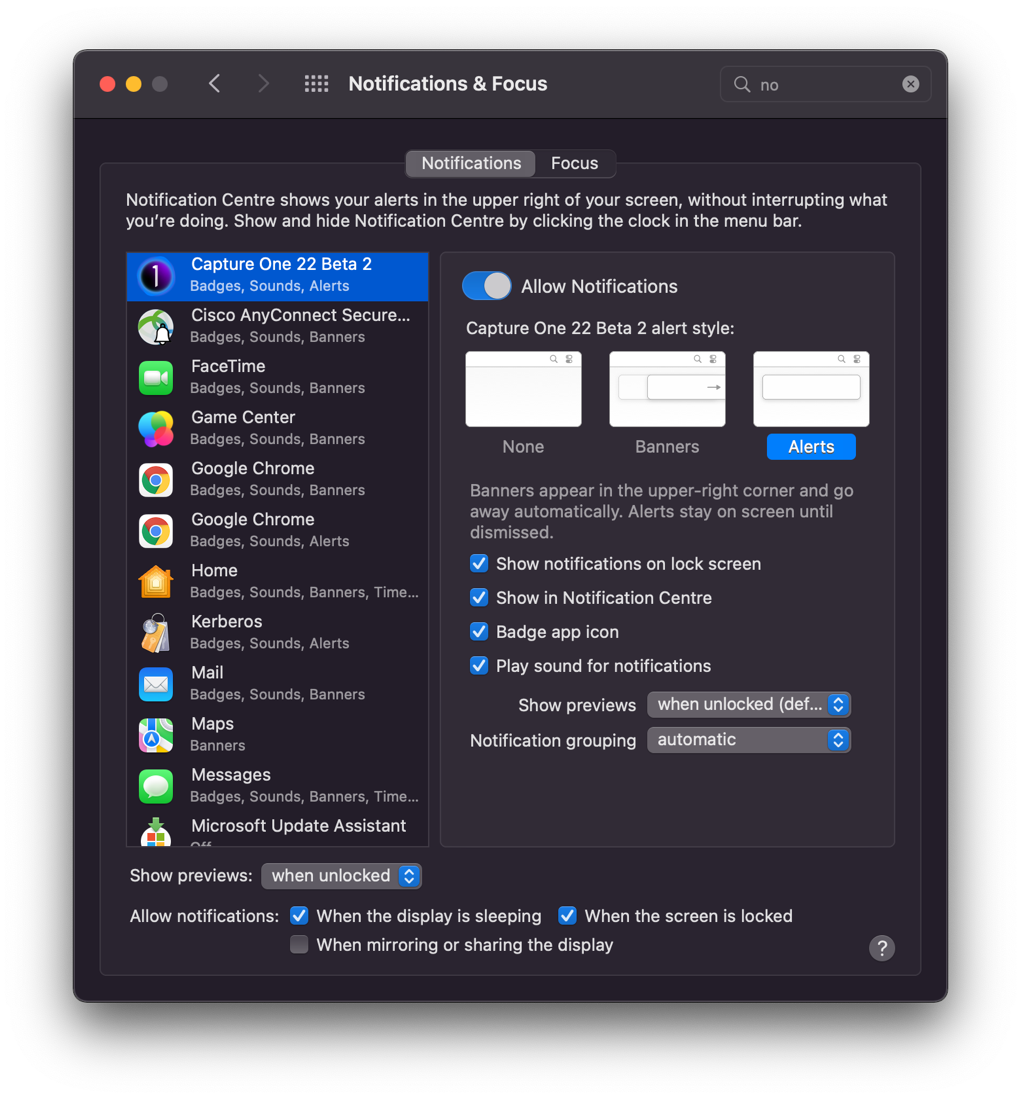 The Panorama Stitching notification message will appear in the top right corner, and if you click Show, you will be taken to the stitched image in Capture One.

The Metadata is copied from the first image in the selection in the main viewer, it includes Stars, Color rating, Keywords, Shooting date, Album, Session folder, Copyright field, all EXIF and IPTC metadata.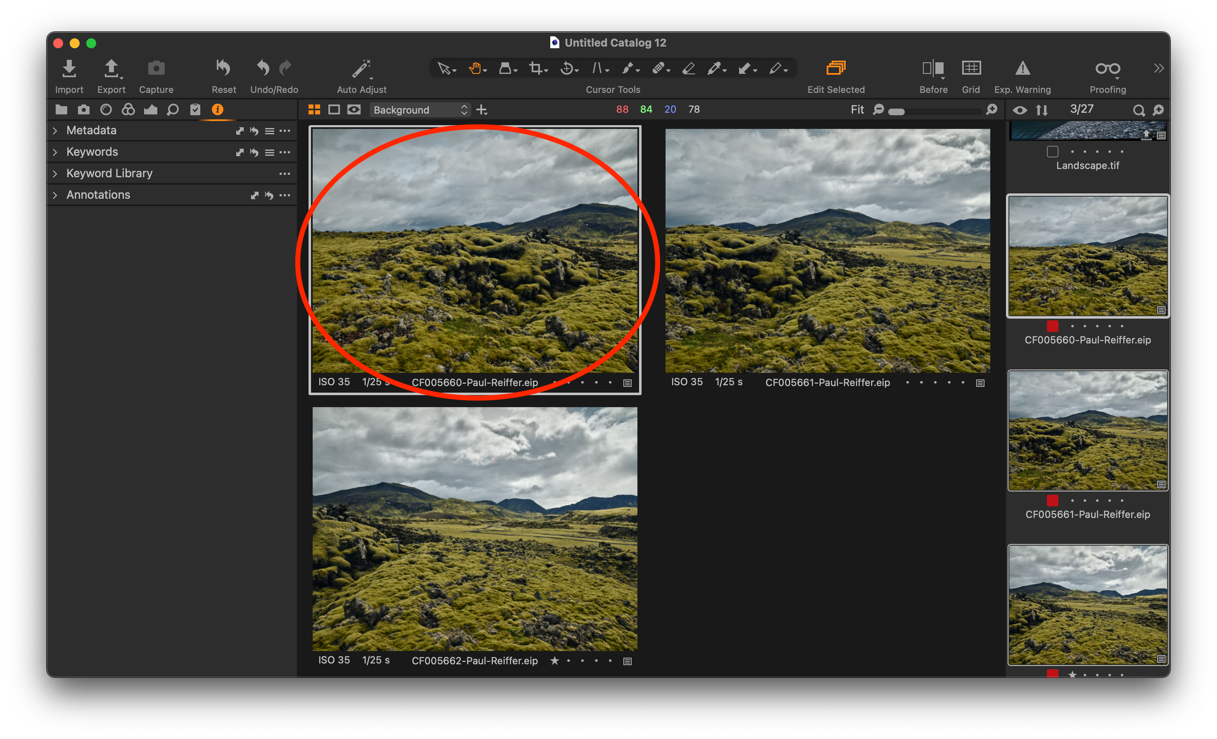 Adjustments in the Panorama Stitch
Adjustments applied to the resulting Panorama Stitch are taken from the first image in the selection in the main viewer (like with metadata). Please note, that layer adjustments are not included.

The table below lists background adjustments copied to Panorama Stitched image.
Background adjustments copied to Panorama Stitched image




Black &White

Color

balance

Color

editor

Levels

Clarity

Vignetting

Exposure

High Dynamic Range

Curve

Sharpening

Noise reduction




Film grain




Moire




White balance adjustments



NOTE:
Only RAW from supported cameras can be stitched with the Panorama Stitch feature, this means that it's impossible to stitch

JPGs or Tiff files for instance.


RAW files from achromatic cameras are

not supported.

Fujifilm simulations applied to RAF's will not be supported on Panorama Stitch and will be replaced with default Capture One camera profiles.
It is not possible to create a Panorama Stitch from Offline files.

When performing a Panorama Stitch on Windows, resulting files will not appear in the Recent Imports collection but you will still be notified that the stitch was successful.
NOTE: Panorama Stitching is not available in Capture One Express.