---
Import Images
Import from Files (recommended)
With this option you can use any card reader, external storage device, or camera that allows you to connect directly to an iPad and is supported by iPad OS.
Importing using this method, utilizes your iPad's file system (similar to Finder or Explorer) to locate and read compatible image types. Full information on RAW file support can be found here.
You will need to ensure that your device has a 'DCIM' folder so that it can be read as an external storage device. If you are not seeing your device listed, it is worth creating a root folder with this name, so that your iPad can read the external device properly.
Import from Photos
Similar to using your Camera Roll or Photos application from other mobile devices. You will be able to access any saved images in this location and import supported RAW files.
How to import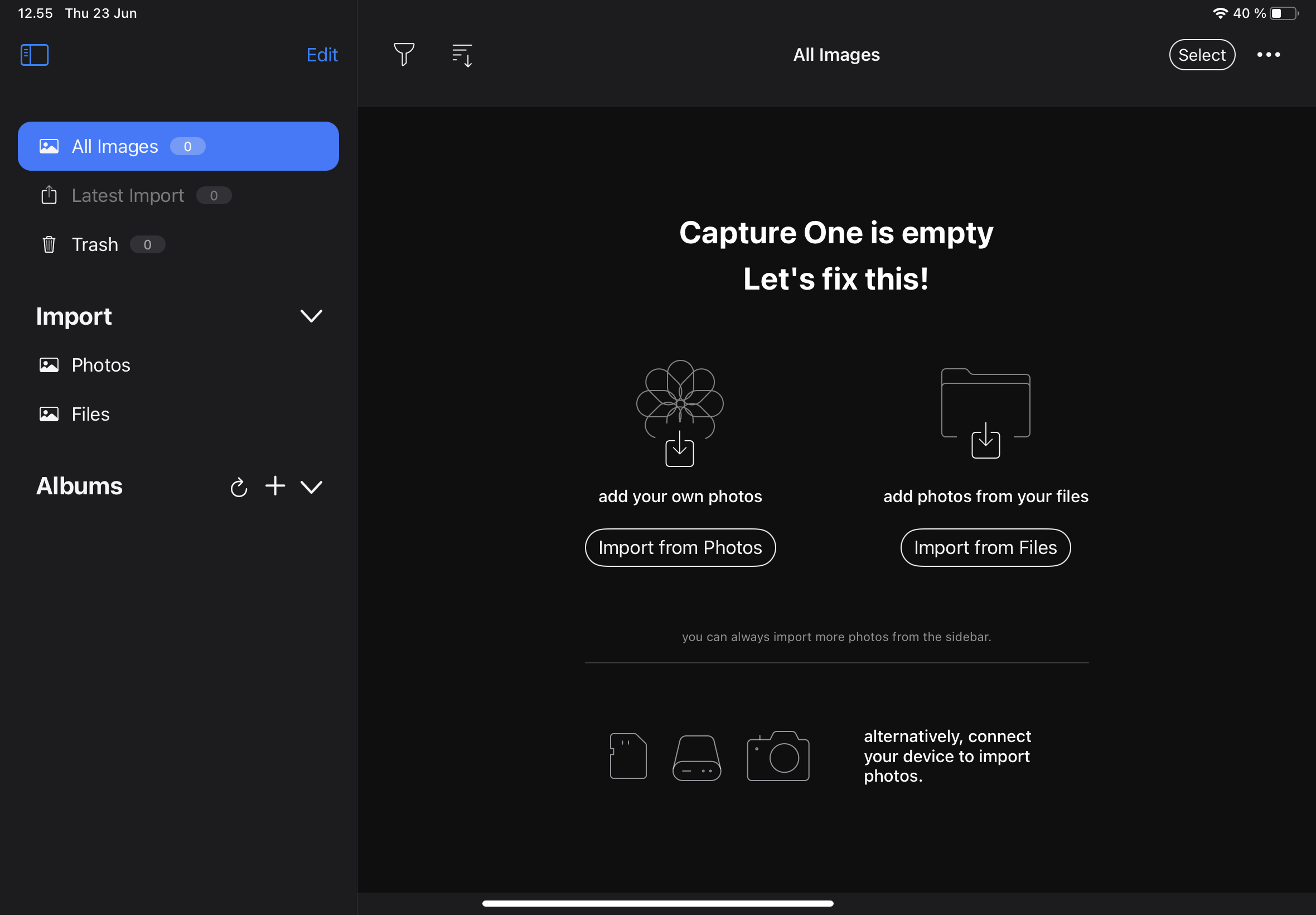 When you first open Capture One for iPad, or if you have not imported any images, then your interface will look as it does in the screenshot above.
If you want to import an image from your Photos/Camera Roll then select 'Import from Photos' - this will display all of the photos contained on your device and allow you to choose from compatible files contained in 'Recents' and indeed any other album or collection that exists in your Photos application.
If you are importing from an external device or importing multiple RAW files, then we recommend using 'Import from Files' - this is at the moment, the most reliable way of importing and viewing images with Capture One for iPad, due to its more robust RAW file handling capabilities.
Importing from an external device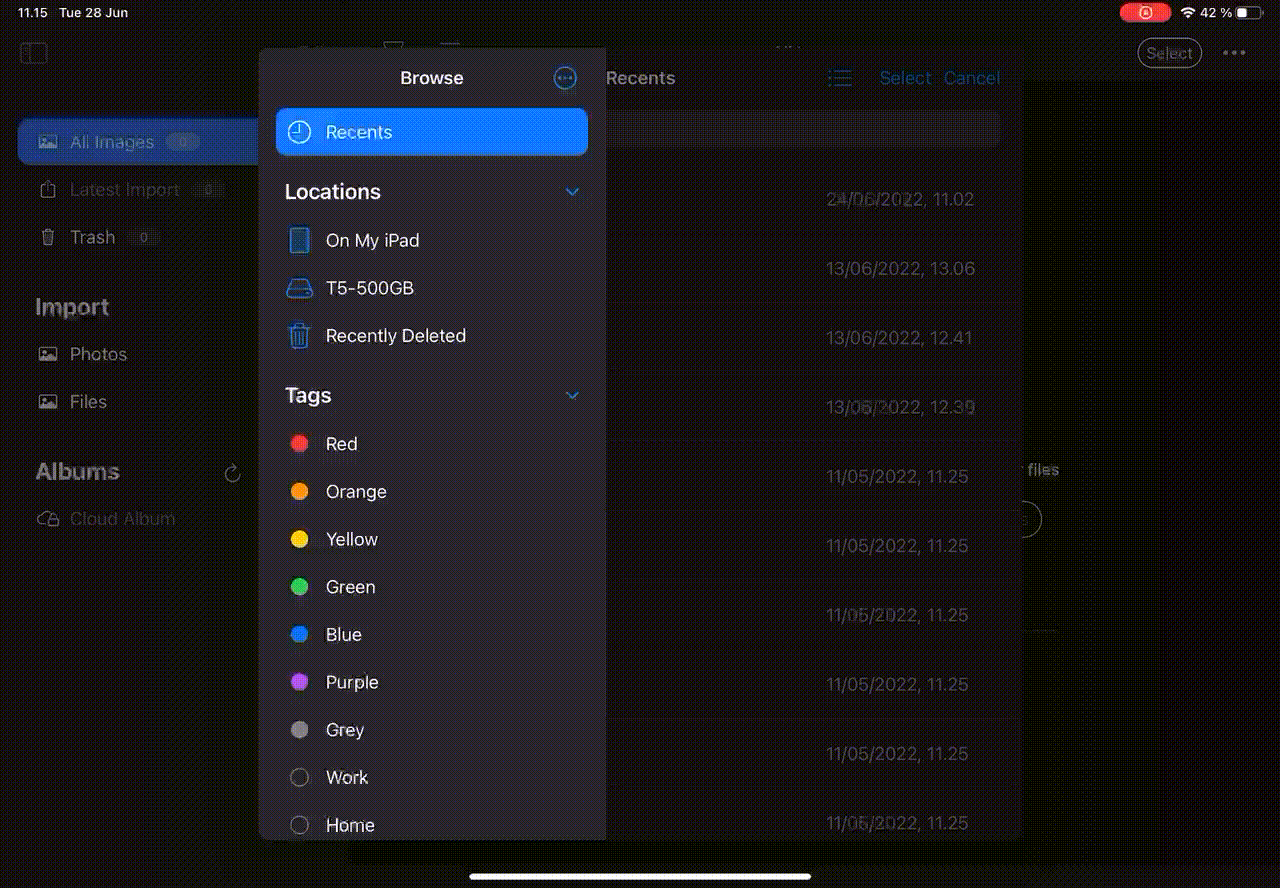 Tap on 'Files' underneath 'Import' on the left-hand side of the UI to import from the Files application
Your external device should be listed on the left of the Files window, under where it says 'Locations'
Tap your external device to view the folders contained on your memory card, hard drive or camera
N.B. Your images will need to be contained inside a 'DCIM' root folder in order to be recognised as an external device
Importing from a cloud location
If you are importing files from a cloud location, you will see the cloud provider under 'Locations' in the import menu, providing that your cloud drive provider supports integration into iPad OS.
You can select images to import from these locations in exactly the same way you would from a memory card, camera, or external storage device.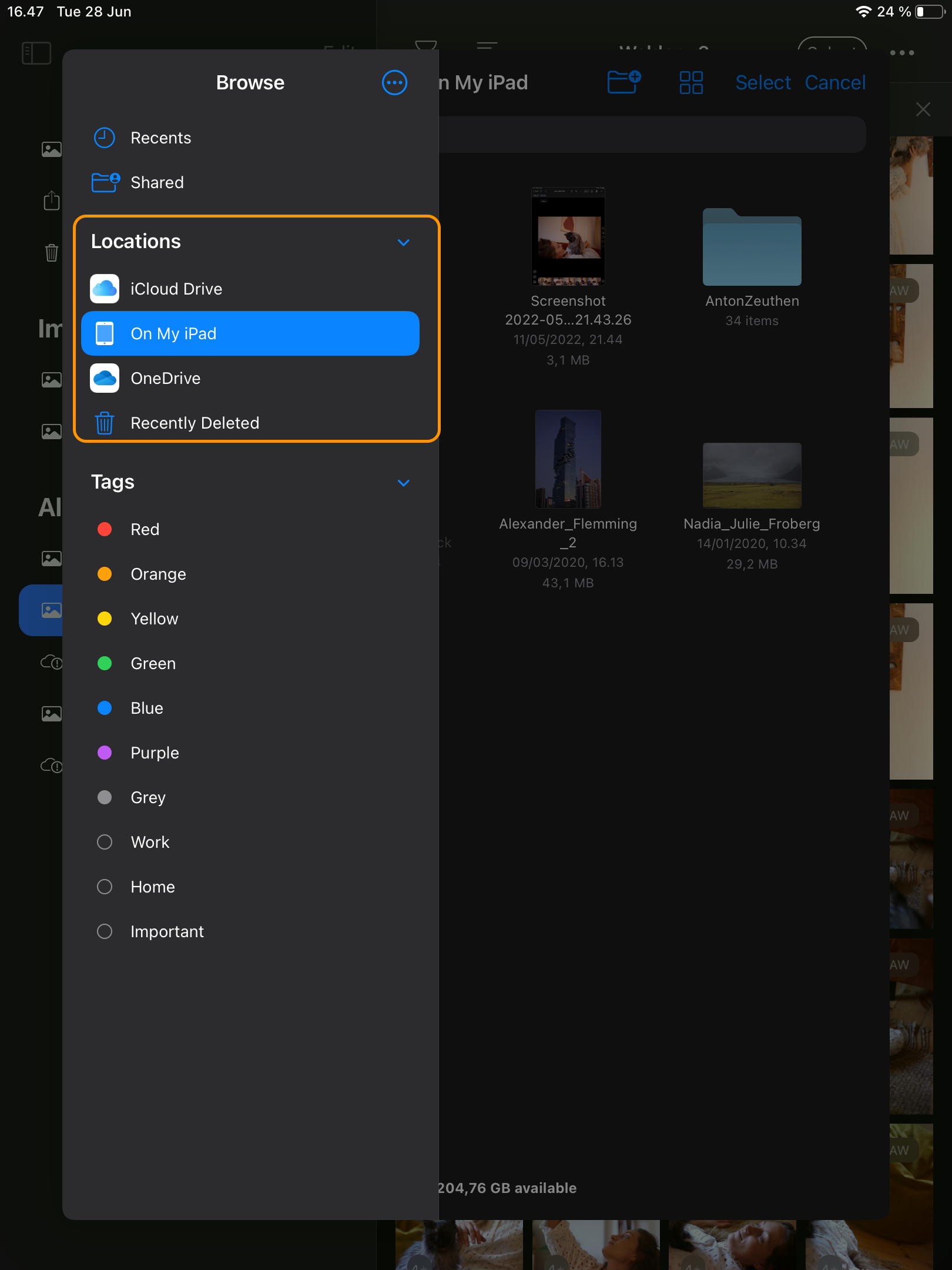 How to use Cloud Transfer
With the release of Capture One for iPad, it is now possible to sync your RAW files with their adjustments between your iPad and Capture One Pro
Any photos contained in your Capture One for iPad catalog can be added to an album, whereby they can be imported to any folder on your workstation, making them viewable and editable in Capture One Pro.
First of all, ensure that you are running the latest version of both Capture One Pro and Capture One for iPad to get the best possible experience with Cloud Transfer.
Next, it's important that you are signed-in with the same Capture One account on iPad that you use on desktop, in order to use cloud transfer. If you are using a different account with Capture One Pro, then cloud transfer will not work. Your Apple ID is only used for billing purposes.
Step-by-step guide on how to use Cloud Transfer:
1. By default, Cloud Transfer is not part of the Toolbar. Add it to your Toolbar for quick access by right-clicking in a 'blank' part of the Toolbar, whereby you can select 'Customize Toolbar' 

2. Click and drag the Cloud Transfer icon into the Toolbar as shown 

Capture One Pro is now ready to receive photos from the cloud. You will need your iPad for the next step.
3. On your iPad, navigate to the album that you wish to upload to the cloud. If you have yet to create an album, you can do so by tapping the '+' icon, next to Albums.
4. Once your album is created and contains the photos you wish to synchronize, tap on the '...' icon next to the album name.
5. Select 'Add to Cloud' to begin transferring photos to the cloud. Once the progress wheel is complete, you will be notified that your photos have successfully synced to the cloud.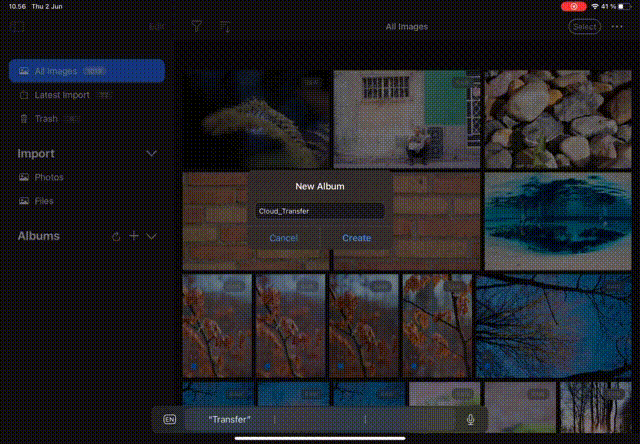 You will now be able to click on the Cloud Transfer icon in the Toolbar of Capture One Pro and import your images to your desired location.
6. Click on Cloud Transfer in the Toolbar, whereby you will be presented with the following window: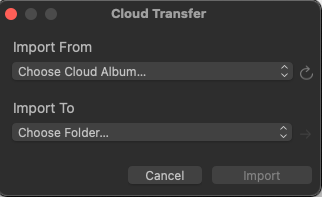 Import From - allows you to choose the Cloud Album that you would like to import images from
Import To - gives you the option to choose any folder on your machine that will contain the imported images
Import - select this to begin the import process
N.B. If you do not see your desired Cloud Album, click the refresh button next to the 'Import From' dropdown menu
7. Once you have selected your Cloud Album and your chosen import destination, you should see the Sample Path, the amount of space remaining on your disk and above all, the option to import your images.
Click 'Import' to begin the import process.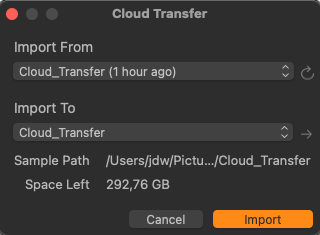 What happens to my images after I import them? Where do they go?
When using a Catalog, images will import as referenced files - meaning they will stay in the location selected in 'Import To' but will also be added to your catalog. The images will not appear under 'In Catalog' but instead in your system's folder structure, as seen below: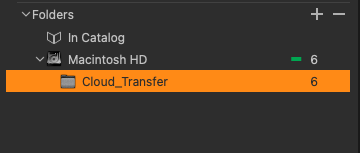 If you are using a Session, then your import location will be added as a Session Favorite for easy access.
Do changes to the Cloud Album automatically sync with Capture One Pro?
No. When changes are made in the iPad application, you will see a '!' next to the name of your Cloud Album.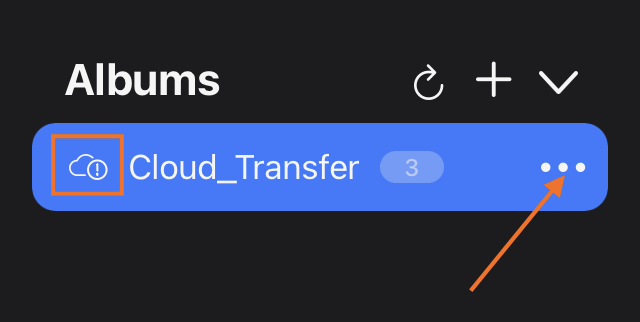 Tap '...' and then select 'Upload changes to cloud' to sync your changes with the folder on your desktop.
If you want to see the changes made after this action appear in Capture One Pro, you will have to re-import the images. So we therefore recommend using Cloud Transfer when you are completely ready to take your edits over to Capture One Pro, in order to avoid duplicate files and using unnecessary disk space.
If you are not having any success with cloud transfer, then it is likely that you are not signed in with the same account on both devices. Please ensure that during the sign-up process, you are using the same Capture One account on both your iPad and Capture One Pro.
If you need to, change your account details or reach out to Support.
N.B. Cloud Transfer only works with Capture One Pro – no other variants such as Express, for Sony/Fujifilm support this function.
Similar to Capture One Live, it is suggested to update to the latest version of Capture One Pro so that any service relying on the cloud will keep working. Cloud services are officially supported for the two latest releases of Capture One Pro and Capture One for iPad. If your software or app is older than 2 minor releases, we cannot guarantee it will work as intended.
End of Life (ie. the time at which the cloud service stops working all together) will be 3 months after a new major version is released or when a breaking change is introduced.
How to export images
Go to 'Select' in the top-right of the UI and then choose the images that you wish to export, indicated by a blue dot


After you've made your selection, tap the 'Share' icon  to export your chosen images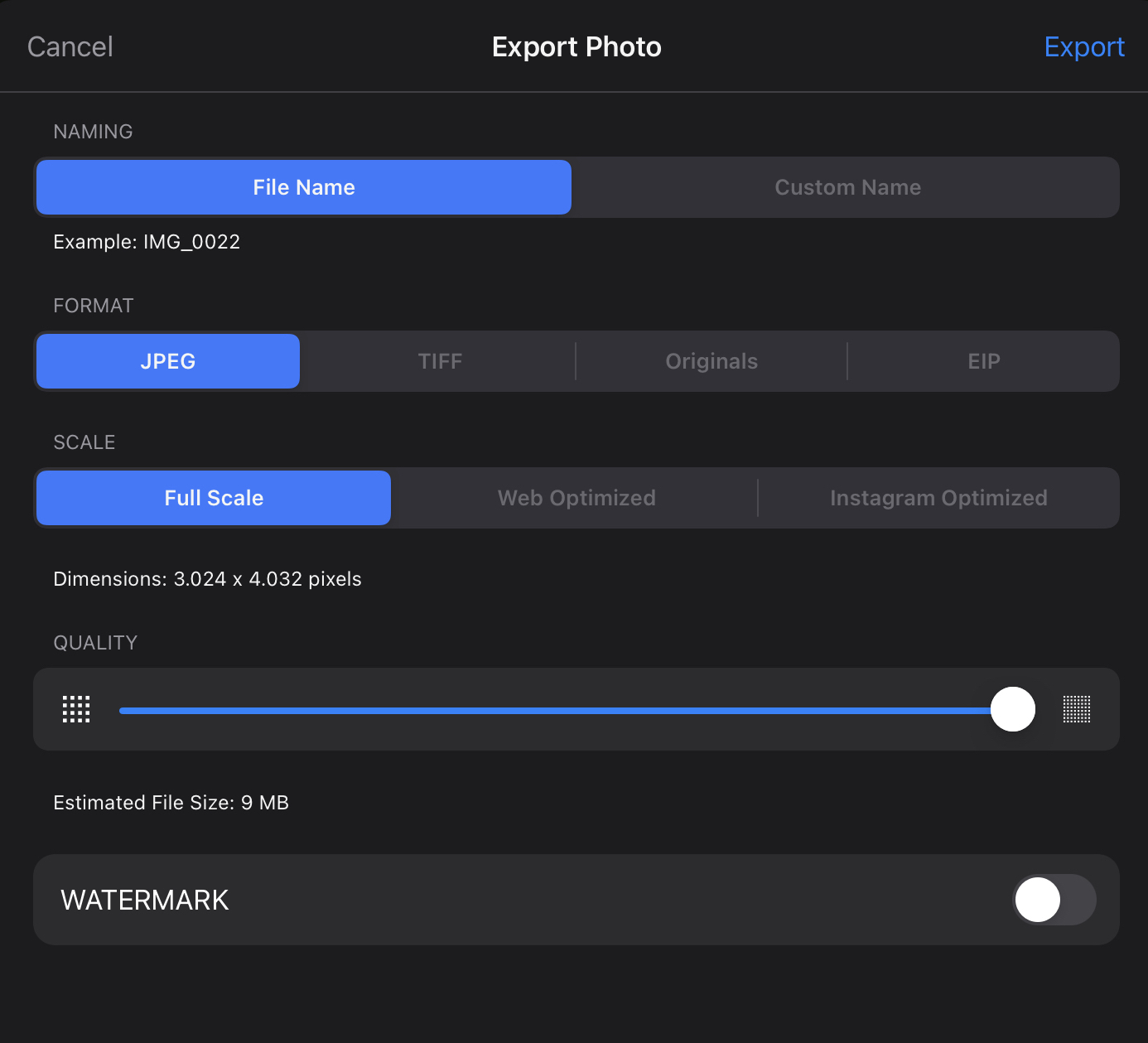 Choose your settings from the export window:
- File Name uses the original name of the photo when naming the exported image
- Custom Name allows you to set your own export naming. Images will be named sequentially from the order selected in the Filmstrip
- Format lets you choose from JPEG, TIFF, Originals (RAW file), or EIP
-  Scale contains three export presets to choose from: Full Resolution, Web Optimized, and Instagram Optimized
- You can also set your own quality by using the slider
- Tap the button next to 'WATERMARK' to toggle your watermark on and off
- Watermark preferences can be adjusted by entering text and using the opacity slider. Its position can be changed by simply dragging the text around the image, as seen below: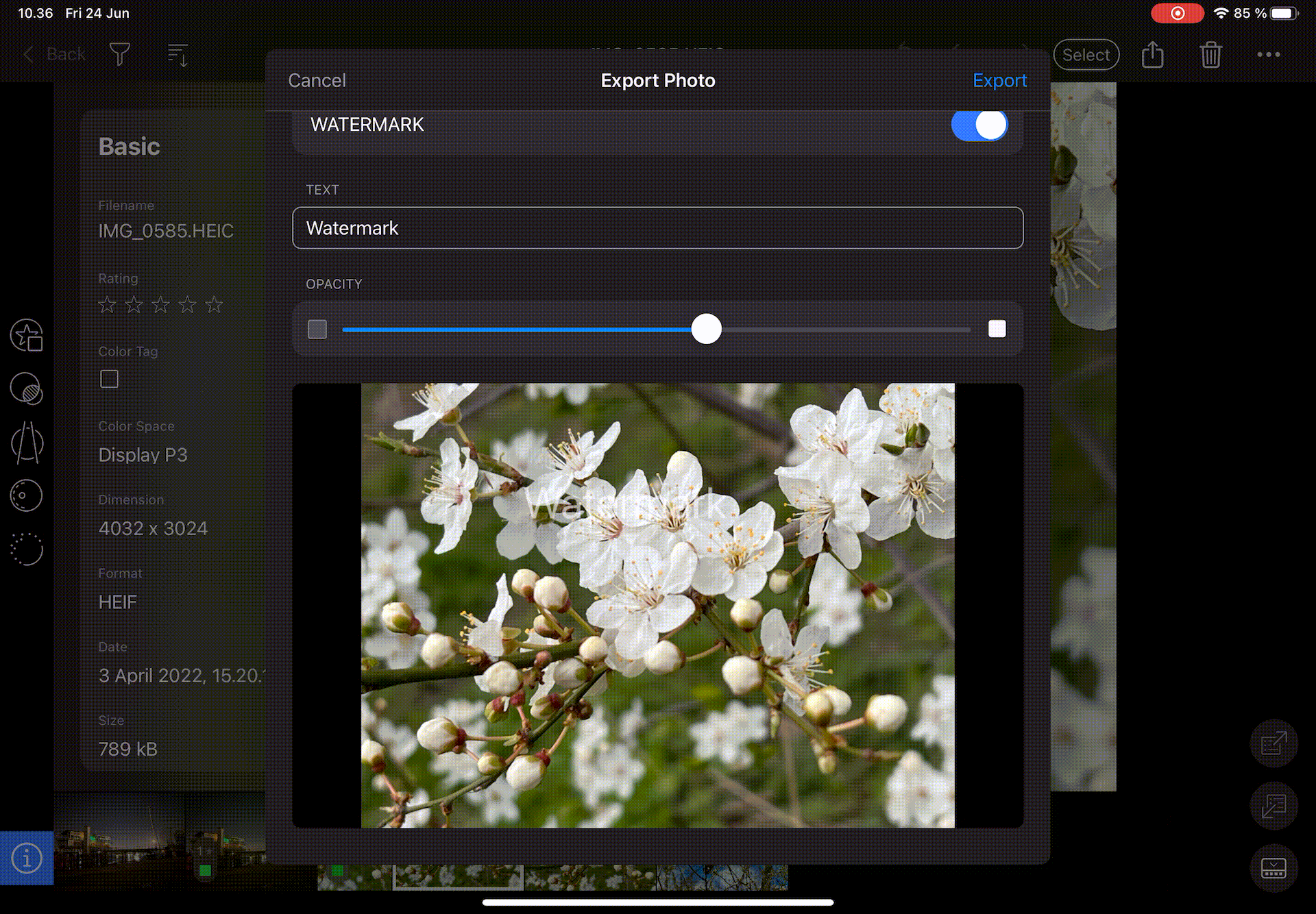 When you are done adjusting your export settings, tap 'Export' in the top-right of the export window.
When ready, your iPad will bring up the following screen: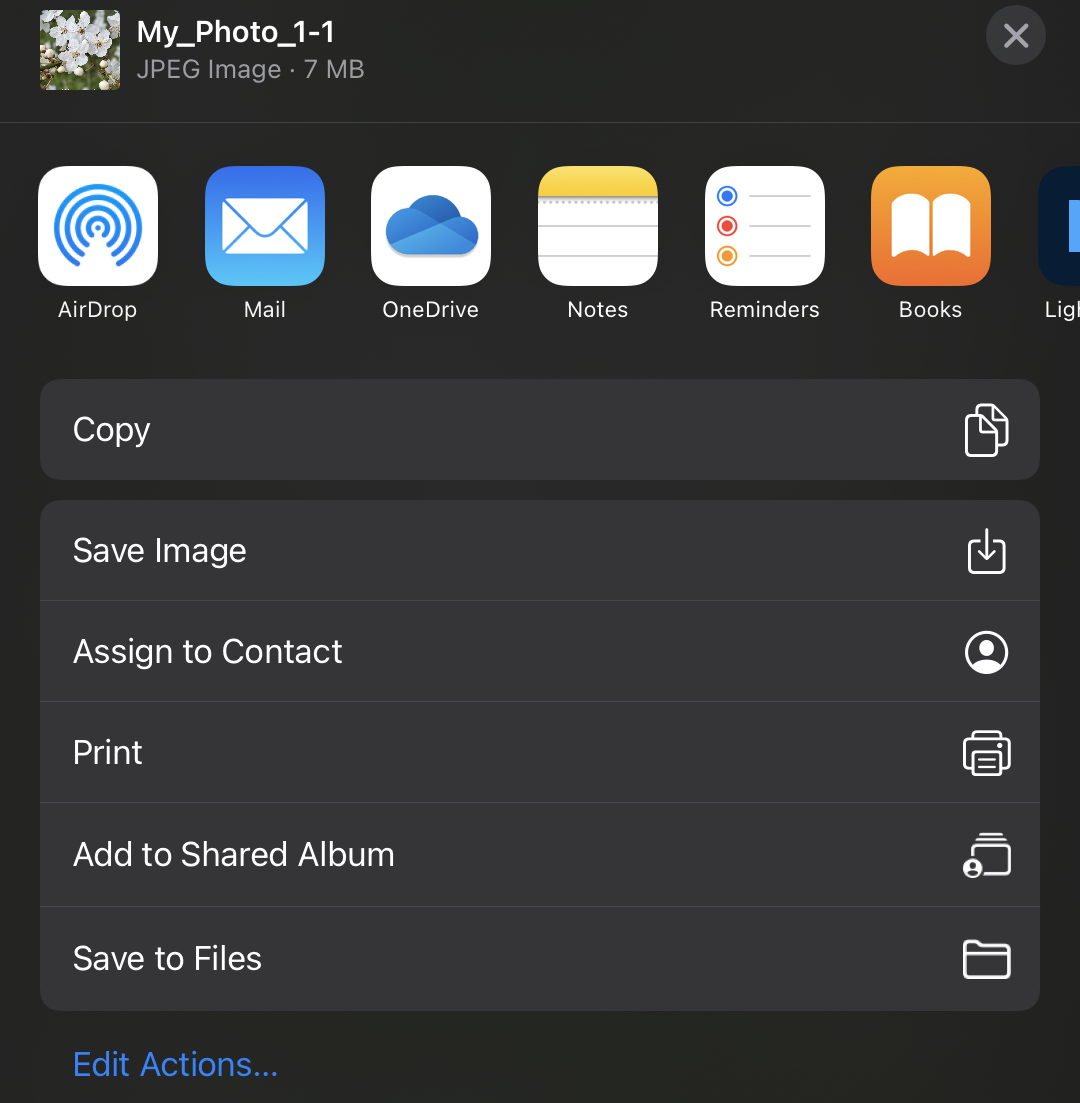 Copy - copies the exported image to your clipboard, giving you the ability to paste it into documents on your iPad
Save Image - saves to your Photos application (this can lead to the filename being changed in some instances)
Assign to Contact - assign as a profile picture for one of your contacts
Print - print your image from a printer on your local network
Add to Shared Album - add your exported image to an album that is shared with others through your iCloud account
Save to Files - save your exported image to your Files, allowing it to be accessed through your iCloud account and subsequently on other devices. Choose this option to also save to an external device
Exporting as EIP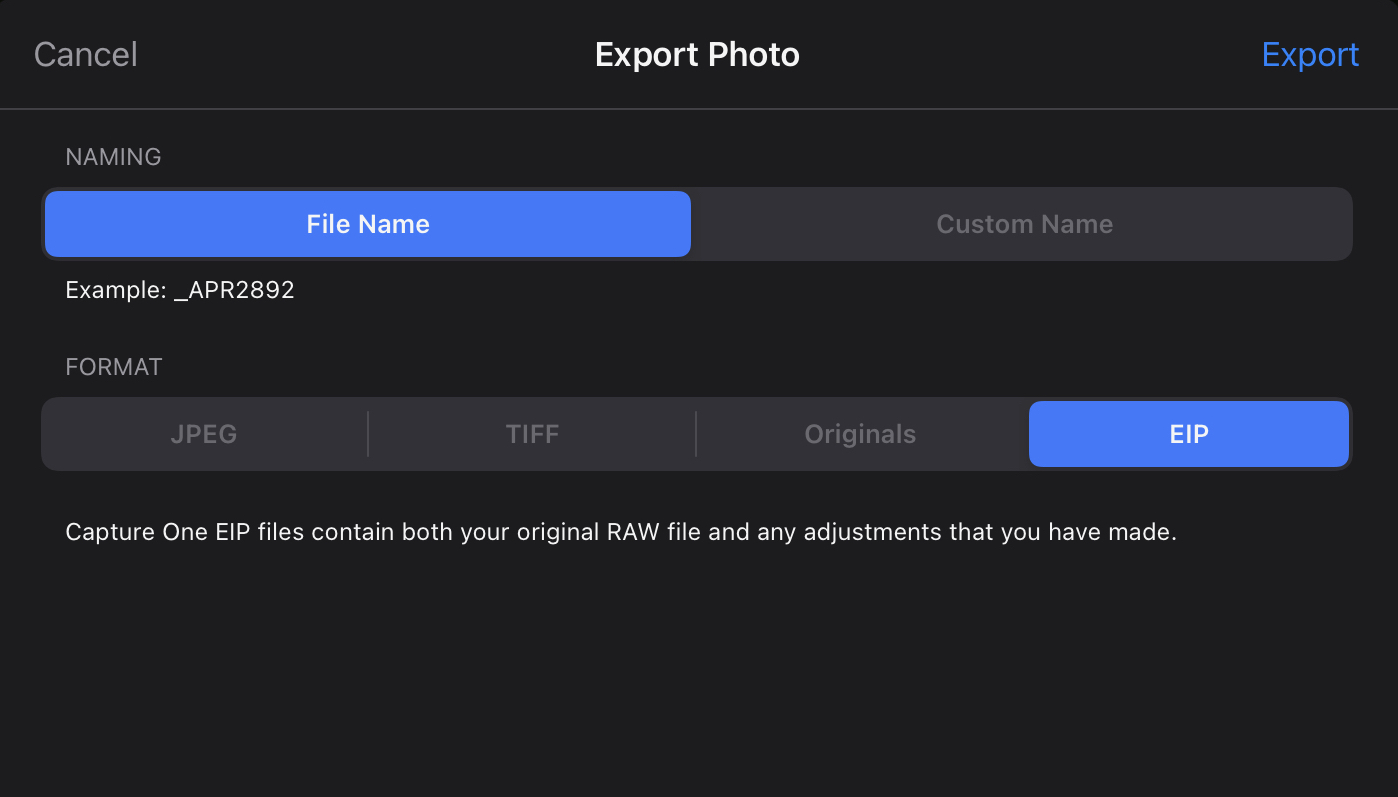 It's also possible to export your images as an Enhanced Image Package (EIP) this is a compressed file type that contains all of your adjustments, allowing you to transfer images to other devices and Capture One Pro, without losing any progress.
We recommend using this export option if you plan on sharing images with other Capture One users, or you plan to carry on editing on desktop, in Capture One Pro.
This file is only readable in Capture One and cannot be opened in other RAW converters or editing software.