Capture One offers numerous customization possibilities. You can reposition the user interface to have the Browser or the tools on the right-hand side.
Experiment with the default workspaces by choosing Window -> Workspace and select an option that best fits your workflow.




Go to Capture One -> Preferences for further customization choices.


There are numerous ways to create a customized layout. Follow this suggested set-up to create a dual monitor user interface. This example has a Viewer on one monitor and the Browser on the other.
Select Window -> Viewer to create an extra Viewer (move the Viewer to a second monitor if necessary).




Select View -> Viewer to toggle it off. The Viewer within the main user interface will disappear and the browser thumbnails will replace it.




Move your cursor to the left side of the Viewer to access the default Tool Tabs. More Tool Tabs can be added by right-clicking on the Tool Tab bar and selecting Add Tool Tab -> [tool tab].




Individual tools can also be moved to float freely. Simply click on the bar at the top of any tool, then drag and drop it to the desired position.




Individual tools can also be moved between the scrollable and pinned areas within the tool tab. Select a tool, press the Action menu (...), and select the option Move Tool to Pinned Area to pin your favorite tool to the top or choose Move Tool to Scrollable Area to place it to the scrollable area.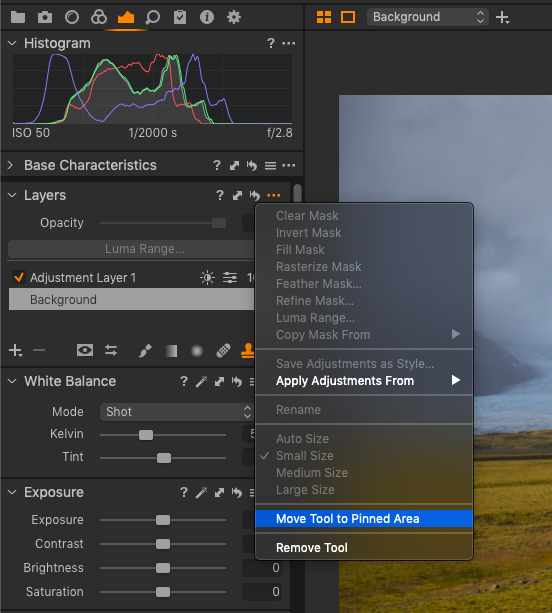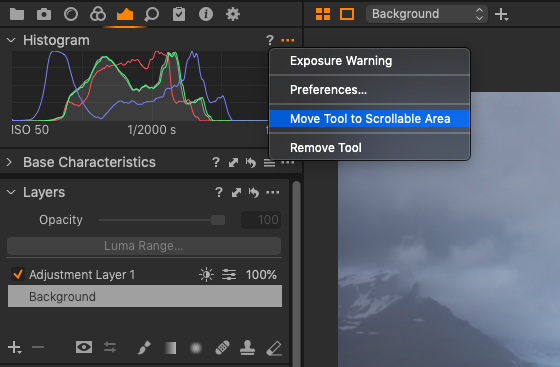 NOTE: In Capture One Express Fujifilm/(for Sony), it is not possible to customize your workspaces, tools, and tool tabs.