The window size of a number of tools can be adjusted for the convenience. Along with the two fixed-size options, an Auto size option modifies the size of the window depending on the size and number of the other tools' windows in the same tool tab and whether those are opened or closed. In addition, certain tools can be resized when removed from the tool tab to float in the viewer.
In the tool's title bar, click on the Action menu, the (…) icon. The Action Menu opens.




If the chosen tool has the option, select from the following choices:

Small Size (fixed)
Medium Size (fixed)
Auto Size (automatically determined by the size of the other tools' windows in the tool tab)





The window size is automatically saved.
NOTE: The window size of the tools can be changed when a tool is in the Pinned area but not in the Scrollable area. In the second case, the window size options would be grayed out.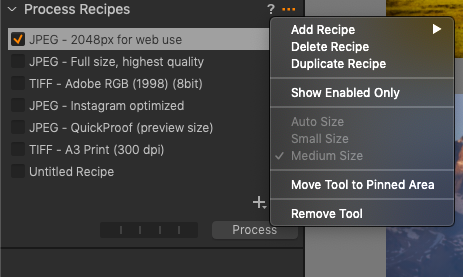 << Saving a personal workspace | Changing default settings in tools >>