When images and their variants are located inside the Session Trash, emptying the Trash will permanently delete your source images. As a safety feature, Capture One will by default open a dialog box to confirm deletion - it is recommended not to disable this warning dialog.
Deleting images from the Session Trash cannot be undone, images are not placed in the system trash and cannot be retrieved later as a result.
Images inside the Trash are read-only and cannot be edited (thumbnails are indicated by a small crossed-over pencil icon, while all the sliders and tools are disabled). This is intended to prevent the editing of images or their variants that are located in the Trash without the user being aware. Without this feature, editing images or variants in the Trash may result in wasted time if they are inadvertently deleted later.
Choose File -> Empty Session Trash. Focus (i.e., pre-selection) on the Trash Collection is not required. You can also delete images and their variants individually from the Trash. Select the Trash Collection and then choose File -> Delete (Variant)/Delete (From Disk) or press Cmd/Ctrl+backspace (Mac/Windows) or press X in the toolbar or cursor tool.


When deleting from the Session Trash, a warning dialog opens asking you to confirm the action.

To permanently delete the source images, click on Delete from Disk. Source image files are deleted immediately and can not be undone.
If you realize that you have made a mistake before deleting, press Cancel, select the image from the Browser and drag the image and its variants back to the relevant Session or System Folder in the Library.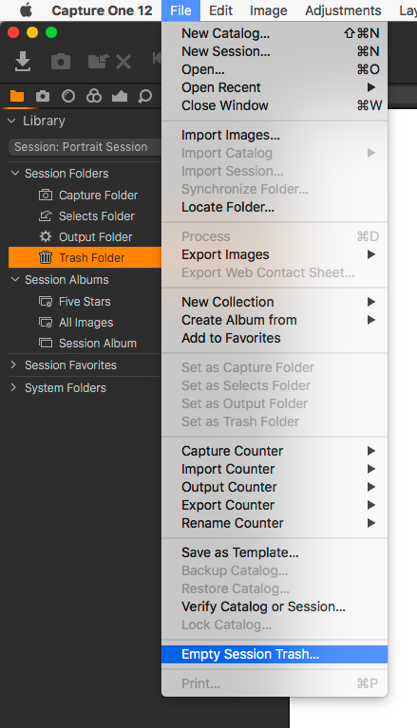 << Deleting images and variants in general | Deleting images and variants from the Catalog Trash >>