Although Capture One creates variants of the source images to work with non-destructively, variants cannot be separated from the source image when it comes to either moving or deleting. Therefore, where an image has one variant, moving or deleting that variant will also move or delete the source image. Similarly, when an image has several variants and you move or delete them all, then you will also move or delete the source image.
However, there is an option you can delete a variant without deleting the source image. For example, when an image has several variants and you leave at least one variant of that image in the Collection undeleted, then the source image is not deleted. Similarly, variants can be deleted from Albums without deleting the source image and its variant or variants located elsewhere.
As a result, Capture One has four commands in the Image and File menus that allow you to manage the removal or deletion of images regardless of how many variants you have or where they are stored.
You will find Delete, Move to Catalog/Session Trash, and Delete from Disk in the Image menu, while Empty Catalog/Session Trash... is in the File menu.
Each command provides a similar workflow throughout Capture One, not only between Sessions and Catalogs, and with referenced and managed source image files, but also when deleting images from Albums where it can be difficult to know where else the image is located.
One or more of the commands will be available at the same time allowing you to move or delete images, however, it is the Delete command that is most likely to be adopted in the day-to-day deleting of images.
Bear in mind the context of the Delete command can change to that of the Move to Catalog/Session Trash and Delete from Disk commands, depending on how many variants of an image are there, and how many of those are selected, and where they are located.
Thus, it is recommended that you use either the main or contextual menu to select the Delete command until you are familiar with it, as they give a clear indication of the intended action. Even then, with the exception of the Delete (from Disk) option, it is typically the easiest way to undo it if you make a mistake.
Warnings when deleting images
If you want to check that the warning dialogs for moving and deleting images from the Catalog/Session Trash or disk are enabled, go to Capture One -> Preferences (Mac) or Edit -> Preferences (Windows). It is generally not recommended to disable these dialogs, especially for the Warn when deleting images from disk option. In that case, images are deleted permanently and cannot be recovered from the system trash.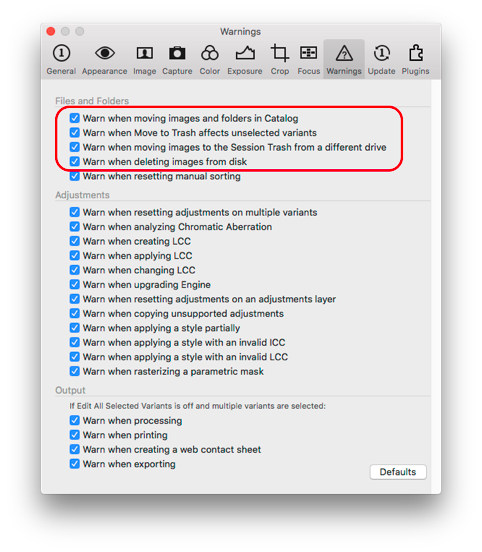 << Metadata in XMP files | Deleting images and their variants from Collections >>