You can delete an image by selecting it in the Browser and going to Image > Delete (Move to Catalog/Session Trash) or Delete from Disk – with these options also available through right-clicking an image in the Browser.
The former option moves the source image to a trash folder, where it can be reviewed and then permanently deleted thereafter. The latter option removes the image from your catalog/session and deletes it permanently from disk, similar to how permanently deleting a file in Finder or Explorer works.
When navigating through a User Collection such as an Album, you will also have the option to delete the image from that collection only - this is shown under the Image menu as Delete (from Album "Album Name") - this also becomes the default behavior of the backspace/delete key when navigating through Albums, to prevent images mistakenly being deleted from your catalog or disk.
Warnings when deleting images
If you want to check that the warning dialogs for moving and deleting images from the Catalog/Session Trash or disk are enabled, go to Capture One -> Preferences (Mac) or Edit -> Preferences (Windows). It is generally not recommended to disable these dialogs, especially for the Warn when deleting images from disk option. In that case, images are deleted permanently and cannot be recovered from the system trash.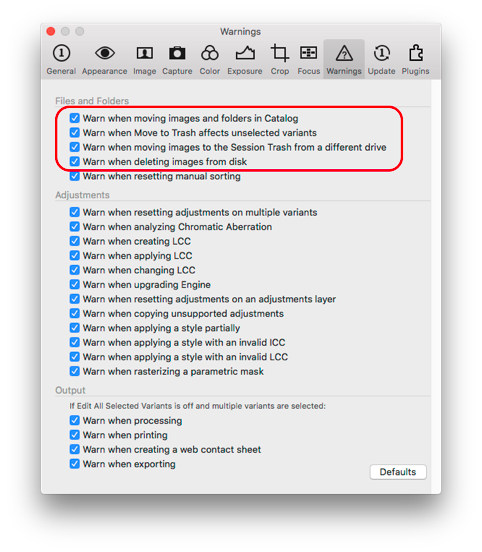 << Metadata in XMP files | Deleting images and their variants from Collections >>