In addition to the standard Adjustment Layer option, Capture One Pro has two Repair Layer options: Clone and Heal. Each of these two layers has a dedicated Clone Brush (S) and Heal Brush (Q) repair tools.
The Clone tool copies pixels from one area of an image to another and is well suited to either duplicating or removing objects. Brushing over an imperfection in an image using the Clone Brush (S) will replace that area with an exact copy of another part of the image.
The Heal tool works slightly differently. It also copies pixels but automatically blends the colors and brightness of the sampled area with the adjacent pixels of the target area.
For most repair work, particularly skin blemishes or large expanses of the sky with a slight gradient, the Heal tool should be the first choice. Repairs along edges are more suited to the Clone tool.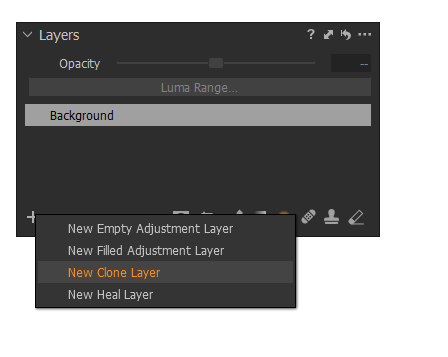 << Copying Styles and Presets between images | Repairing Layers with the Heal tool >>