The Linear Gradient Mask function is applied in a non-destructive fashion, meaning that you can always readjust the length, position, and rotation of the gradient mask later. This feature is particularly useful when copying the Linear Gradient Mask to other similar images where you only want to tweak the position or coverage on some of the images.
The Linear Gradient Mask consists of three lines:
The starting line represents a 100 percent mask coverage and will thus provide a full effect of the selected image adjustment.


The central line represents a 50 percent mask coverage and will provide a 50% effect of the applied image adjustment. The central line is also used to rotate the gradient.


The end line represents a transition to 0 percent mask coverage and will end the image adjustment effect. Think of the end line as a way to control the feathering of the mask.
Although the typical use of the Linear Gradient Mask will be to adjust the exposure of a sky, you can combine Exposure or Highlight adjustments with Clarity or Color Balance adjustments, for example. It is also worth mentioning that you can fade the overall effect with the Opacity slider for the Linear Gradient Mask layer.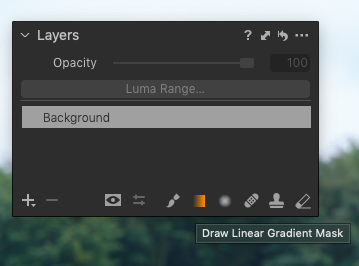 NOTE: The Linear Gradient Mask feature is not present in Capture One Express.
<< Magic Brush | Creating a Linear Gradient Mask >>