The Radial Gradient Mask might at first look similar to a mask created with the Draw Mask brush, but there are some key differences. You can only create one Radial Gradient Mask per layer, but the big advantage is that the mask is applied in a non-destructive fashion, meaning that you can always readjust the size, shape, rotation, feathering, and position of the mask after the fact. This approach is particularly useful when copying the Radial Gradient Mask to other similar images where you only need to tweak the mask coverage for some images.
The Radial Gradient Mask consists of three lines:
The inner line represents a 100 percent mask coverage and will thus provide a full effect of the selected image adjustment.


The central line represents a 50 percent mask coverage and will provide a 50% effect of the applied image adjustment. This central line has two functions: you can rotate the mask with it and it has four control handles that are used to change the shape of the mask.


The outside line represents a transition to 0 percent mask coverage and will end the applied image adjustment effect. Think of it as a way to control the mask feathering.
Not only can you control the size, shape, and feathering of the mask, you can also fade the overall effect with the Opacity slider of the Radial Gradient Mask layer.
Learn more about the Radial Gradient Mask in this tutorial.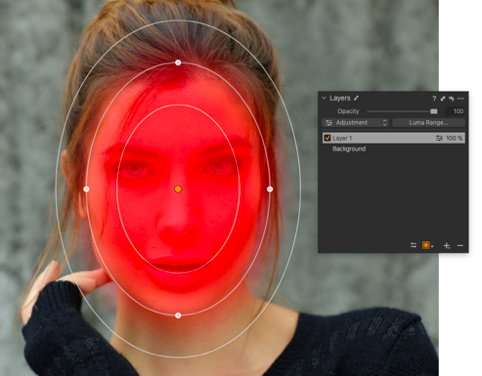 NOTE: The Radial Gradient Mask feature is not present in Capture One Express.
<< Editing the Linear Gradient Mask | Creating a Radial Gradient Mask >>