When the Output Location option is selected from the Root Folder fly-out menu of the Process Recipe tool, the destination location for processed variants is determined by the Output Location tool.
When processing one recipe, you can use the Output Location tool for creating and naming folders instead of the File tab. This avoids repetitive editing of the recipe and reduces the likelihood of making mistakes.
When two or more recipes are selected to process the same image using different settings, the Process Recipe's File tab Sub Folder field can be used to create a sub-folder for each recipe (e.g., JPEGs in one folder, TIFFs to another) and then you can use the Output Location tool to output those folders to the same destination folder.
Go to the Output tool tab.


Select a recipe in the Process Recipes panel (i.e., the recipe is highlighted with an orange or gray bar).


In the Process Recipe, select the File tab.


Select the Root Folder fly-out menu and choose Output Location from the list.


Go to the Output Location tool.


From the Destination menu, select one of the following:



Choose Folder… and either, select an existing folder and click on Set as Output Folder or create a new folder from the dialog. If you select the Desktop as the output location from the dialog, be sure to have either created a folder earlier in the File Tab's Sub Folder text field or create one in the following step.
Output (Sessions only) - this option returns the processed variants to the Session Output Folder.



As an option to add a parent or enclosing folder (or subfolder, if you have already created one in step 6) in the Output Location's Sub Folder field, select either a token from the naming dialog accessed via the adjacent icon or type in a name.


Repeat steps 2 through 4 for each required recipe.


Checkmark the required recipes in the Process Recipes panel. If all of the recipes' settings have been selected under the various Process Recipe tabs, the variants are now ready to be processed and exported.


Select Process in the Process Summary tool.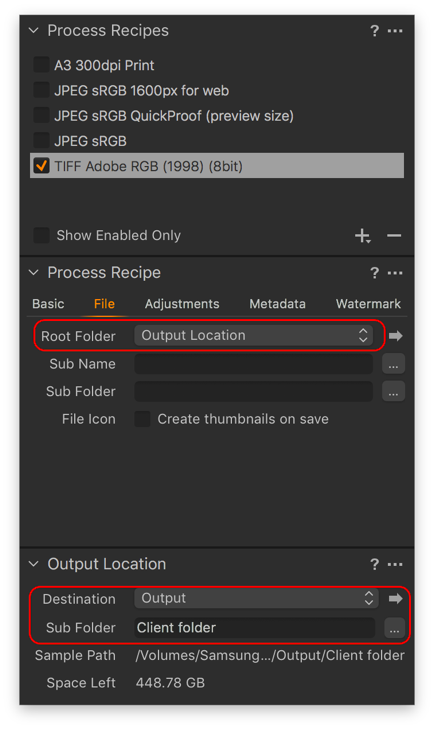 << Organizing images using tokens | Output recipes to multiple folders >>