Capture One's Naming tool provides a wide range of options for renaming variants. The adoption of naming tokens leverages the metadata stored in the library which can be used to dynamically generate names. Several tokens can be used together.
For example, using a combination of Document Name, Creator, and Counter tokens will automatically rename the files based on the Session or Catalog name, the creator's name used in the IPTC-Contact field for the selected images, and number them individually. If more than one creator's name is encountered, the image will be dynamically attributed.
Although the naming is independent of the process recipe, when two or more recipes are selected and the exported image variants share the same destination folder, then they will be differentiated by a numerical value.
Go to the Export icon.


From the Naming tool, enter a name directly in the Format text field. Alternatively, select the Naming Format dialog by clicking on the (…) icon next to the Format field and make a selection from the tokens or presets available. A mixture of names and tokens (including counters) can be used. To return to the original file name, insert the Image Name token. This is the default setting for the tool.


When a counter token is selected, you can alter the value at which the counter starts along with the increment. You can also reset it. Click on the (...) icon in the Naming tool and make the selection from the relevant options.


After choosing the desired token, drag and drop the token into the format line. You can use underscore (_) to separate the token from the name if desired. Job Name Token allows text or token input. This token can be used in the Naming tool and it enables a shared naming section between recipes.


Click OK to accept the changes.


Verify the file name and format in the Sample

field.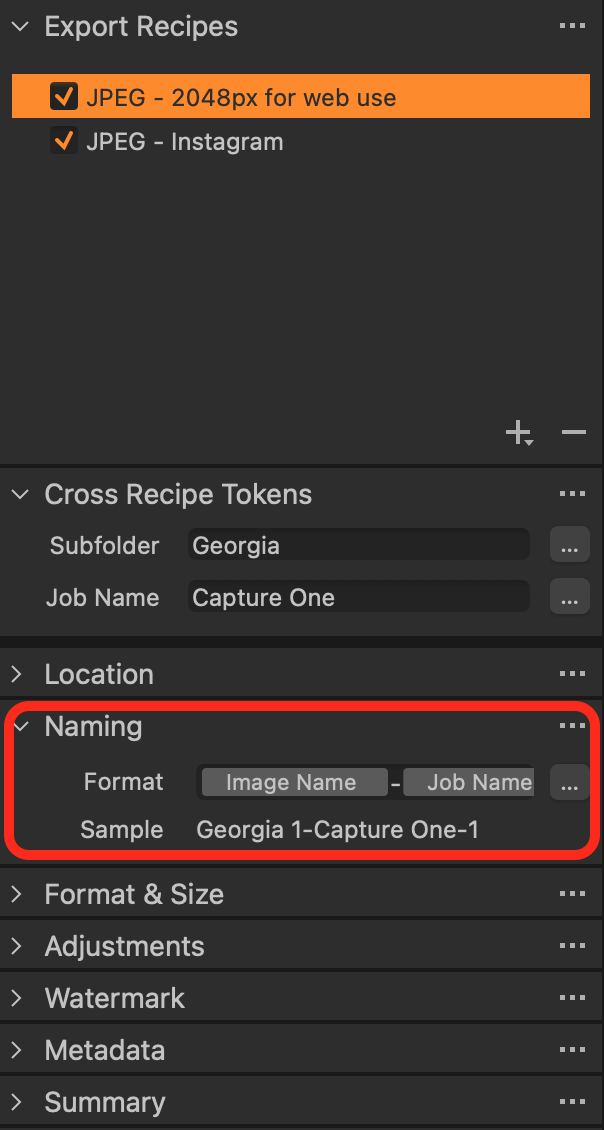 << Output recipes to multiple folders | Appending image filename >>