Capture One Pro allows you to superimpose line drawings or sketches on images using the Annotations tool. It is intended as a visual aid when suggesting ideas for retouching.
Capture One Pro features an Annotations tool. It consists of a simple brush or pen-type tool to make line drawings or sketches as a visual aid for retouchers. It also has a slider to modify the size or thickness, a user-selectable color palette, and a simple erase option. Along with dedicated cursor tools accessible from the cursor toolbar, the Annotation tool is located under the Metadata tool tab, though like all the other tools it can be added to any tool tab.
If you are using an interactive stylus it can be used to scribble notes and if you are using a Windows machine with a touch compatible display, you can use a pen to annotate and your fingers to pan or zoom. Like the brush tool used for drawing a mask, the annotations cursor can be used to draw a straight line between two points. For that purpose, simply click on the image then Shift-click a second time to draw a line between them.
Annotations cannot be copied between images by default, you must actively add the option to the adjustments clipboard first. They cannot be included as part of a Style.
Like EXIF and IPTC metadata embedded in or associated with an image, using the global reset feature will not remove the annotations. However, using the tool's (local) reset feature will do so. When you want to keep them for future reference, there is no need to make clones and delete the annotations. Instead, the tool's steganographic capabilities mean you can quickly conceal them from view.
When you want to quickly check an image for annotations, a status (pencil) icon is applied to the corresponding thumbnail in the browser and a dedicated shortcut to toggle the display of any annotations made to images is available to customize the toolbar. You can also search for annotated images using the Filters tool and they can be grouped into an album using the search-based Smart Album feature.
Moving annotated images from one computer to another for additional editing is easy. RAW-based annotated image variants can be packaged as EIP files, greatly simplifying the collaboration process between the photographer, digital tech, and the retoucher.
When the time comes to share the files with the production team, for example, annotations can be included in the image as a layer when processed as a PSD file. If you want to check annotated images before sharing them, annotations can be included when the Proof Recipe feature is selected (note the display of annotations is not dependent on the recipe workflow option but on the separate Always Display Annotations feature) and they can be included when printing a hard-proof. If the annotations are visible when sending the image to print (i.e., selecting File -> Print), then the annotations will be included, though you can always remove them retrospectively from the Image Settings panel in the Print dialog before printing.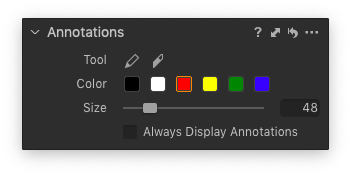 Learn more about annotations in this video tutorial:
Notes for Express users
Capture One Express (for Sony) does not feature the Annotations tool, nor can it print images with them. However, the Filters feature includes the option to search for them by annotated state (yes/no) and it enables annotations to be both viewed and hidden on-screen if you have imported previously annotated images (from Capture One Pro).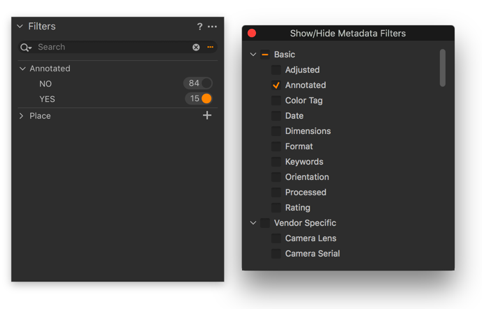 Learn more about the Annotations tool in the following articles:
Copying annotations between images
Searching for annotated images
Sharing annotations among Capture One users
Processing images with annotations
<< Viewing the Repair Layer effect | Sketching on images >>