When exporting images, Capture One will include any assigned keywords from shared keyword libraries by default. However, you can select specific keyword libraries to assign to images during output. This is particularly useful when you have a controlled vocabulary for a particular use, for example, a certain client, news agency or stock library.
Select the appropriate recipe form the Process Recipes list. The recipe is then highlighted in orange. Note that if multiple recipes are to be used for output, the following selection will have to be made for each recipe.


In the Process Recipe tool located under the list, select the Metadata tab.


Click on the Keywords fly-out menu and select from the following:



None - to exclude keywords from the image.
All - to include all the tagged keywords to the image.
From Selected keyword libraries - to include all the keywords from the chosen library, where previously set-up (only shared libraries can be chosen).



Selecting the option will automatically save the choice to the recipe.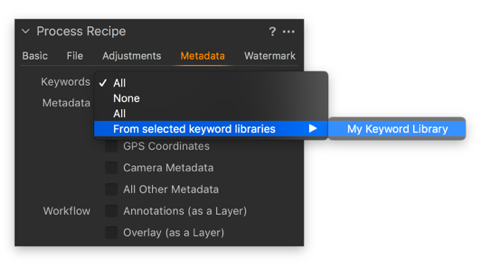 << Adding and removing any cropping | Specifying metadata >>