Simply adding a name in the Recipe's Sub-Folder field guarantees that the image created by the recipe will be organized into a folder when processed.
Adding a / or \ (MacOS/Win) between names or tokens automatically creates subfolders. For example, adding Output/JPEGs in the Sub Folder field creates two folders with your files in the folder called JPEGs, enclosed by another called Output.
Adopt Capture One's tokens to dynamically name folders based on metadata stored in the Library. This simplifies the organization of images and will dramatically improve your workflow.
If you are simultaneously processing your images using multiple recipes, for example, outputting your images as JPEGs for a quick proof and TIFFs for production, then it makes sense to use the recipe to create a subfolder and use the Output Location to determine the destination and use it to create the enclosing folder.
Select a destination from the Root Folder fly-out menu, as detailed above. If a folder is created in that step or the Output Location is selected, the folder or folders created in these steps become subfolders.


In the Sub Folder field, add a name (e.g. TIFF Adobe RGB) or token (e.g. Recipe Format). To add a token, click on the adjacent action icon (...) and select from the Process Recipe Sub Folder Tokens dialog. This will automatically create a folder or

sub folder

.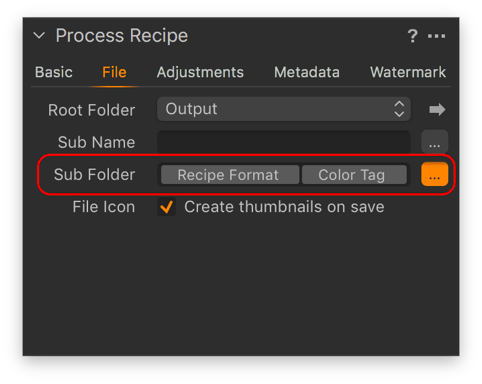 << Selecting output location using the recipe | Organizing images using tokens >>