Capture One Live allows you to share collections of images online with anybody who has access to a web browser with an active internet connection. It is a great way for people on set, or those working remotely, to follow images as they come into Capture One Pro when shooting tethered or when working with a collection of images that requires group input. It is an equally great way to get feedback and selects from your clients after the shoot is done.  
Your collaborators, reviewers and client do not need to own Capture One to access the images. 
This article contains the following sections:
Getting started
Verify that you are running the latest version of Capture One Pro – using an older version will limit, or provide unsupported functionality. For details, please see this article: How to download, install, and update Capture One.
The Capture One Live Share online button is available in the default workspace:

If you wish to add it to your customized workspace (or it does not appear) you can follow the usual process of customizing the toolbar, by right-clicking on the toolbar and selecting Customize Toolbar...

After selecting

Customize Toolbar

a pop-up with different icons will appear

Navigate to the icon called

Share online

Drag and drop the

Share online

icon onto the Toolbar wherever you prefer

Press

Done to save your choice

Now Capture One Live is available in your workspace and ready to use.

Start a Live session by sharing a collection from Capture One Pro
There are 4 ways to share your collections with Live:
Right-click on a Folder or Album and select Share online: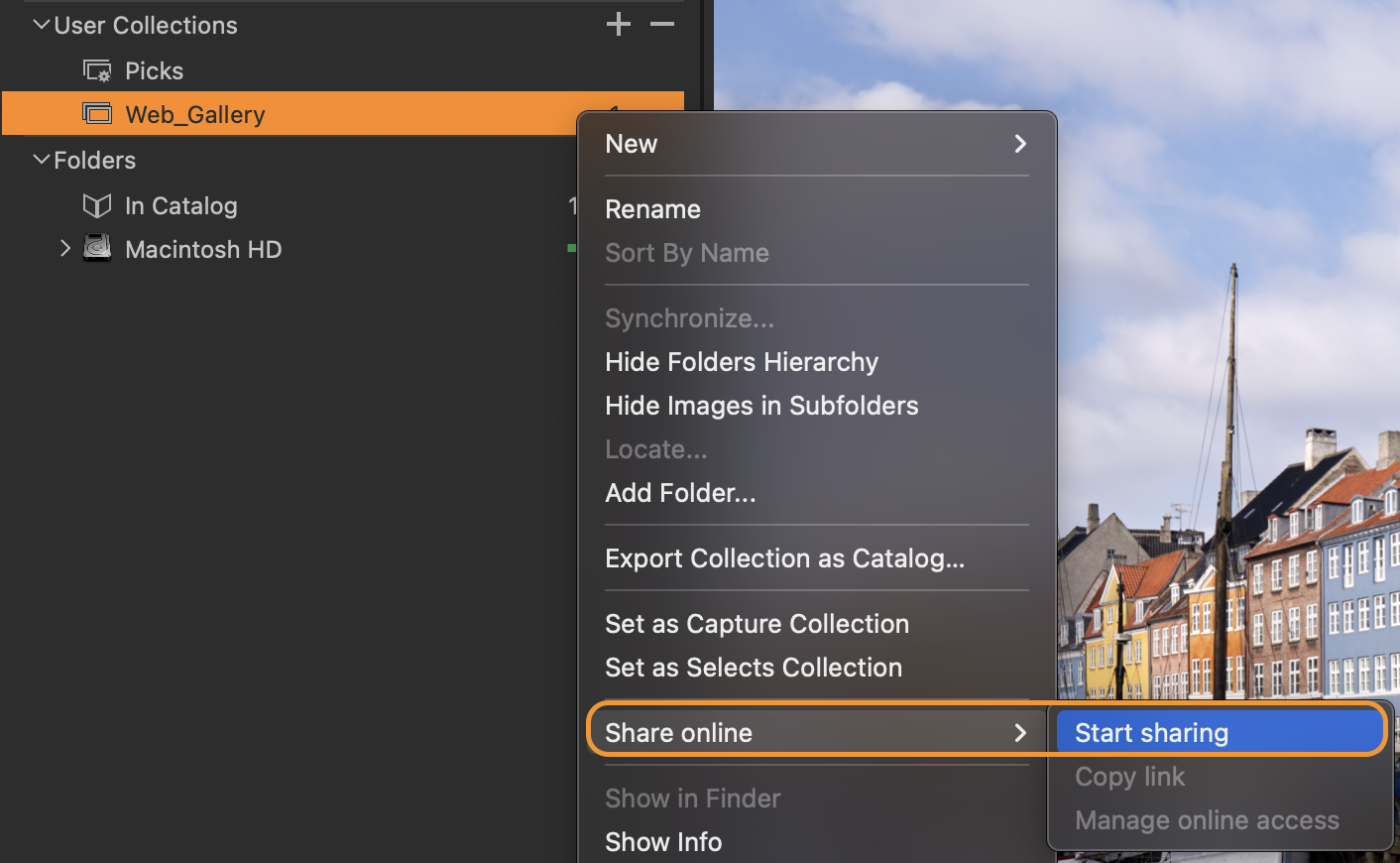 When creating a session, tick the "Share selects folder online with Live" box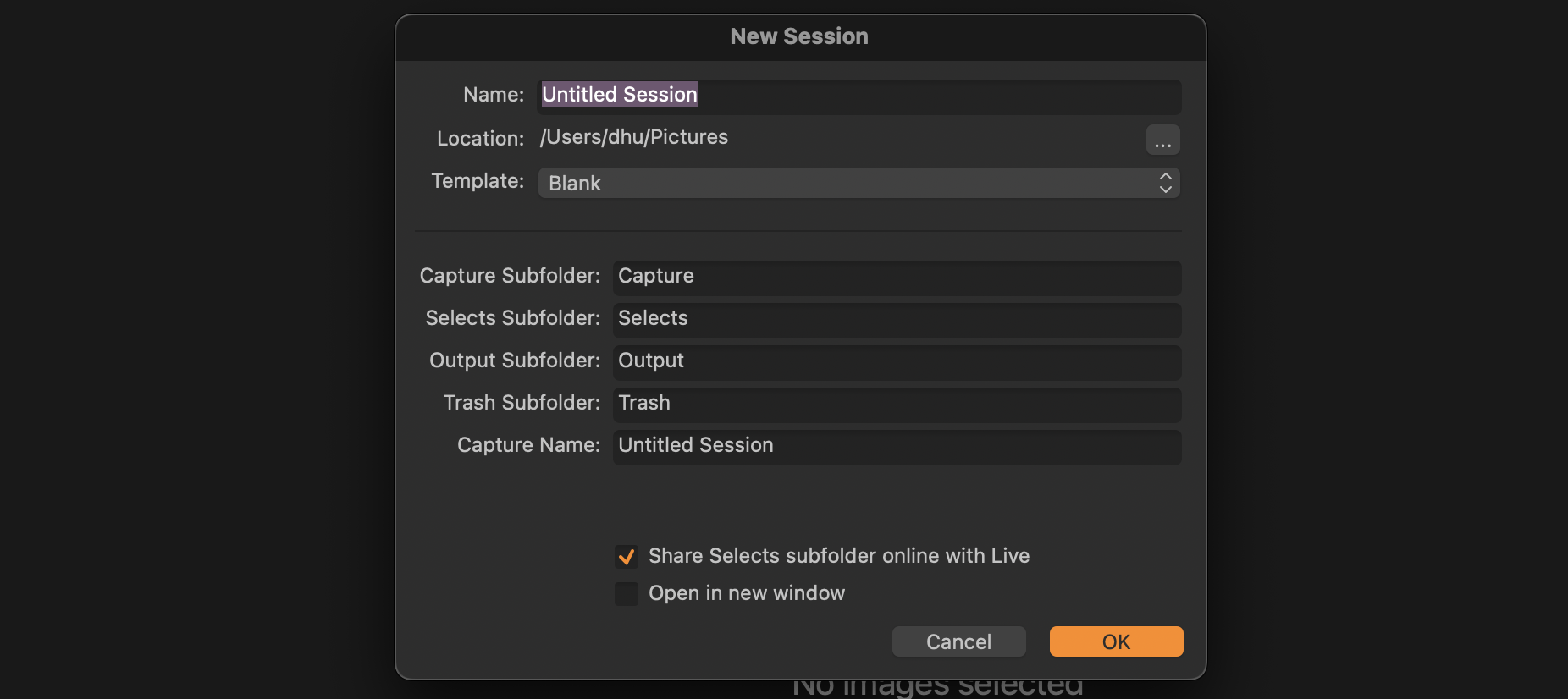 Click the Share online icon from the Toolbar and then select the Collection (an Album or Folder) you wish to share from the dropdown menu at the top of the dialog: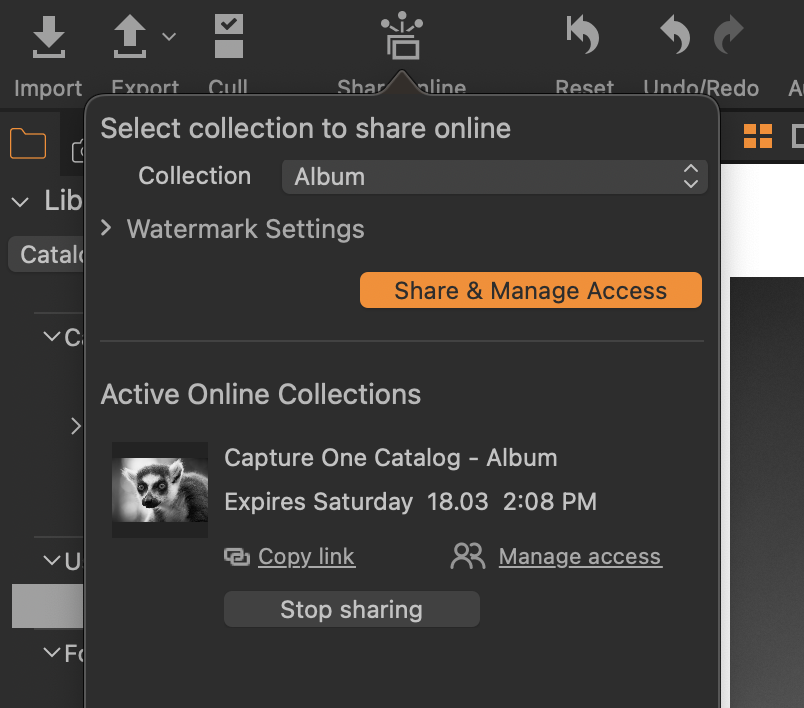 N.B. Smart Albums are currently unsupported with Capture One Live.
Share Multiple Collections (Session only)
Capture One Pro (16.3) introduced a new feature that allows you to share multiple Collections simultaneously. This enhancement enables your collaborators and reviewers to navigate through folders using just a single link.
Here's how it works:
Sharing Session Favorites and Albums: You can now share all Session Favorites and all Session Albums at once.




This option is available in the dropdown menu in the "Share Online" user interface. Alternatively, you can right-click directly on the section titled "Session favorites" and "Session albums" in your Library Tool to find the option to share online.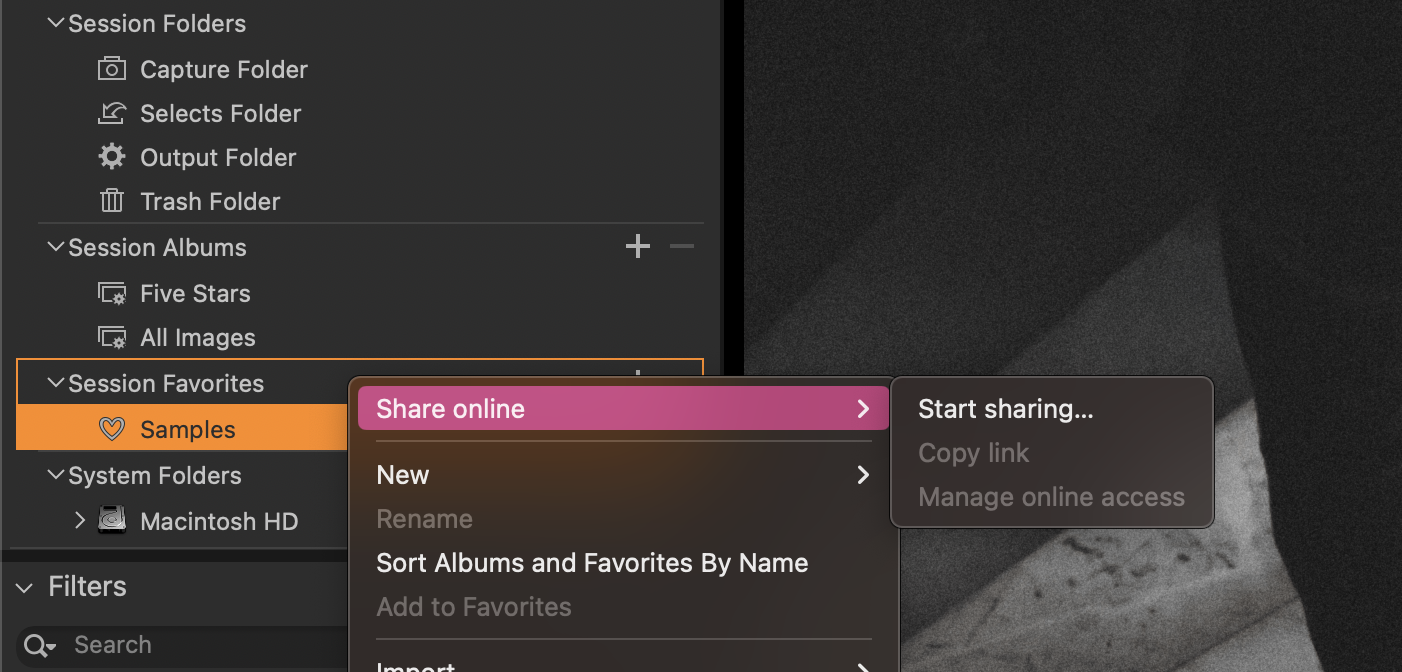 Inheritance of Sharing Rights: By default, all sub-sessions (referred to as "children") inherit the sharing rights of the main session (the "parent"). However, you have the flexibility to customize access rights for each child session. These customized rights will take precedence over the parent's access rights.
Navigation for Collaborators: For ease of navigation, we've added a new system on the left side of the webpage. Collaborators can expand or collapse this panel by clicking on the button at the top.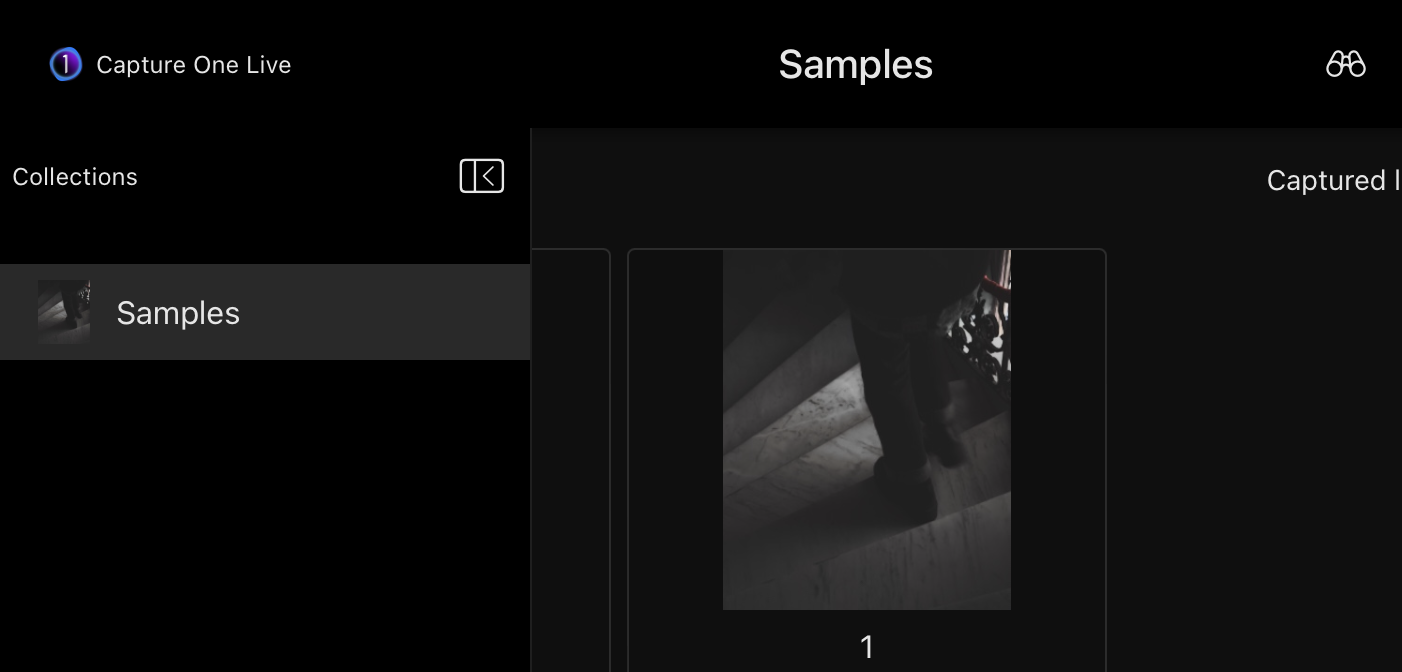 Invite users and manage access
After sharing a collection, you will be presented with a window to tweak a few access options:
Share via email

Viewing permissions per email or for anyone with the link

Copy share link to share with others

View your online session in a web browser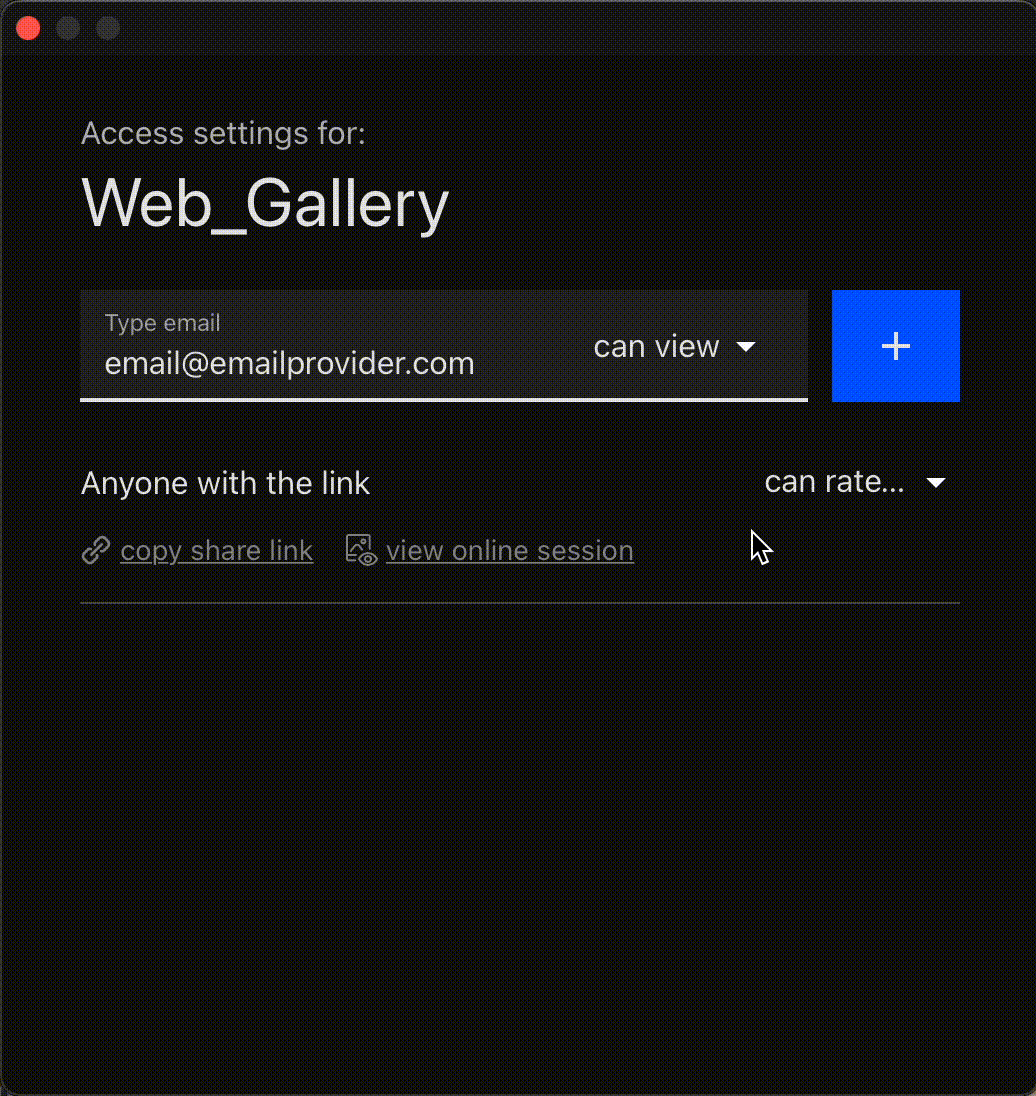 Y
ou can add the email address of the individual you would like to share with, or simply copy the link by selecting 'Copy link' to place it onto your clipboard.
When a user is invited to a session, they will receive an invitation via email - at this stage they will have to validate their email address to join the Live session.
Once you have begun sharing the online collection, you can manage it and any other collections, by going to the Share online icon in the Toolbar and selecting Manage Access.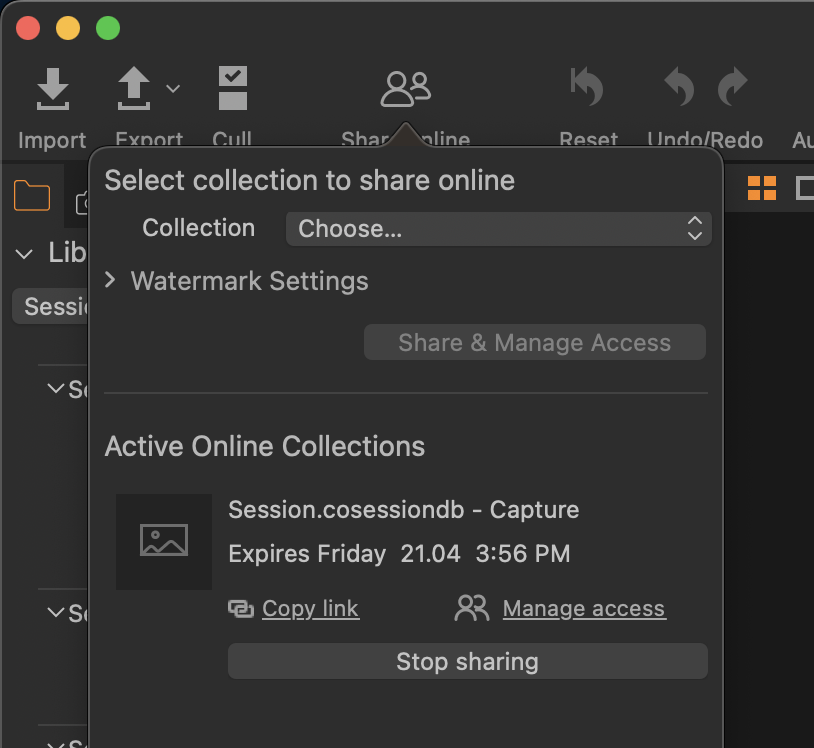 Within this Share Online panel it is also possible to share new online collection. Simply select the collection you wish to share from the dropdown menu.
Change your watermark settings by clicking the arrow to the left of Watermark Settings (paid subscription only)
You can also see your active online collections, whereby you can manage access settings, copy a link to this online session, and also stop sharing the online collection.
A progress bar shows up on the thumbnail during the upload of the images to the web, so you can be certain that all of them are available to your collaborators. We recommend sharing your folders and albums online as early as you can, so the upload can happen while you are capturing or editing images – with a decent internet connection you should almost never have to see this progress bar.
Stop sharing
The online collection will stay active for one month (24 hours if you are a free user), or until you choose to stop sharing it. You can do so by pressing Stop sharing when accessing the tool from the Toolbar. You'll get a pop-up window asking you to confirm your choice.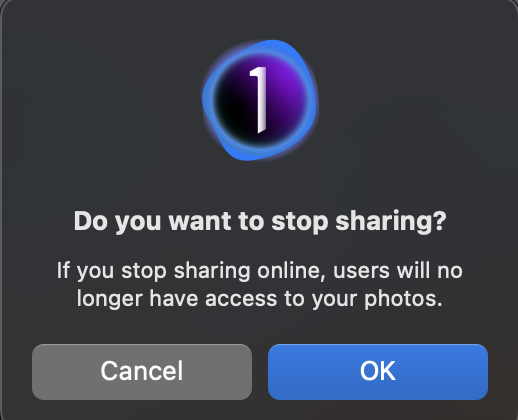 If you accept, from now on the images from that online collection will no longer be available for viewing from the web. The online collection will disappear from the list of Active Live Collections.
When your online collection expires or when you decide to stop it, you will receive an email with a collection of comments made on your images.
You will also receive an email reminder three days before the online collection expires.
Comments Tool: In-App Capture One Live Comments
Capture One Pro (16.3) introduces a new tool to your workspace: the Comments tool. This feature allows you to interact with comments left on each image by you or your collaborators, directly within Capture One Pro.
Please note that comments are hosted within the online collection on the web and will disappear when the collection expires or is terminated. This also means that you need to be online to read comments and may experience a brief loading time when fetching each comment. We hope this new tool enhances your collaborative experience in Capture One Pro.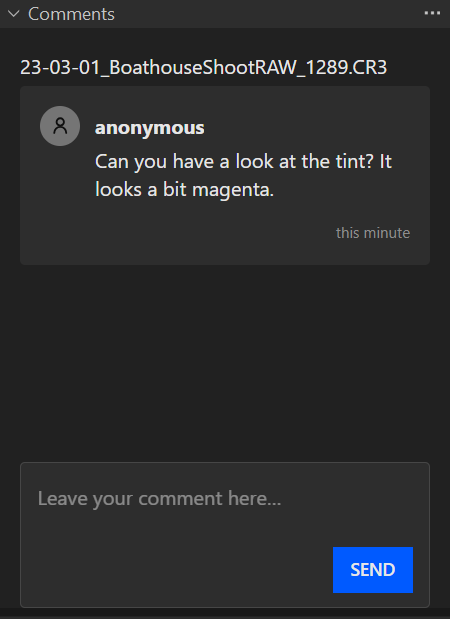 Here's what you can do:
Interact with Comments: You can now read, write, and delete comments directly from within Capture One Pro.

Identifying Comments: To make it easier to spot comments, we've added several indicators:

In the Library tool, collections that are shared online and have comments will display specific indicators.


In the browser and viewer, images with comments will display a comment indicator. Clicking on this will bring the Comments tool into focus.



Reading Comments: To read the comments associated with an image, simply select the image.
Join a Live session in a web browser
In order to open the online collection, all you need to do is copy the link  in a browser on your preferred device. As a photographer you can also invite reviewers with their emails.
While the collection is online, the reviewers can view the photos in the chosen collection. They can provide their feedback by star rating, color tagging, and adding their comments.
New photos will be automatically added to the online collection – no need to refresh! Similarly, new edits on photos in the share collection will automatically be reflected in the online counterpart.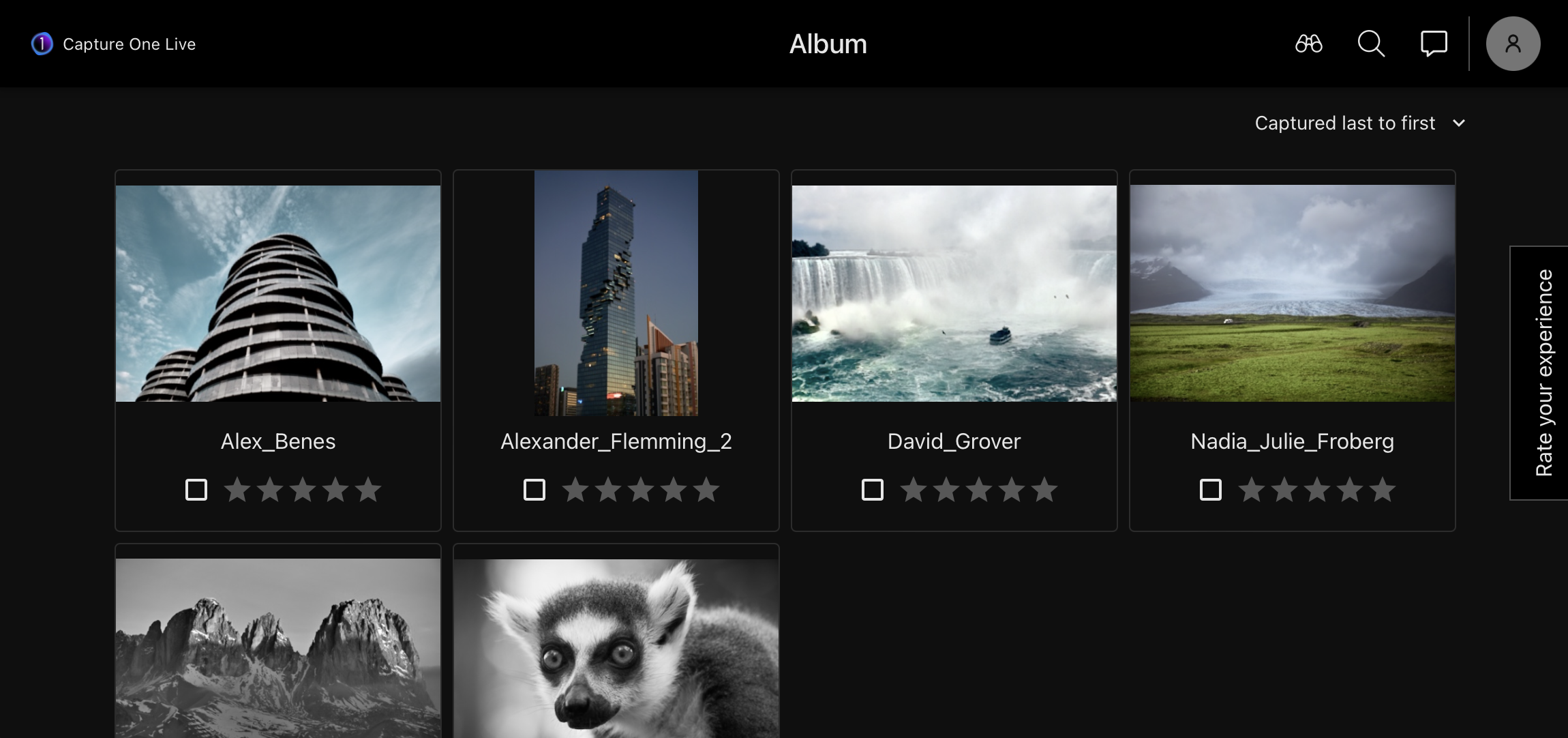 Sort, Search and Filter
Click the magnifying glass icon in the top right corner to access search and filters.
Input any text into the search bar to look for image names. Combine it with the filtering system that works at the server level, meaning images do not have to be loaded on the page to be accounted for and displayed while filtering.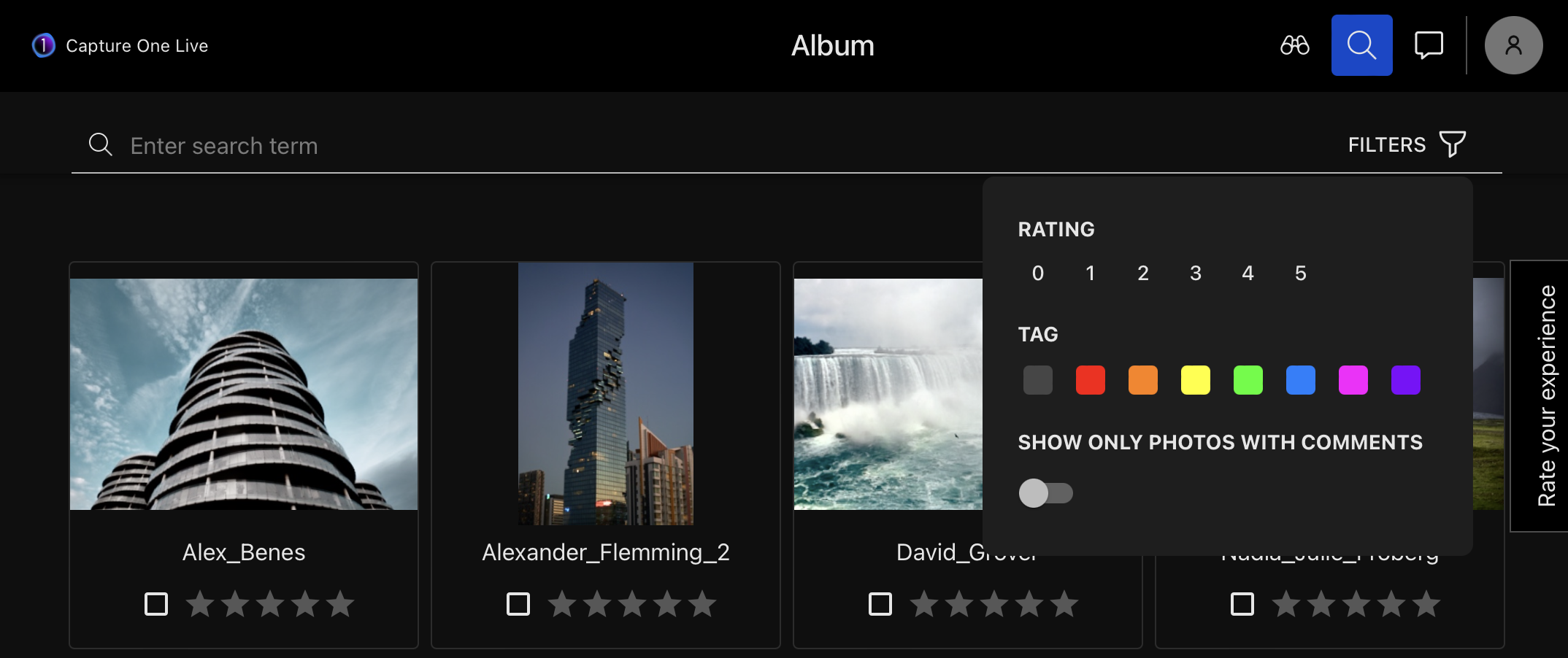 There is also an option to sort images from first capture time to last capture time and last to first (default). Any user has access to the sort order option.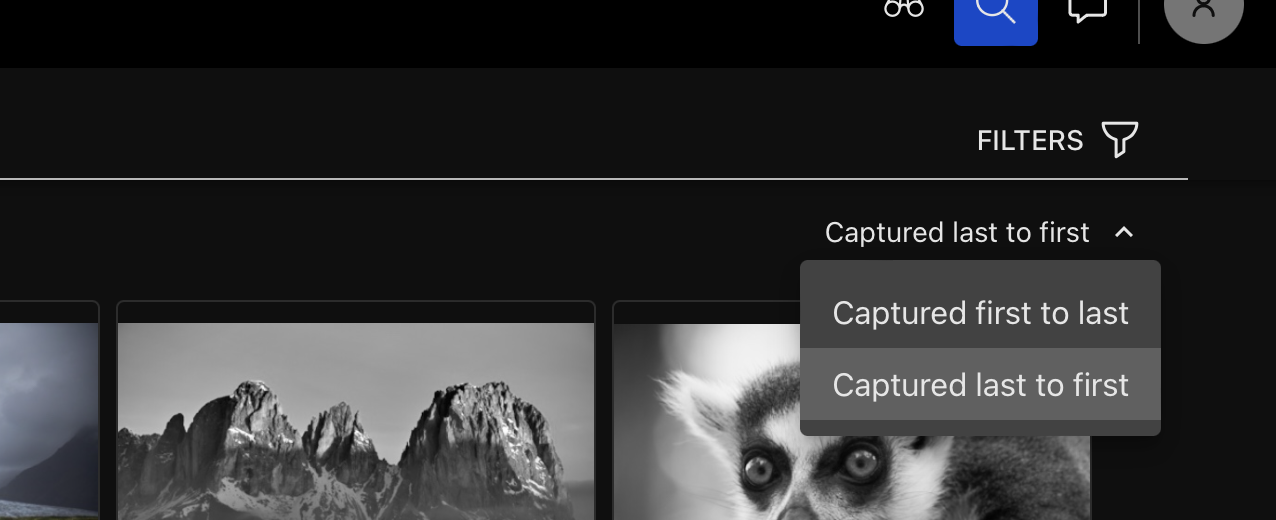 Results from filtering and sorting will not update automatically when new images are coming into the online collection. Refresh the results manually to see the applied filters.
Follow
When a reviewer selects a file, the view is not updated with the new images coming in during shooting. The reviewer can choose to follow the images that the photographer captured last or edited last by pressing the binoculars button in the top right corner.

This is a great solution if you want to focus on the latest image the photographer added or updated and see the changes in real-time - especially during tethered shoots.
This follow mode only works in the current collection you have shared. If you share multiple folders and you are following one of them, then you switch Capture folder to a new one, the live session will not jump automatically to this new folder.
If you want to exit from the Follow mode, you need to exit the full screen by clicking the arrow in the top left corner of the screen or just pressing the esc button.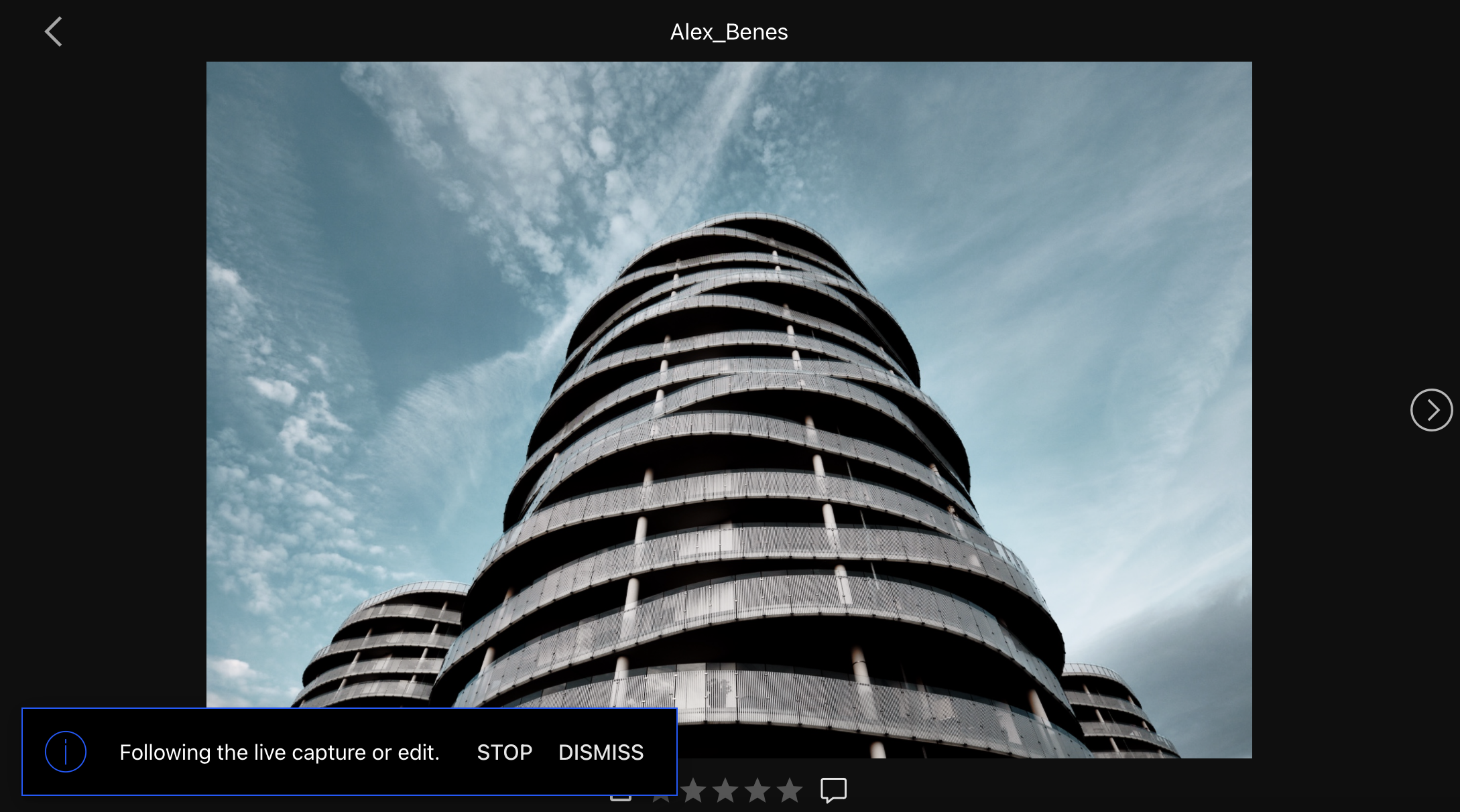 Change language
The language of the content in the web browser is determined by the default language settings of your browser. If you want to change the language, you can do so by clicking the profile icon at the top right corner and then selecting "Language". A drop-down menu will unfold with a number of language options. 
Shortcuts
You can use keyboard shortcuts to star rate and color tag images in a Capture One Live Session.  
Star Rating and Color Tagging:
0, 1, 2, 3, 4, 5, where '0' resets the rating 

q, w, e, r, t, y, u, I, where 'Q' resets the tag
Navigation:
Left and right arrow key to navigate to the left and right

Escape (Esc) key to return to the gallery
Additional Information
Underneath each photo, there is an interactive section with the stars rating and color tags. If someone has already rated or color tagged the photo, the reviewer can see their ratings and color tags. The reviewer can also rate or color tag any photo on the shared Session and when it is done, ratings and tags will overwrite the existing values.

The online collection ends either when its expiry time is reached, or when the photographer chooses to click on the Stop Sharing button within Capture One. Then all photos are removed from the online collection and are no longer available.

Keep in mind that if Capture One is closed down while the online collection is still active, Capture One needs to be launched again before the Live Session expires to avoid losing any ratings and color tags that were added in the meantime.

In the rare case of an error while trying to upload images to the Live session, an alert icon will be displayed in the Share Online panel, on top of the thumbnail. Clicking it will give you the option to retry uploading the images and will also give you access to a detailed error message.

Capture One Pro 23 16.3 on macOS will now send a system notification when new activity is happening in your online collections. New ratings, color tags or comments are considered activity. We've hopefully made the frequency of those notifications acceptable, but should you wish to completely turn them off, you can do that in your settings.

The comments cannot be edited.

There is no download button, but you can always protect your images with the watermarks if you have doubts.