---
About tethering and its benefits
Camera tethering is the process of connecting your camera to a computer, tablet, or even a smartphone via a cable or Wi-Fi. Once you've successfully connected the camera, any new image captured by the camera is then passed directly to the device.
This is a great way to ensure that you get the perfect shot, since you can make any changes you need without having to retake the photo. You can also view your images on your smartphone seconds after you capture them.
Wired vs. wireless tethering
Wired tethering offers the fastest transfer between camera and computer/tablet/smartphone — there's very little delay between firing the shutter and seeing the images on screen. The only downside is the cable. It can get yanked out of the camera port easily, or wiggle loose just enough to break the physical connection and often times the software needs to be restarted before it will recognize the camera connection again.
Transfer speeds depend on the ports, cables, and device used. For instance, while the iPhone 15 has a USB-C port, only the iPhone 15 Pro supports USB 3 data transfer speeds.
Wireless tethering allows for more freedom of movement when shooting on location. However, there may be a delay of 15-30 seconds (or more depending on file size) while the images transfer to the computer. Consider transferring only JPEG images to your mobile device for the fastest performance.
---
Capturing Images with a Connected Camera
See the video below to learn more about capturing images with Capture One on an iPhone:
The steps below will take you through the capture process in Capture One for iPad.
Make a capture on your camera, or in Capture One, by tapping the shutter release button: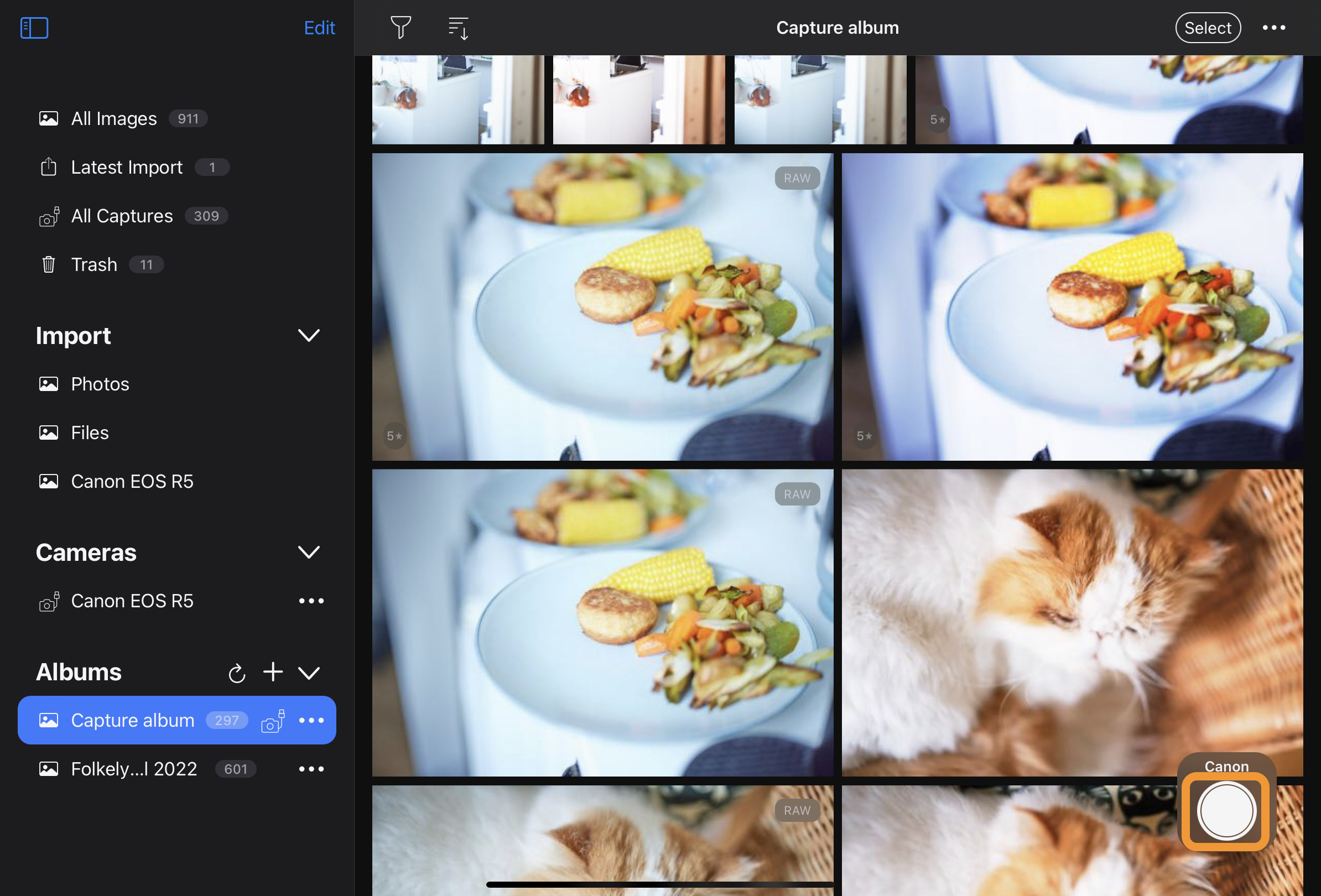 Every image that is captured, will be stored in All Captures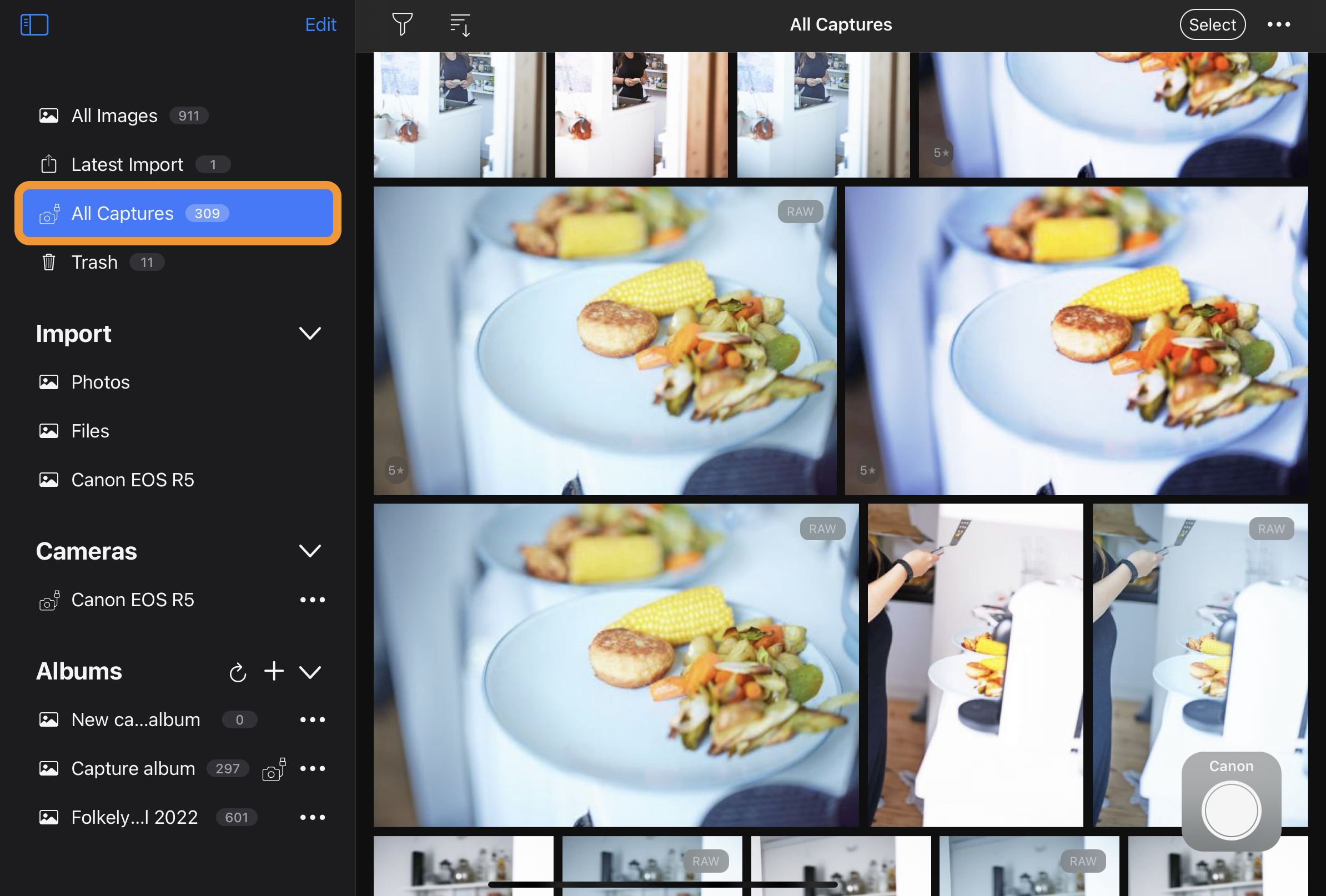 Any Album can be assigned as a Capture Album by tapping the three dots next to the album name, once it has been created: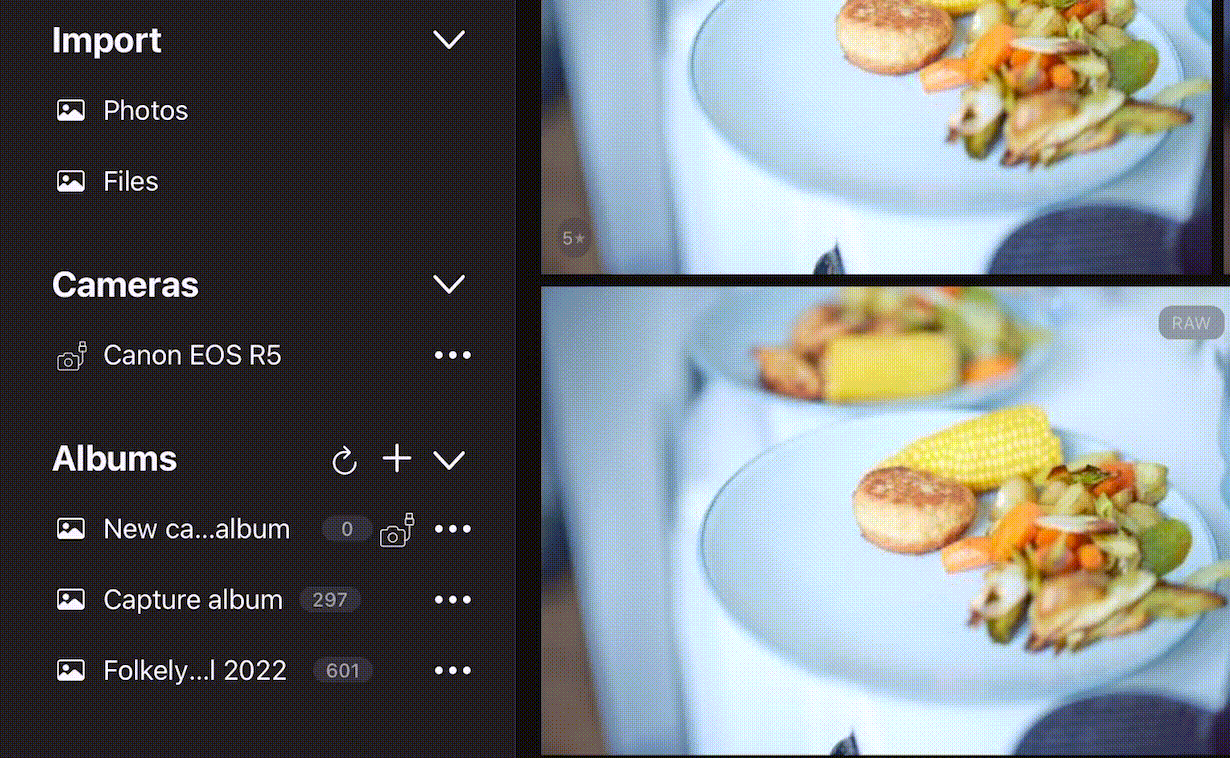 Any captures made from now on, will be shown in both All Captures and the assigned Capture Album – only one copy of the image will exist on your iPad locally, it is simply displayed in multiple locations, similar to Albums and Smart Albums in Capture One Pro.
You can disconnect and reconnect your camera at any time by tapping the three dots next to the camera name: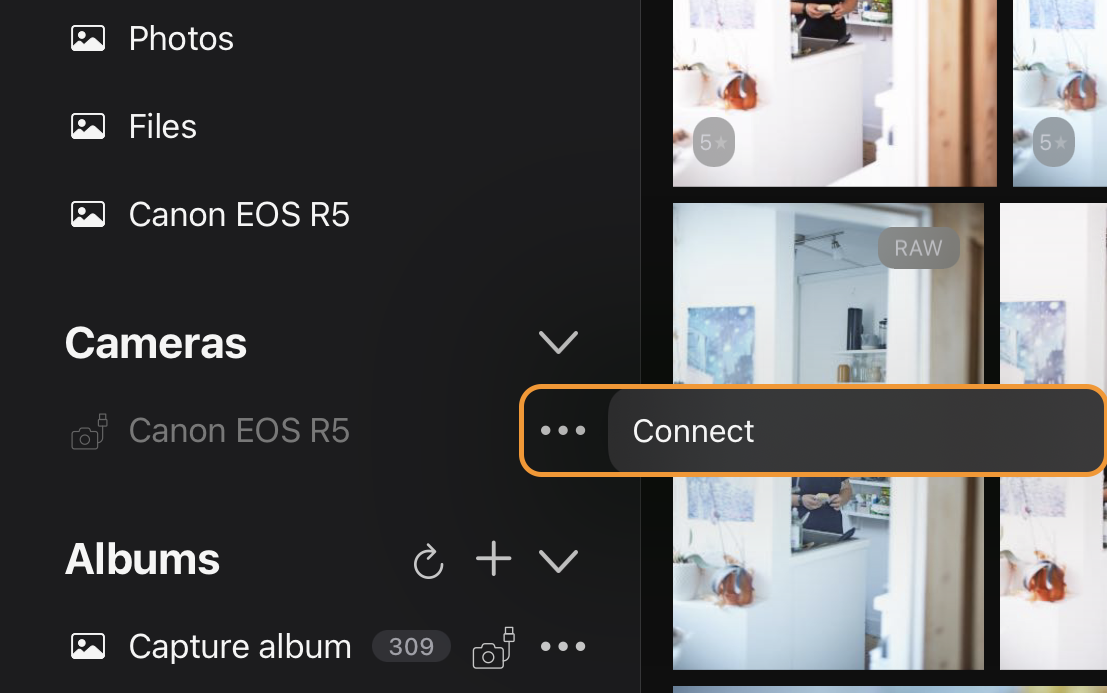 If you find your images are looking somewhat different to how you see in camera, it's recommended that you switch off Next Capture Adjustments – tap the icon shown below to toggle this behavior on/off. This will ensure that your images are coming into the iPad unedited, just as they would when stored to a storage device in the camera. However, this feature is handy if you have specific adjustments that you would like to be applied from one image to the next.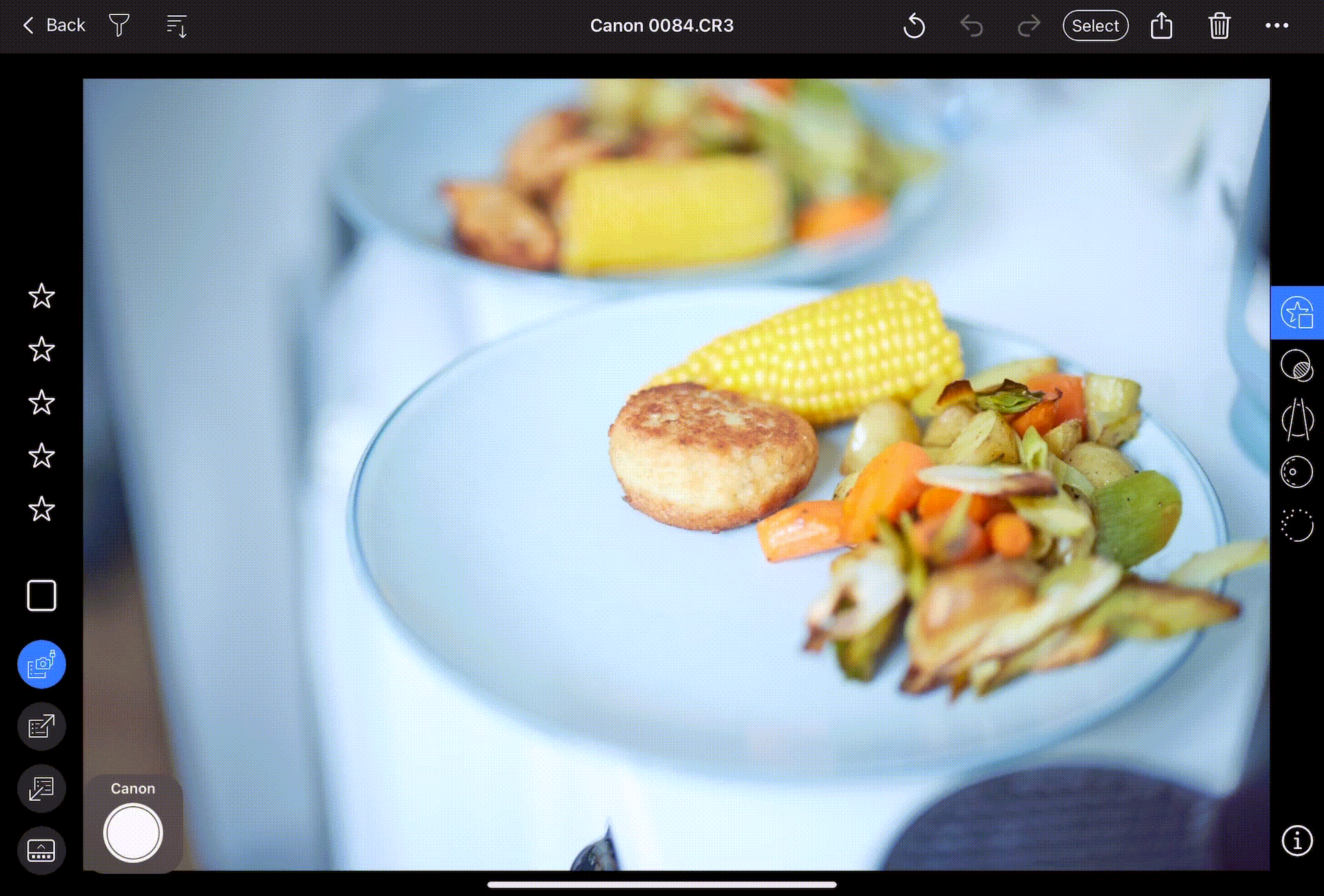 Images will be saved to your iPad, and not to your camera's memory card. See Camera Settings for details.
---
Camera Settings
Save to card, exposure compensation, ISO etc. can be found in the menu next to the name of your camera or by tapping the gear icon on the shutter button: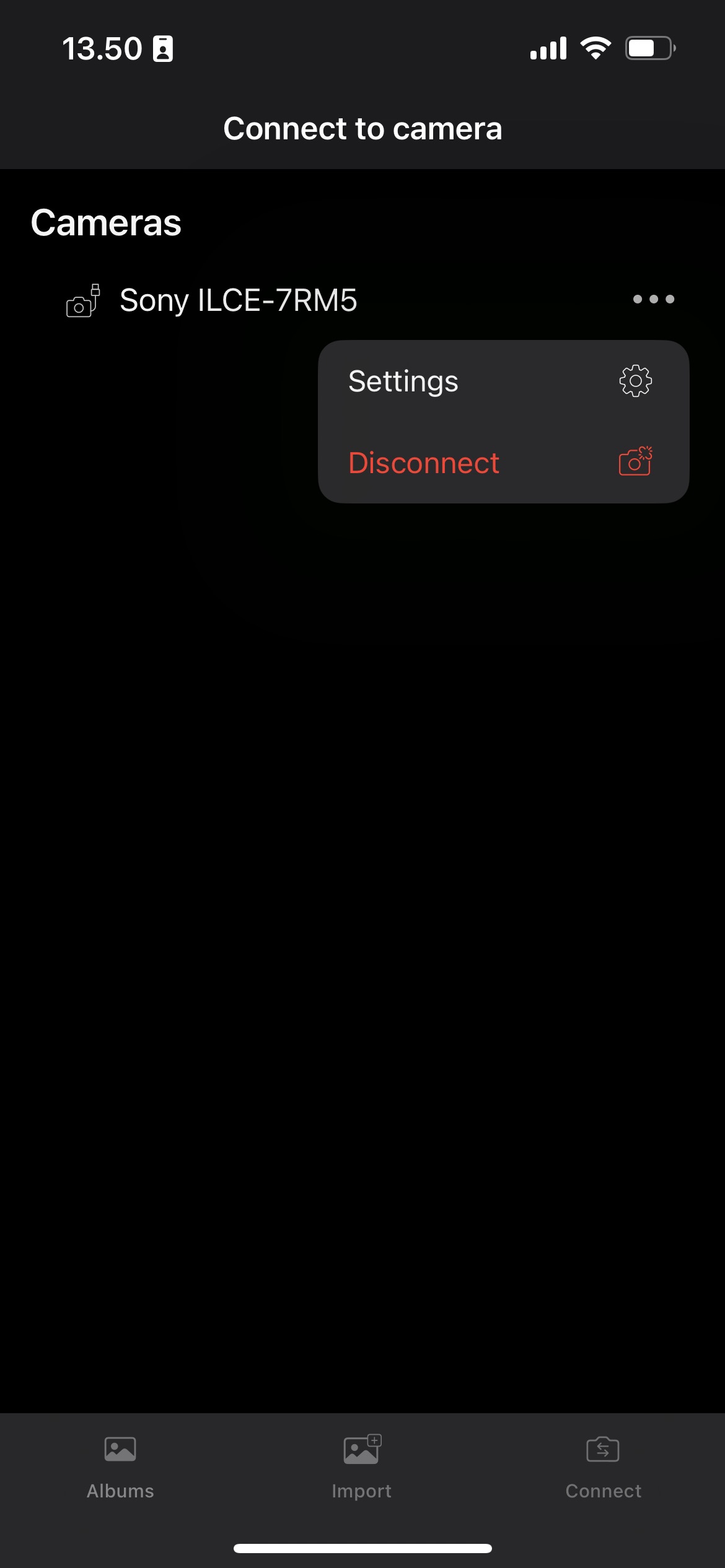 The availability of settings depends on the camera's functionality and firmware. While some cameras support the save to card feature, it is not directly controlled or supported by Capture One mobile. Instead, it relies on your camera's capabilities.
The location of this option varies for different compatible cameras. For example, on Canon cameras, it can be found under the "Shoot" dropdown:

---
Capturing Images with an iPhone
The app allows you to directly capture images using your iPhone's camera.
From the main screen, tap the camera icon located at the top right corner to take a photo: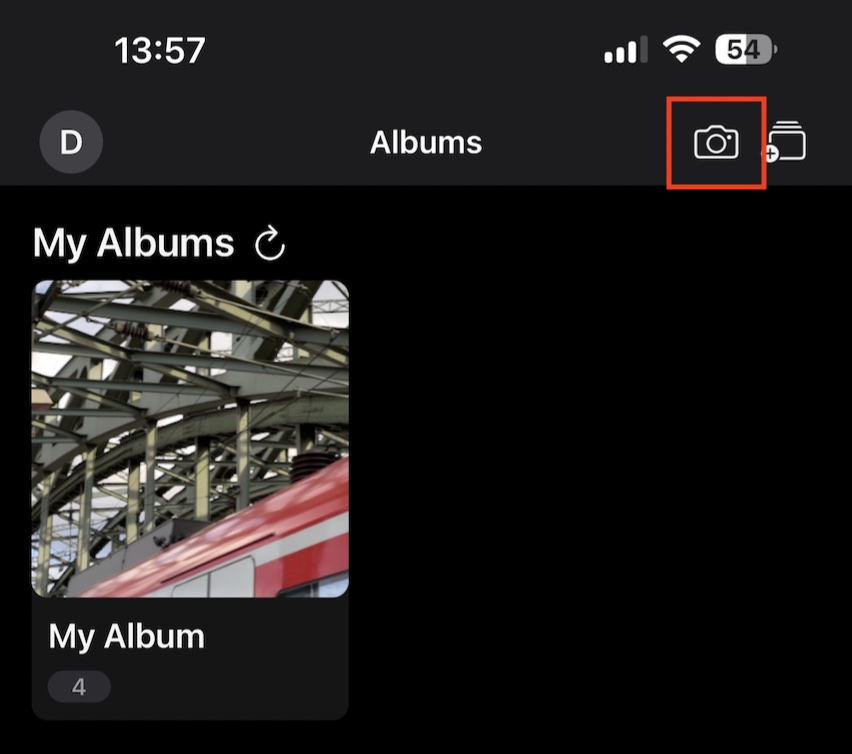 You'll find options to toggle the flash and view the file format being used in the same corner (you can change the file format in your iPhone's Settings app > Camera > Format):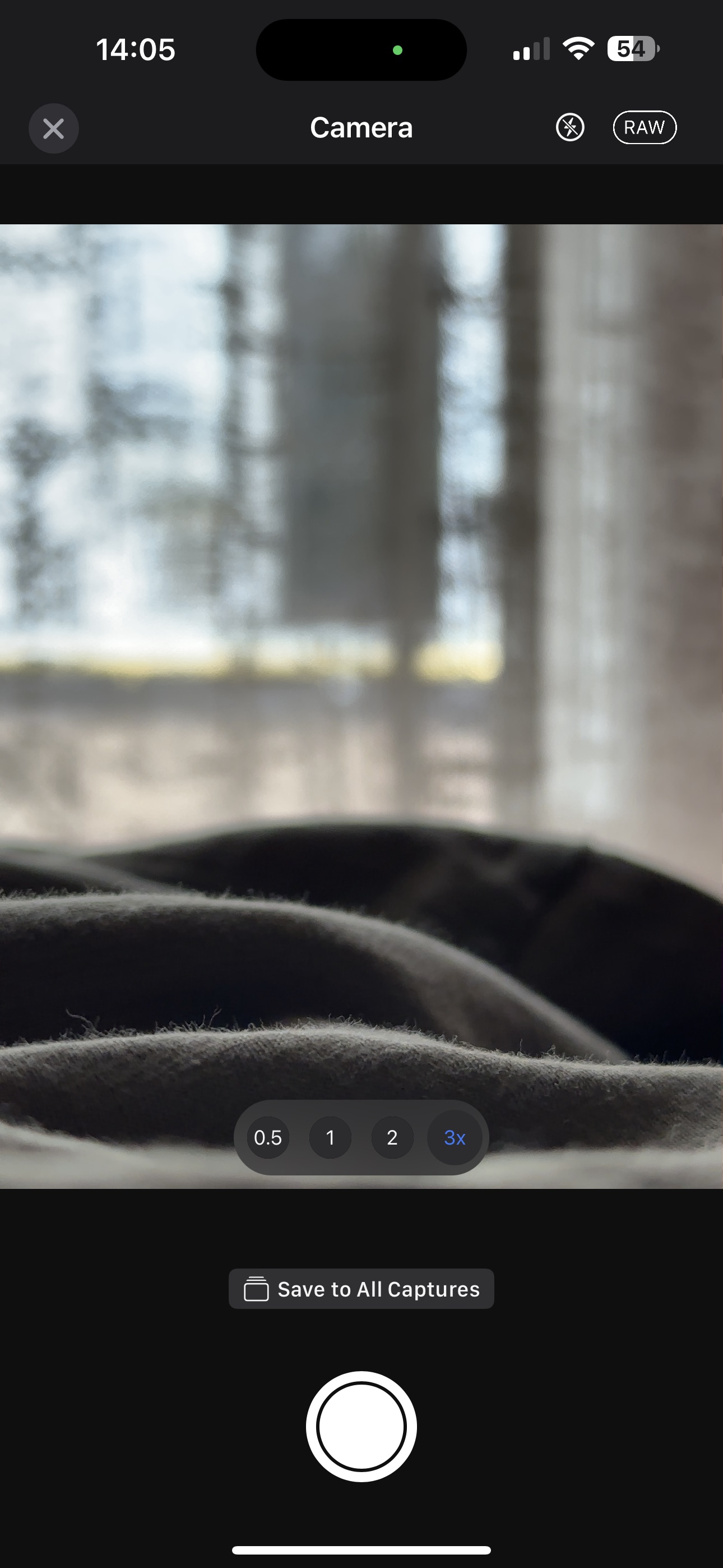 The app also gives you the flexibility to choose which iPhone lens you want to use for capturing images.
By default, your images are saved in the 'All Images' album. Tap Save to All Captures if you wish to save them in a different album:

Tethering iPhone to Capture One Pro or Capture One for iPad
You can tether your iPhone to Capture One Pro or Capture One for iPad, using it as a traditional camera. This feature requires iOS 16 or newer and Capture One Pro 23 16.2.4 (macOS only).
ProRAW is available on iPhone 12 Pro and newer, while other models use HEIF/HEIC.
Launch Capture One Pro or Capture One for iPad.
Connect your iPhone to your desktop or iPad by wire. Make sure no other applications are open that could interfere with the connection and communication with the iPhone.
Open Capture One for iPhone and accept the request by selecting "Open Camera Mode":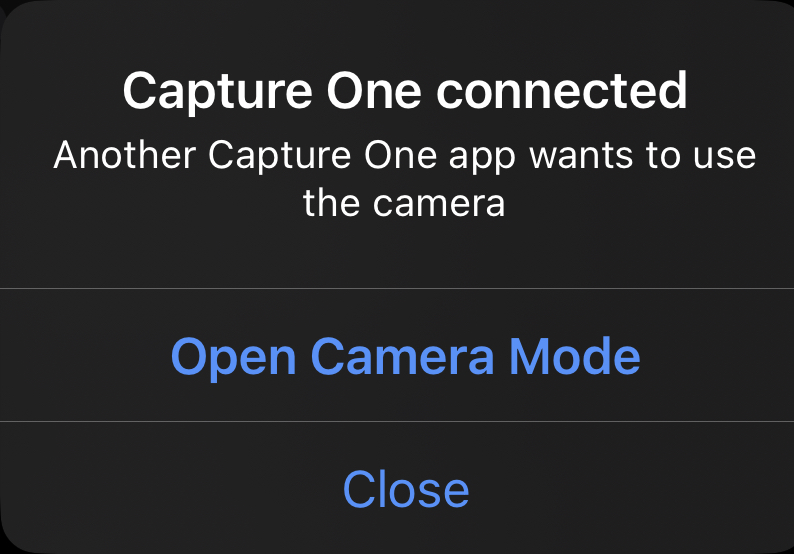 Check that "Save to connected device" is displayed on the iPhone. This ensures that images are transferred to Capture One Pro or Capture One for iPad: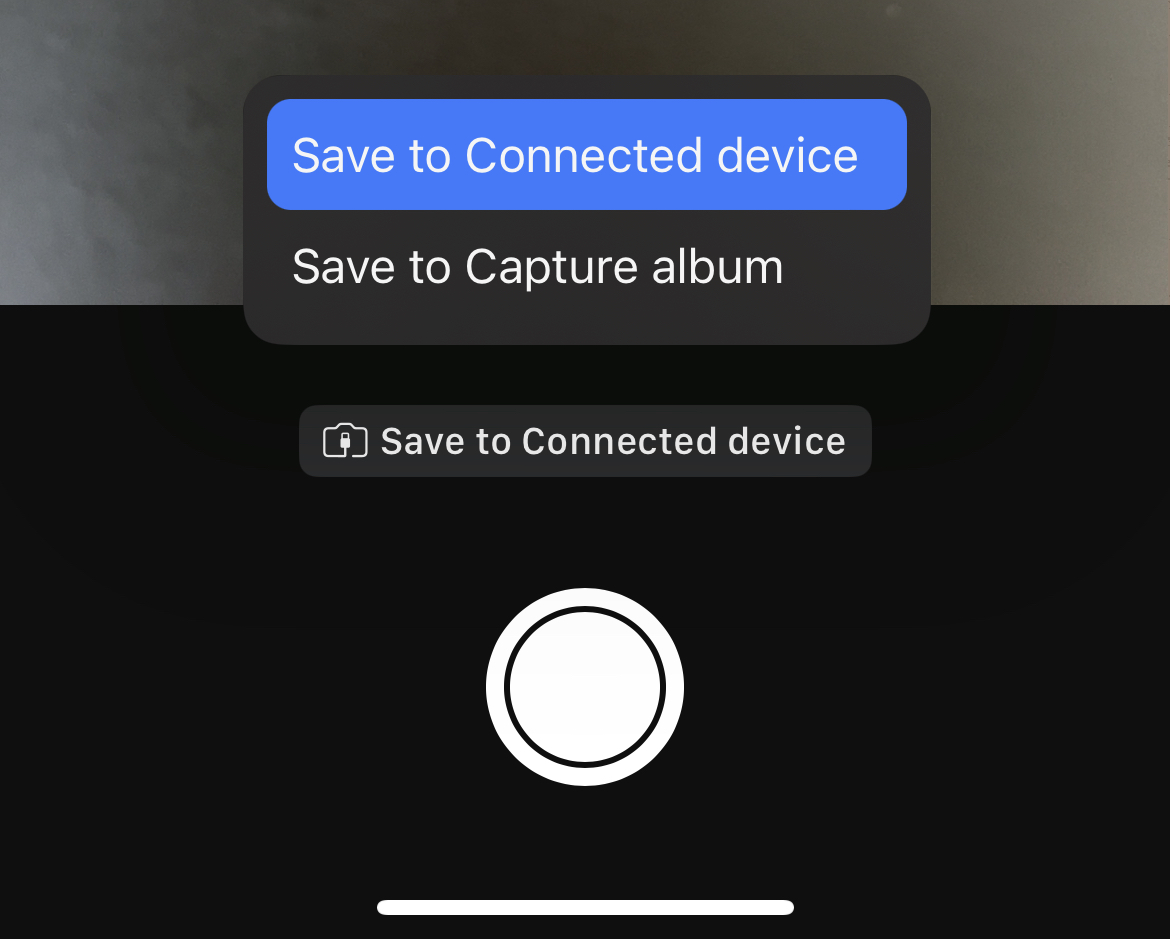 To capture images, you can use the capture button on the iPhone or iPad, or use the Camera tool in Capture One Pro. The images will be stored in your chosen album.
---
ReTether
Experience the freedom of movement with ReTether, ensuring you never miss a shot.
During a photoshoot, feel free to disconnect your tethering cable and continue capturing your moments. Once you reconnect, your shots will be seamlessly transferred to Capture One mobile.
To ensure smooth operation, keep the Capture One mobile app running on your iPhone or iPad. Please note that if the app closes during the unplugging and re-plugging process, the images will not be automatically transferred.
This feature is compatible with supported Canon and Nikon cameras. Please ensure that an SD card is inserted into the camera.