Packing images as EIP in Sessions
NOTE: DNGs, JPEG and TIFF files cannot be packed as EIP.
The .EIP file format doesn't change your RAW files; it simply uses standardized zipping technology to pack all needed components into one file. The original RAW file will be packed with your setting file, ICC profile, and LCC profile.
Select the intended images that will be packed as .EIP.
In the main menu, choose Image -> Pack as EIP.
The files are now automatically packed and those will be named with the extension .EIP.
NOTE: It is possible to pack an image as .EIP in Sessions only.
When packing an image as EIP, the settings file is moved (not copied) to the packed EIP file. In a Session, adjustments are saved separately in sidecar files, so those can be easily moved to the EIP package. While in a Catalog, the adjustments are kept inside a single database.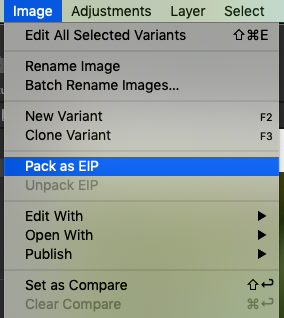 In the Preferences, it is also possible to checkmark the option to pack images as EIPs automatically during import/tethered capture.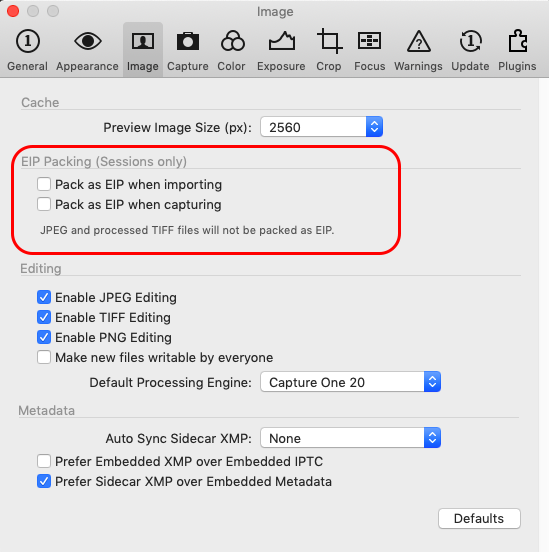 Unpacking EIP files in Sessions
Select the images that need to be unpacked.
Choose Image -> Unpack EIP.
The files are now automatically unpacked and will display the original file extension.
NOTE: An EIP is not recommended to be used with Catalogs. Always unpack EIPs before using them in a Catalog as EIP files cannot be unpacked inside a Catalog. To unpack EIPs, rename the file extension to .zip and then extract the file with any archive utility.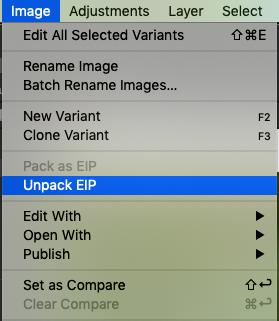 << Enhanced Image Package (EIP) overview | Importing and exporting EIPs >>