Resetting applied adjustments returns the controls to their defaults and applies only to the selected variants. The variants revert back to Capture One's default settings.
---
Global Reset
When you want to remove all of the adjustments to a variant or multiple variants, you can use the global Reset option. 
In Capture One Pro (16.3) we introduced two new reset options to the global Reset button:
Reset Crop
Reset Except Composition (resets everything except Crop, Rotation, Keystone, Distortion Correction)
To reset all adjustments on the selected variants, go to the Adjustments menu, Reset or press CMD/CTRL+R; alternatively, choose the global Reset icon in the toolbar:




If the Edit All Selected Variants option is disabled (grey icon) and multiple variants are selected, hold Shift and click on the Reset icon instead to reset all:


When resetting multiple variants, a warning dialog will open asking you to confirm the action: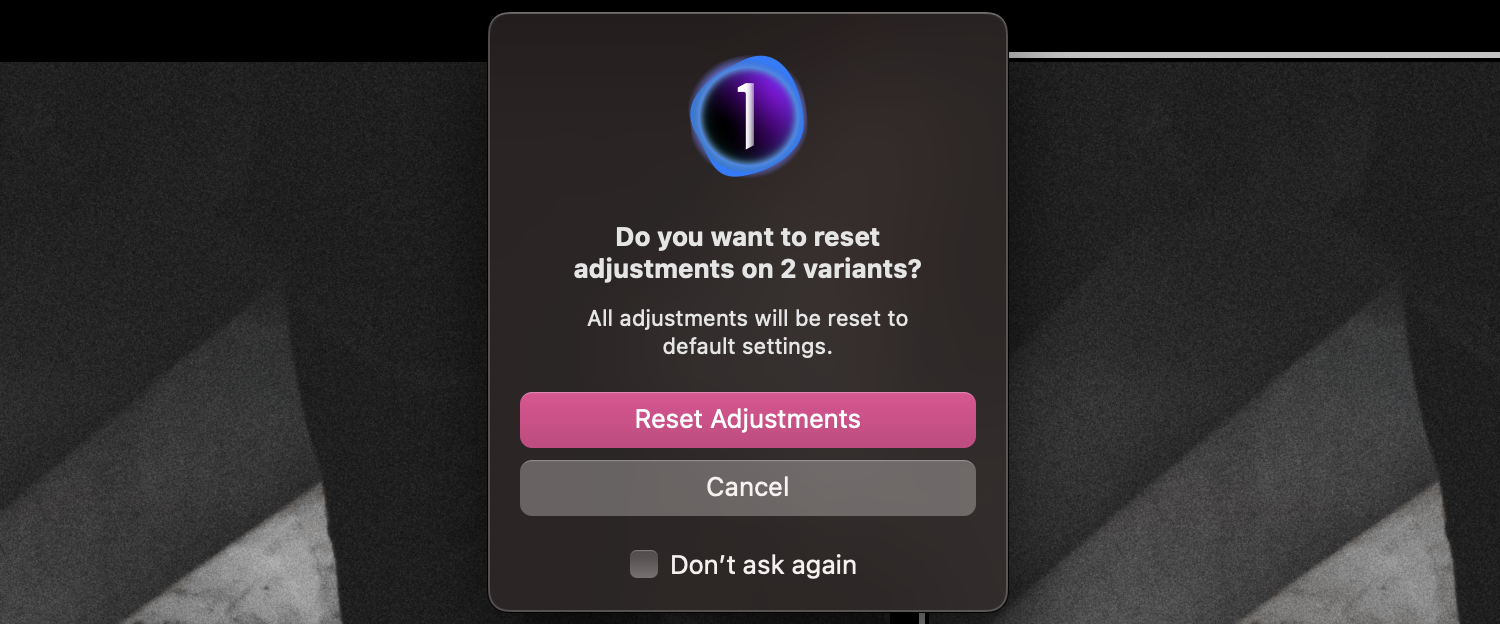 When resetting accidentally, selecting the Undo command will restore the adjustments that were already applied. The Undo command is available from the menu and is also available from the toolbar located to the right of the Reset icon (on the default workspace):


Local Reset
Most tools have individual (i.e., local) reset buttons.
If a tool has a group of controls in a single panel, such as the Exposure tool, all of the applied adjustments will be removed.
When tools have panels divided into tabs, the controls (such as the Color Balance, Levels, and Curve tools) can be reset on each of those tabs with Cmd/Ctrl (macOS/Windows) + click on reset icon.
To reset individual tool adjustments on selected variants, press the small reset icon in the tool's title bar to reset any adjustments made:

.  



If the Edit All Selected Variants option is disabled, hold Shift and click the button to reset adjustments on all the selected variants:


---
Speed Edit Reset
In Capture One Pro (16.3) it's possible to reset sliders using Speed Edit by holding the Speed Edit key and pressing Spacebar.
---