The Normalize tool allows multiple images to be adjusted such that their color and luminosity are the same. This is done by adjusting the White Balance and Exposure on the target images. It also allows for specific RGB values to be achieved at a given point in the image. It's best used on flat targets such as a ColorChecker or other reference chart due to their matte surfaces.
It is also possible to limit the correction to strictly White Balance or Exposure. In this way, dramatic shifts can be avoided.
Setting a Target RGB Value
There are two ways to set the target color within the Normalize tool.
Manual value entry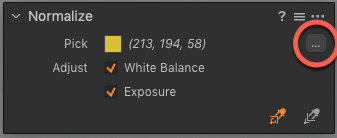 \
This is most helpful when the values have been predetermined, for example, in product photography or when a specific color is needed for a logo. First, click the button to the right of the Pick values as shown above.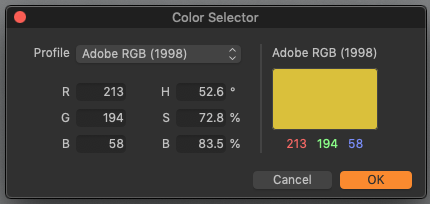 Next, input the desired RGB or HSB values. The desired profile for the target colors can be chosen here as well.
Click OK to return to the tool.
Selecting a Target color
This option is useful when there is no exact value needed, but the tones still need to match. For example, photographing the same subject with different light sources but requiring the end colors to be equal.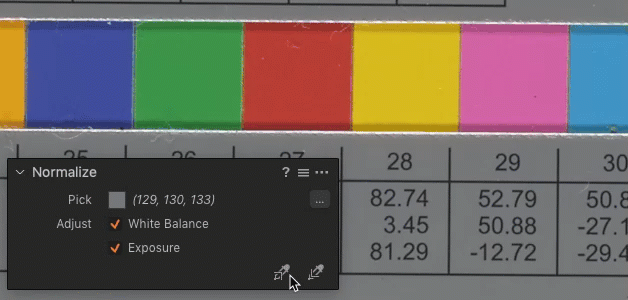 Choose the Pick Target Normalize cursor and choose the target color in the preview.
Next, select another variant and click the Apply Normalization cursor. Then, choose the spot on the destination variant's preview that you want to be that color.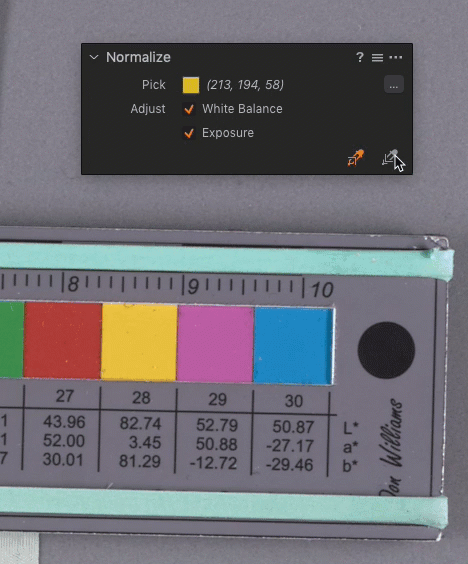 The patch will now numerically match the chosen RGB values. As mentioned before, it is possible to limit the correction to WB or Exposure independently, so such a large jump can be avoided. Numerically, however, the spot chosen with Apply Normalization is the desired value.