After capturing a characterization image and creating an LCC profile you can save it and any subsequent manual correction from the LCC panel as a preset.
Consider using presets if you have made a series of characterization images for a particular lens and camera (i.e., sensor) combination or when you have done so with various movements included.
Select the LCC reference image from the Browser or select an image with the LCC profile already applied to it.


Go to the LCC tool and click on the Manage Preset button (three bars icon) in the title bar. The Manage Preset menu opens.


Select Save User Preset... from the menu.




A Save Preset dialog box will open. Disable any options if required. Note that the profile and correction data can be enabled or disabled separately as desired. In general, it is best to include all the options as they can be disabled later.




Name and save the preset by using a combination of camera, lens model, f-number, and any shift-data used during capture. The preset is created and ready to be applied.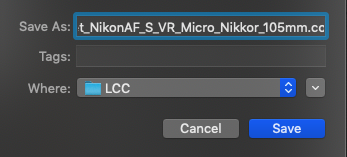 << Permanently update LCC correction data and profile | Applying LCC Presets >>