Capture One's Distortion slider can be used to fine-tune either barrel or pincushion distortion correction, depending on the lens profile selected. The slider functionality automatically changes to suit the type of distortion. This is particularly convenient when the profile contains data for both barrel and pincushion distortion such as that found with zoom lenses.
When there is no suitable lens correction profile available, the user must select the Generic profile when barrel distortion is present or choose the Generic Pincushion profile to remove pincushion distortion. Note that complex or waveform distortion can only be corrected by a lens profile.
Navigate to the Lens Correction tool in the Lens tool tab and check the profile for your lens that has been selected automatically. Otherwise, search for a suitable profile from the drop-down menu.




Adjust the Distortion slider for that profile to 100% to fully correct this issue (if there is one).




Alternatively, when there is no suitable profile available, select from either the Generic (i.e., barrel) or Generic pincushion distortion profile, depending on the distortion visible in the selected image.


Adjust the Distortion slider while observing the effect on the image against the displayed grid in the main viewer.


Switching between the two Generic profiles during adjustment will reset the slider to zero.


The setting can be saved as a component of a Lens Correction User Preset and applied to multiple images.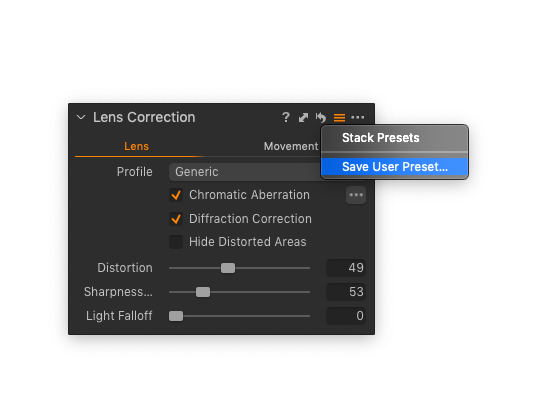 << Diffraction correction with a manual lens | Correcting soft corners >>