When attempting to build an LCC profile for a technical camera with movements applied or a camera with a tilt-shift lens, the profile creation process can be optimized for shift movements.
As lens data is not recorded in the RAW file's EXIF data from technical cameras or when using some adapted tilt-shift lenses on mirrorless cameras, the focal length, taking aperture and movement value (in mm), must be manually recorded at the time of capture (using notes or a smartphone).
Shift values should also be recorded when using tilt-shift lenses on DSLRs. These values must be added in the Movement tab of the Lens Correction tool.
Select the appropriate characterization image in the Browser.


Go to the Lens tool tab.


In the Lens Correction tool, go to the Movement tab and verify or manually add the focal length and aperture setting. Then enter shift X and shift Y adjustments (in

mm

) manually.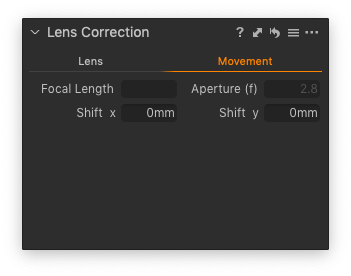 << Correct an image with the LCC tool | Wide-angle lens correction >>