Capture One offers a dedicated cursor tool to straighten images. The cursor can be found in the Rotation & Flip tool as well as in the Cursor toolbar. You can also access it using the keyboard shortcut R.
Click on the image and drag the cursor along a horizon or a line in an image that you want to be aligned to. The tool can be used with vertical references as well (for example, against the side of a building). Capture One automatically rotates the image to the line you have created and then crops it accordingly.
Go to the Lens tool tab.


From the Rotation & Flip tool, select the Straighten cursor (curved arrow icon) or select the Straighten cursor option from the Cursor tool menu bar.




Go to the Viewer and mark up a horizontal or vertical line in need of correction by clicking on a point at one end of a horizon and then by clicking on the other end, for example.




The image will be automatically straightened and cropped when the mouse button is released.


Use the Angle slider to fine-tune the straightening. For ultra-fine adjustment, hover your mouse over the slider and change the setting with your scroll wheel if desired.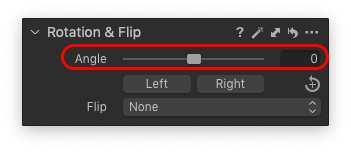 << Straightening or rotating multiple images | Rotating manually >>