The Barcode tool is exclusive to Capture One Enterprise and allows for native barcode scanner tethering.
Attaching a Barcode Scanner
To best utilize the tool, it's best to configure the barcode scanner so that Capture One will identify the input as unique and not just keypresses. To configure a scanner, first access the tool, select the dropdown menu at the top-right corner and choose Configure Scanner...

A window will appear with a barcode. Using the attached scanner, scan the barcode in the dialog. If the screen is too reflective and the scanner cannot parse the dialog's code, select the Print code option to send the barcode to a printer. It is also possible with this option to create a PDF for use on a phone or another device in case a printer is not available.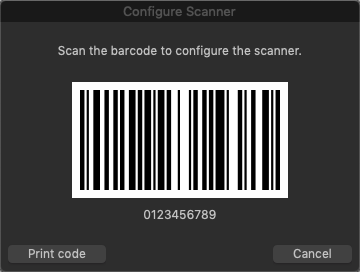 This barcode will configure the scanner to have an unprintable character prefix and suffix.
Scanning a code
Once the barcode scanner is configured, scanning a code from anywhere within Capture One will input that value in the Barcode tool. There is no need to click on or otherwise focus on the Barcode tool.
It is also possible to manually enter the barcode value in the text field of the Barcode tool. Upon hitting the return key or clicking the return arrow, a simulated scan is completed.

Using the Barcode value
Using the [Barcode] token, the value can be passed directly to other tools such as Next Capture Naming

The barcode value is also passed to the document's barcode property which is accessible via JXA and AppleScript.
Finally, the document's barcode scanned script is called whenever the barcode is entered. This JXA and AppleScript property can be leveraged to trigger further automation.