Although you can apply more than one image adjustment to the same masked area, you might want to add a different adjustment to exactly the same area of the image and retain separate control over each mask on different layers. This can be done by copying a mask to another Layer.
Copying masks is possible between the adjustments Layers only.
Note that the function will overwrite an existing mask without warning, so if you have a lot of Layers, double-check that you are copying to the correct layer first.
Go to the Layers tool.


Create a new Layer or select an existing Layer you want the mask to be copied to.


Right-click on that layer and select Copy Mask From -> Layer No. (e.g., Layer 1). The mask will be copied and applied to another layer (e.g., Layer 2).


The copied mask can now be adjusted further and you can apply the desired image adjustments.
Note that you can copy a Linear Gradient Mask (L) or Radial Gradient Mask (T) to another Layer and still retain the possibilities to readjust the mask on the new layer. This can provide a powerful workflow if you just need to tweak the coverage of the mask slightly on that new layer.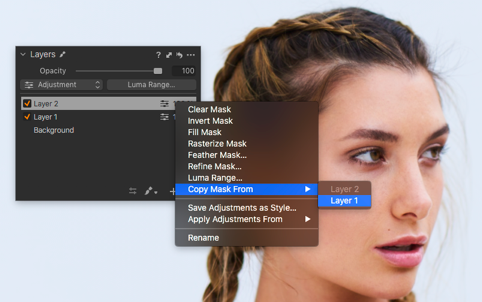 << Deleting a mask | Fading adjustments >>