Although Capture One has a separate Spot removal tool using a circular cursor for the quick removal of small spots and sensor dust, the Heal tool should be adopted when more complex and precise repairing of imperfections is required, especially over a large area. There is no limitation for a number of heals in the same layer. You can also set different source points for different repair areas.
To start with, it is recommended to adjust the brush size to just cover the area to be repaired and set a low hardness value (0-20). This aids the blending of pixels for color and brightness and is useful when retouching areas with complex detail and shadows such as a facial mole under strands of hair, for example. Set both Flow and Opacity to 100%. The master Opacity slider may be used to reduce or fade the effect later. Where hard, straight edges are encountered in an image area that needs to be repaired or restored, the Heal tool is likely to blur, therefore, the Clone tool may be the better option.
Go to the Layers tool and long-press on the Create New Layer button, the (+) icon, in the foot-bar and select the New Heal Layer option from the menu, or go to the main menu and navigate to Layer -> New Heal Layer. A new Heal Layer can be created automatically when you make the first stroke with the Healing Brush (Q). In this case, Capture One will find the best suitable source point to cover up the area you have masked.




From the foot-bar in the Layers tool, click on the Heal Brush icon or use the shortcut Q.




Modify the brush

parameters

, as required. This can be done either by right-clicking in the Viewer or by clicking on the Brush Settings icon in the foot-bar of the Layers tool.




Zoom in to 100% and brush or click on the spot or blemish to be removed.


If the appearance of the target area

does not

match the surrounding pixels, click on the source point and drag it anywhere within the same image in the Viewer. To force a new source point or to manually select the source point before masking the area you want to heal, simply hold down Option/Alt and click on your preferred source point. Then proceed to brush your area.


Extending an existing mask that already has a source point with an arrow can be done by selecting the arrow by clicking its source point. It will become orange to indicate that it is selected. Masking while a source point is selected will use that source point, making it possible to extend areas as you wish. Remember to click the source point again to deselect it. The target heal area is updated and immediately repaired.


To delete a source point, select it first and then click Delete.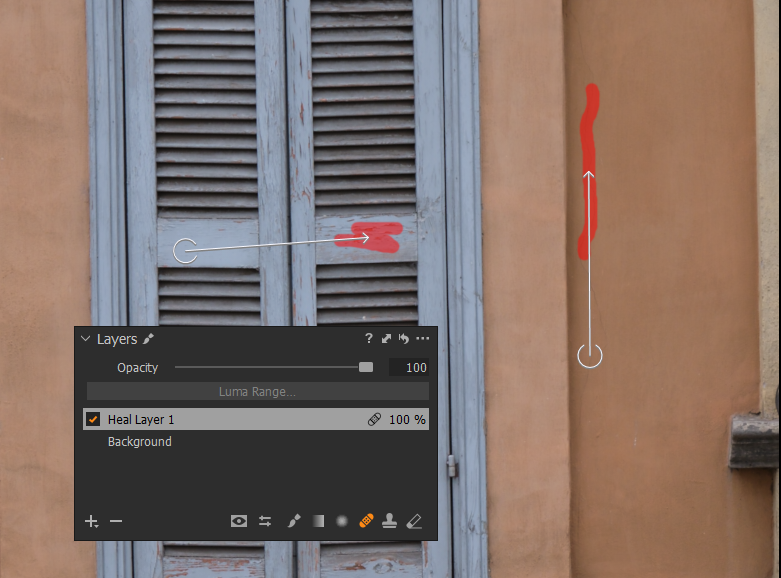 NOTE: The Heal tool does not work with offline files.
<< Repairing layers | Repairing layers with the Clone tool >>