As Capture One works non-destructively, the application never alters the original image files in any way. When images are required in the various sizes, formats and color spaces to send to a client or to publish on the web or send to a printing service, Capture One creates new images from the source files during processing by applying all the saved settings and adjustments that you can use time and time again.
You can specify JPEG, TIFF, PNG, DNG or PSD file formats, set new image dimensions, convert color spaces, embed profiles, add output sharpening, and include metadata, such as EXIF data, Keywords, and IPTC data. Capture One can also rename and group images into a sub-folder hierarchy within the parent or root folder using the semi-automated dynamic locations feature.
Although you can use the Export Variant command to process image variants available from the main menu or contextual menu (Ctrl/right-click), this option is limited to a single recipe. This is fine when all of the variants selected for export are to be processed, for example, into the same file format or you want them to have the same color space or group of keywords. If you require different settings, you have to alter the recipe each time. This is time-consuming when working with a high volume of image variants, it is also error-prone.
When adopting Capture One Pro's Output tools instead, you have the option to use Process Recipes. These are groups of pre-configured output settings or presets that you can select for various requirements. Process Recipes not only allow you to customize and save your most frequently used settings but you can simultaneously process multiple copies of the same image or selection of images by selecting one or more of these recipes from the list according to your needs. For example, the same image or group of images can be simultaneously processed in different formats, sizes or color spaces. It is as simple as adding checkmarks to the appropriate recipes and clicking Process.
The Recipes in the Output tool tab also have a few extra features over the Recipe option in the Export panel. Similar to watermarking using graphics files or the built-in text editor, selecting the PSD file format provides an ability to share images with watermarks, annotations, and transparency overlays as individual layers, while any cropping applied can also be saved as a path.
Note that you can export or process managed images directly. However, when images are referenced, Capture One must have access to the source files. Note also that DNG archival options are not supported. Thus, adjustments and metadata applied in Capture One may not be fully implemented during processing.
NOTE: In Capture One Express, it is not possible to create or customize process recipes.
Video tutorial: Smart exporting with Process Recipes.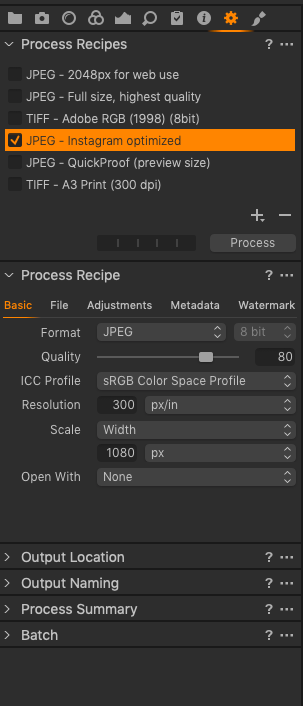 NOTE: With the release of Capture One 21 (14.3.0) Output tool tab has been removed and all export tools have been moved into the Exporter. The Exporter gathers all options for exporting photos from Capture One. It simplifies the export workflow without removing flexibility and adds new functionality including a powerful proofing viewer, which is enabled by default, it shows you exactly how your exported image will look before you export. Now Export Recipes tool includes all the built-in and custom recipes for exporting photos. You can select one or multiple recipes at the same time for exporting your photos into the formats and sizes you need.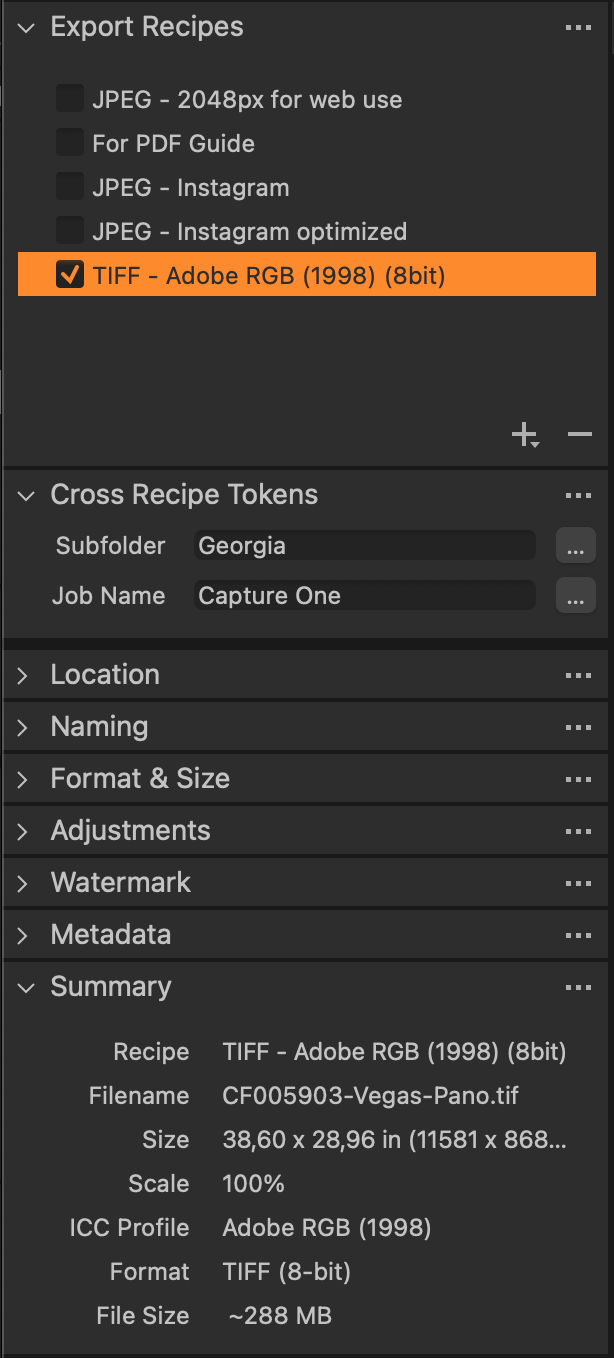 Watch the video tutorial about the new Exporter below.
Read more about the new Exporter.
Read more about Export Recipes.