After applying capture sharpening and creative sharpening, the on-screen image will typically look sharp. However, you can use the output sharpening for screen option to counteract any softening effects caused by downsizing images for the web or email.
Select the image variant or variants in the browser.


Highlight the recipe to edit from the list in the Process Recipes dialog (or create a new recipe) located under the Output tool tab.


From the Basic tab, set the image size using the Resolution/Scale options as desired.


Enable Recipe Proofing.


Go to the Adjustments tab in the Process Recipe tool.


In the Sharpening fly-out menu, select Output Sharpening for Screen.


The tab's tools will change to replicate those found under the Details tool tab and include sliders for Amount, Radius, and Threshold.


Adjust the sliders or specify the value and evaluate the effects on-screen (while soft-proofing) at 100%. Set the radius and threshold if necessary, then adjust the amount. When halo artifacts or aliasing become visible or distracting, lower the radius and/or amount until they are acceptable.


The settings are automatically saved so they can be used again, however, it is recommended that they are saved as a component of a new recipe so that they are not overwritten accidentally.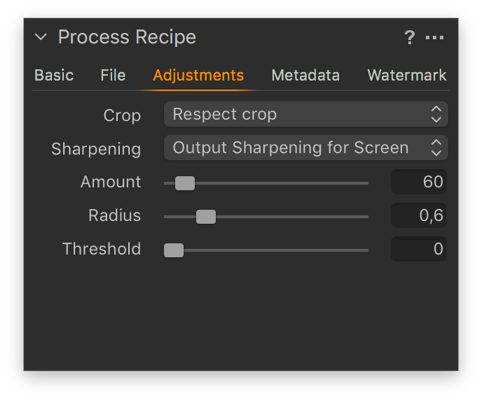 << Applying sharpening for printing | Applying capture and creative sharpening only >>